Bullying beer firm BrewDog's 'punk' schtick has gone flat. It's just a grubby profit chaser like all the rest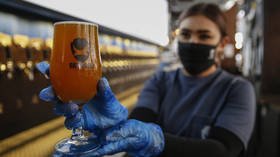 The successful 'non-corporate' craft beer firm has won plaudits for its tasty ales and clever marketing. But its 'culture of fear' left a nasty taste with ex-employees, who have gone public with some damning accusations.
It's the ones you least expect that hurt the most.
The world is dominated by corporate behemoths. There's hardly a country you can't touch down in and be met by a familiar array of shops, restaurants and coffee bars.
That's why plucky, challenger firms that apparently put principles over profit and are driven by a genuine identity tend to be rapturously received.
Over the past decade or so, BrewDog has been the epitome of this. The global beer market is dominated by a small cabal of super producers, so it used that as its raison d'etre as it shook up the establishment with its innovative ales and clever marketing.
Also on rt.com
Lazarus of lager: Man pumped full of 15 cans of beer in radical, life-saving procedure
There were constant references to how it began with two men and a dog. Consumers were made to believe they were nurturing a free-spirited company that would never sell out.
BrewDog co-founder James Watt played that song over and over as the company and its empire of beers and bars grew and grew. On discovering a fake BrewDog bar in China, he used it as a PR move and wished the venture good luck.
In a publicly available letter he said to the copycats: "The fact that it is no longer the global mega brands alone that are being copied in China, but also the small craft beer producers, proves to me that there is not just a slight change in the world's food and drink tastes, but a tectonic shift."
BrewDog monetised this image, too. It didn't take cash from hedge funds, but opted for crowdfunding, with those who pledged money hailed as 'Equity Punks'. Despite this, it was still raising large sums, including £25 million in 2015.
To celebrate the launch of one round of fundraising, Watt flew above Europe's financial capital London in a helicopter throwing taxidermy 'fat cats' out, claiming: "This round of Equity for Punks has got off to a great start so we went behind enemy lines to conduct a symbolic gesture that heralds the extinction of the city fat cat. This is our way of showcasing the viability of alternative forms of finance, it is our own anti-propaganda propaganda."
BrewDog even used politics to promote the brand, launching a beer called Hello My Name is Vladimir in protest at the Russian president's policies. And initially all these unconventional dark arts worked, as BrewDog became highly successful and fashionable, with accolades including the Entrepreneur of the Year Award and gold at the 2010 World Beer Cup.
Beer drinkers appreciated the different approach from the corporate giants.
But the tide began to turn when it became clear the firm would stop at nothing in pursuit of growth.
In 2017, a family-run bar in the English city of Birmingham named Lone Wolf saw another side to BrewDog when its lawyers waded in demanding a name change.
Then last year, as Britain suffered the worst Covid-19 death toll in Europe, it showed questionable taste as it created a beer to mock Boris Johnson's aide Dominic Cummings' claims of driving during lockdown to test his eyesight, called Barnard Castle Eye Test.
And the Equity Punks got new fellow shareholders as California private equity firm TSG Consumer Partners took a 22% share.
These were all signs that BrewDog's punk ethos was beginning to fade and the shock tactics were losing their appeal.
But this week a bomb dropped when an explosive letter was posted online signed by 61 ex-employees and backed by another 45.
It contained startling accusations. The former staff claimed BrewDog fostered a "culture of fear" and blamed Watt's ego for a "rotten culture of lies." They described the firm as "built on a cult of personality" and added "hypocrisy and deceit can be useful tools."
Among the allegations was that while the company was championing its environmental credentials, it made use of a private jet that had to be filled with employees to justify the cost, and that it wasted glacier water. The insiders also revealed that despite the firm's PR, beer was never sent to Vladimir Putin as was claimed.
The letter also explained how staff were made to accept "genuine safety concerns" and stated: "You spent years claiming you wanted to be the best employer in the world, presumably to help you to recruit top talent, but ask former staff what they think of those claims, and you'll most likely be laughed at."
The most damning line of the letter was: "Put bluntly, the single biggest shared experience of former staff is a residual feeling of fear. Fear to speak out about the atmosphere we were immersed in, and fear of repercussions even after we have left."
Other ex-staff swiftly tweeted their agreement, piling the pressure on.
As an ex-employee of @Brewdog this rings so true. Be it @BrewDogJames acting like bar staff didn't exist as he greeted mgmt, the constant trial-and-error changing of food/ drink practices or toxic, high-pressure behaviour from upper mgmt, it was a frustrating place to work. https://t.co/dyUmohjMz6

— Jack and 658 others (@and_658) June 10, 2021
It's beyond embarrassing for Watt, who once said: "For decades, the craft of lager has been lost and forgotten, bastardised by mega breweries putting profit before flavour." This didn't tally with the whistleblowers, who stated in their letter that "growth, at all costs, has always been perceived as the number one focus."
BrewDog reacted quickly. In response to the letter, Watt said that "most of all, right now, we are sorry" and added "our focus now is not on contradicting or contesting the details of that letter, but to listen, learn and act."
Despite Watt's apology, one thing is clear: the perception of BrewDog will be changed forever. Yes, its ales may still be stocked globally and enjoyed, but the image it cultivated has been outed as a charade.
Wearing trendy jeans and a flat-cap to work doesn't make a person morally sound. So much of what is claimed by eco-warriors and those determined to shake up the establishment is spin. They are the same as the rest, but just don't want to admit it.
This story may end in sweet irony though.
Wouldn't it just be gorgeous if the investment bankers exacted revenge for all of the jibes, by pouring the company down the sink and shutting off the cashflow?
The thought of BrewDog getting its comeuppance is one thing I'd raise a glass to.
Like this story? Share it with a friend!
The statements, views and opinions expressed in this column are solely those of the author and do not necessarily represent those of RT.
You can share this story on social media: