If I'm the man who ends Keir Starmer's reign as Labour leader, so be it. I'm happy to give the people of Britain their wish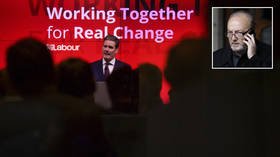 The beleaguered Labour leader is way behind in the polls, disliked by most voters, and even half of his party's supporters want him to go. I'm hopeful my performance in a crucial looming by-election will deliver the coup de grace.
Sir Keir Starmer, the former director of public prosecutions who played a key role in the persecution of WikiLeaks founder Julian Assange, may turn out to be the shortest-lived leader of the Labour Party and the least successful. And it falls to me to make that happen on July 1.
Batley and Spen, a constituency which will cease to exist under new parliamentary boundaries just announced, has a chance to write its name in history – before it disappears – in an unexpected by-election which has turned into a last chance saloon for the Labour leader.
Also on rt.com
Labour's humiliating defeat signals its death, and Keir Starmer, not Jeremy Corbyn, is the man with its blood on his hands
If he loses, as now seems certain (not least in the minds of many in his party itself), he will be the first opposition leader in history to lose TWO by-elections in quick succession to the government. Mid-term by-elections are supposed to go the other way around.
In disastrous elections in May, Labour saw many more bricks knocked out of its Red Wall in the north of England, but none more damaging than the loss of the Hartlepool parliamentary seat it had held since democratic time began. Another defeat hard on its heels will be curtains for Keir, whose poll ratings across the country are abysmal.
And that's where I come in. Just 20 minutes away in Bradford, a kind of sister city, in 2012, I took the apparently impregnable Labour seat of Bradford West in a landslide by-election victory. Now, I'm trying for a repeat sensation.
There are 25,000 Asian Muslim voters in Batley and Spen and virtually to a man and woman they are boiling with rage at the recent massacres of women and children in Gaza and the ongoing threat to Al-Aqsa Mosque in Jerusalem. And their rage has fastened on Starmer, who has dramatically reversed the Palestine-sympathetic stance of the party under Jeremy Corbyn. And he kicked Corbyn out as a Labour MP to boot! Starmer declared: "I support Zionism without qualification".
He can't have expected to face a referendum on his new position in a seat like this quite so soon.
Among the non-Muslim voters, Labour is hated for other reasons: its attempt to wreck Brexit, its infatuation with weird sex- and gender-related issues, identity politics, cancel culture, and all kinds of wokery.
It all spells disaster for the achingly liberal, London-centric Labour Party.
The chance to bring a political leader down doesn't come often but it has come to the good people of Batley and Spen.
Everybody now acknowledges that I will take thousands of votes directly from Labour. Their majority last time was just 3500.
What is not yet universally acknowledged is that I might actually win. But I very well might.
Also on rt.com
George Galloway: The newly woke Labour Party hates its voters too much – it's right to fear they will pick me instead
We are in it to win it, but the least we will achieve is to drive the Labour Party into a humiliating third place. It's either me or the Tories who will win. Either result will spark a leadership challenge (if one remains necessary) and a new Labour leader, quite possibly the Mayor of Manchester, Andy Burnham, though as he, like me, is currently out of the House of Commons that would require yet another by-election…
As the Financial Times put it last week: Nearly 20 years after it expelled him (over the Iraq War), George Galloway remains the biggest thorn in the Labour Party's side.
You can put that on my gravestone, thank you very much.
Like this story? Share it with a friend!
The statements, views and opinions expressed in this column are solely those of the author and do not necessarily represent those of RT.
You can share this story on social media: