Football's no longer about crowd-pleasing action, as endless campaigns turn it into an exercise in mind control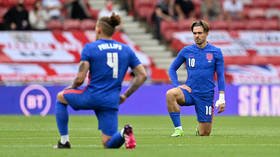 As tiresomely woke football pundits question humanity after England spectators booed players for 'taking the knee' and mocked an overweight pitch invader, it's obvious the issue is not race or language: it's control.
It used to be that going to the football was a simple affair. Meet up at a pub near the home or away ground for a few pints before kickoff. Enjoy the game. Pie at half time. Enjoy the game some more. Go home.
Now, attending a match in the UK is a tortuous journey through a confusing moral maze that leaves spectators feeling puzzled, curiously insulted, and defensive, questioning everything they ever thought – and that's before a ball is even kicked.
As England's footballers 'took the knee' – an irritatingly modern and nonsensical phrase to rival 'awesome' – to show solidarity for the ongoing anti-racism campaign before the whistle blew to start two friendly games against Austria (on Wednesday) and Romania (yesterday), there were clear boos echoing around the Riverside Stadium in Middlesbrough on both occasions.
What followed each of these incidents in England's North East was not only 90 minutes of the dullest football you could ever watch, but an outpouring of scorn, wide-eyed shock, and woke dismay as it appeared not everyone was on board with this overt gesture of solidarity to a cause with its roots thousands of miles away.
Millionaire former footballers and TV pundits whose inane chit-chat fills the dead-air before, between, and following the action decided it was their role to address what they immediately decided was a shameful display of racism by the Riverside crowd.
It was no such thing. Some people have just had enough of political posturing being shoved down their throats. In the same way that many folks decided they would not be clapping outside their homes every Thursday evening like trained seals, in recognition of NHS workers during the coronavirus pandemic lockdown.
These things are not everyone's cup of tea. So what?
For some reason, former England footballer and junk food salesman Gary Lineker, who inexplicably tops the salary list of BBC employees with £1.75 million a year, feels validated by this to lecture the world from his Twitter pedestal, saying: "If you boo @England players for taking the knee, you're part of the reason why players are taking the knee."
Erm. Whuh? Appropriately this latest sermonising was delivered on a Sunday with all the pinch-faced, sanctimonious self-righteousness of a particularly unpopular vicar.
Across the media, pundits, former footballers, never-will-bes and has-beens aplenty all signed up to the groupthink view – completely unproven – that booing the gesture was racist and those who did were "part of the problem." Many spoke of the inability to "control what people think." Hmm.
Why would you want to control what people think?
Because, disturbingly, that regret was expressed once more over a separate incident when a weight-challenged and over-exuberant spectator leapt the fence and made a brief but welcome diversion from the on-field action with a dash up the pitch, hotly pursued by ground stewards, to a chorus of "You fat bastard!"
The TV commentators were mortified, solemnly reminding us all, "This is a live event and we are unable to control the language used by the spectators."
Hide the children behind the sofa, mother! Coarse men are using vulgar working-class language! Again, why the desire to control not only what people think, but what they say, and then apologise like whacked-out penitents for failing to do so?
I began to think I'd missed out on my cup of Kool-Aid before I realised something more insidious was at play here.
There was all that pitchside advertising. The blinking, distracting megabucks promotions deserved further inspection. There was encouragement to sign up to Hope United, an online campaign by BT about combating hate on social media – which is, of course, accessed by many through online accounts provided by the telecoms giant.
Again, the subtext is that unless we subscribe to this woke rubbish, we are guilty of promoting online hatred ourselves. If BT was really determined to stamp out this phenomenon, then why not pull the plug on all its online services? No internet, no problem!
And there was more. Campaigns were certainly coming a lot faster than the goals. There was a global beer giant with its so-subtle advertising evoking the subconscious relationship between enjoying football, good times with yer mates, and booze using just two words: "Bud Light." Oh, but there was the drinkaware campaign rider alongside reminding us not to go all silly now and have too much. Nanny's watching, you know.
If that idea of a caring adult with our best interests at heart needed any reinforcement, there was an advert for Dettol, the pungently fragranced antiseptic liquid used for everything from dabbing on mild skin abrasions to cleaning hospital floors. Its smell alone is the ultimate "There, there, you'll be fine" comfort that grown-ups reserve for frightened children.
How fitting! Because this is what an afternoon of watching football, even on TV, has now become. Constant lecturing, hectoring, brow-beating, and bullying over what to think, what to say, what to do.
Freedom of speech is an inconvenience. The guardians of morality have declared that unless we commit to the groupthink they alone are empowered to determine and endorse, then we are the enemy and should feel ashamed of ourselves.
It is refreshing to discover that even a bunch of Teesside 'Smoggies' agree with me on this, and that's why they roundly booed failed attempts to force them into a moral position. They refused to fall into line, which led to the self-appointed guardians of 'decency' condemning them. So they booed again.
Shame on those who denounced the sports-loving, campaign-weary spectators who displayed no sign of racism whatsoever as the England team, represented by a sizable cohort of black and mixed-race players, notched up two unremarkable and largely meaningless victories.
Maybe that tells us more about where we are with our relationship to race in the UK than feelings about taking the knee.
Marcus Rashford, England's captain for Sunday's game, said when questioned post-match that the players thought they were doing "the right thing" and would continue to do so. The booing was "something we can't control," he said.
As the Euros start on Friday, this could well become yet another pre-match tradition, kneeling and booing, right after the national anthems. Feel free to opt out of either.
The statements, views and opinions expressed in this column are solely those of the author and do not necessarily represent those of RT.
You can share this story on social media: