Fauci continues his opportunistic cult of personality with a new 'life philosophy' book...all thanks to a pandemic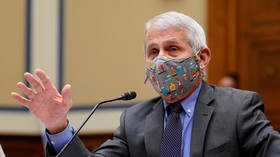 Dr. Anthony Fauci's celebrity status has skyrocketed during the Covid-19 pandemic, and he's continuing to cash in on his cult of personality with a new "life philosophy" book.
Fauci has been the face of the battle against the Covid-19 pandemic in the US through two incredibly different administrations. Considering the fact that he has been in that position through such uncertain times, one would assume he'd be a trusted, beloved figure, and he is – to some.
Take a scroll through social media or look at recent polling on the man, and it's clear he is as divisive as the politicians he stands next to. One poll last month found that the majority of people who identify as Republicans say he has "hurt" the US more than helped during the pandemic. Democrats remain much more faithful to the man, with a separate poll finding that 80% of them feel the infectious disease expert is doing a good or excellent job.
Also on rt.com
Biden's legislative agenda is in danger of going nowhere...and that's bad for the country
Fauci has been undeterred by this mixed response and simply leaned in on his celebrity status. While so many have struggled through the pandemic, Fauci's smiling face could be seen in numerous cable news interviews, almost daily, at press conferences, throwing first pitches at baseball games, on magazine covers – he's been treated as the "American hero" Jill Biden recently described him as.
Now, we are subjected to the latest extension of his celebrity with an upcoming book entitled, 'Expect the Unexpected: Ten Lessons on Truth, Service, and the Way Forward'.
Compiled through "hours of interviews," Fauci will give us his personal "life philosophy" through the read, as well as "universal advice to live by." It is set to hit shelves on November 2, and you can bet Fauci will be making the media rounds to promote it.
'Expect the Unexpected', being published by National Geographic, is an unfortunate title for the book since it's advice Fauci should have been taking throughout the pandemic. One of the most frustrating aspects to his constant media circus has been that Fauci has given numerous interviews when he has no real solid information to provide people. It's why he's now been deemed a flip-flopper by so many critics.
Early in the pandemic, he argued against citizens' masking and then turned around to become perhaps the most aggressive supporter of publicly masking out there, so much so that he was arguing up until recently that masking even after being vaccinated was necessary, getting into verbal brawls with lawmakers like Sen. Rand Paul over the argument that masking even after being inoculated is "theater." This was until the Centers for Disease Control and Prevention (CDC) recently did an about-face and decided because of new data gathered over a magical two weeks that masking for vaccinated Americans was not necessary in most cases. Now the same 'doom and gloom' Fauci who insulted Paul, who has a doctorate and had Covid, multiple times and told the world lockdowns may be lasting into next year is suddenly telling us we can slowly return to normal.
Also on rt.com
I'm a doctor, but Covid's broken my faith in medical research. I can't believe anything I read or accept any mainstream facts
Masks and lockdowns aside, the man providing us with his "life philosophy," which was gained through holding the same government position as the head of the National Institute of Allergy and Infectious Diseases (NIAID) for decades, is the same one who told us with certainty last year that there is no scientific evidence Covid-19 could have originated from a Wuhan lab, only to recently grow more open to an investigation into the theory he so carelessly and assuredly dismissed. This is, of course, amid revelations that the National Institute of Health (NIH), which the NIAID falls under, funded research at one point at the Wuhan Institute of Virology – money he says he has no guarantee for where exactly it went – and reports that Fauci once argued in favor of gain of function research, which is to alter a virus to make it more deadly or transmittable to better fight future ones.
Getting into the nitty and gritty details of Covid-19 and its origins, however, is not the point. Fauci clearly has authority on the issue, considering his position. The point is Fauci hasn't known what to do with that authority once he became a name average Americans actually knew. He's become more celebrity than scientist, the glow of the spotlight giving him a need to be front and center and a confidence to endorse ideas he only later turns around on, then using the excuse that the science is constantly changing and, therefore, so can his opinion. This is not entirely wrong, but it's dismissing the danger of someone like him speaking so matter-of-factly about things he really knows nothing solid about to a populace looking for real answers.
Numerous emails from early in the pandemic revealed by the Washington Post through a Freedom of Information Act request truly highlight how many were turning to Fauci for answers during the pandemic, including the National Football League Players when they sought advice on the upcoming NFL season. Other emails display the quick thrust into celebrity the medical expert went through, with everyone from Bill Gates to a filmmaker researching a possible Disney-backed biopic reaching out.
Also on rt.com
Joe Rogan is being attacked by Fauci & the White House for daring to have an honest discussion about Covid-19 vaccines
With the world somewhat reopening and people mentally trying to move on from the pandemic, Fauci's "life philosophy" book feels like his final attempt to maintain the celebrity status he was handed by an unfortunate situation. Now he's not even using the pandemic as an excuse to stay in the public eye, instead truly making himself and his personal philosophies the main focus. His opportunism has become clear as day, with some seemingly blinded to it thanks to the "American hero" label being pushed so hard by politicians and an adoring media.
"Those looking to live a more compassionate and purposeful life will find inspiration in his unique perspective on leadership, expecting the unexpected, and finding joy in difficult times," the upcoming book's description reads.
"Finding joy in difficult times" certainly sounds like something Fauci is an expert on, considering the last year. The trouble is that joy has been at our expense, and we don't seem to be getting a whole lot in return.
If you're not one of the many who has lost faith in the man and his motivations, however, you can listen to him ramble some more for a whopping 80 pages for $18.
If you like this story, share it with a friend!
The statements, views and opinions expressed in this column are solely those of the author and do not necessarily represent those of RT.
You can share this story on social media: