Joe Rogan is being attacked by Fauci & the White House for daring to have an honest discussion about Covid-19 vaccines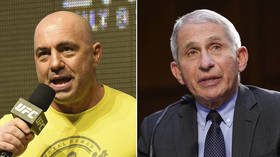 White House health adviser Dr. Anthony Fauci and communications director Kate Bedingfield have made a point of belittling and attacking podcaster Joe Rogan for daring to have a mixed opinion on Covid-19 vaccines.
As Rogan has skyrocketed over the years to arguably the most influential and successful podcaster around, he has also turned into an intensely controversial figure, mainly for liberals who fear his willingness to give a platform to right-wing figures like Alex Jones and his less-than-PC takes on everything from transgender athletes to Covid-19 vaccines.
The latter is what landed the former 'Fear Factor' host in the hot seat this week as a clip from a recent episode of 'The Joe Rogan Experience' made its way across social media and critics painted Rogan as an anti-vaxxer spreading disinformation.
The controversy stems from Rogan saying, during a conversation with fellow comic Dave Smith, he would not recommend that a healthy person in their early 20s get a Covid-19 vaccine as they are not as vulnerable to the virus as older generations (who account for the majority of Covid deaths in the US) and people with preexisting medical conditions.
Spotify's Joe Rogan encourages "healthy" young people not to get a coronavirus vaccine. His show is Spotify's most popular podcast. "If you're like 21 years old, and you say to me, should I get vaccinated? I'll go no." pic.twitter.com/5dX98xUaHS

— Alex Paterson (@AlexPattyy) April 27, 2021
The Spotify podcaster also said pushing for kids to be vaccinated is "crazy," citing his own childrens' history with getting Covid-19, as both recovered relatively quickly.
Critics painted Rogan's comments as an angry anti-vaxx rant, urging his millions of listeners to avoid getting inoculated against Covid-19. However, they ignored the fact that Rogan says in the clip (and has said in the past) that getting vaccinated seems mostly safe and is indeed "important" for certain people.
Criticism of Rogan reached a bizarre new level on Wednesday when the White House appeared to launch a coordinated effort to disparage and belittle the podcaster, completely dismissing his opinions.
In multiple interviews, Fauci blasted Rogan for ignoring "societal responsibilities," arguing even young and healthy people should get vaccinated as asymptomatic individuals can still spread the virus.
The infectious disease expert also believes "kids of all ages" will be vaccinated by the end of the year – there are no vaccines on the market in the US approved for anyone under 16 – and everyone should "absolutely" get inoculated.
Also on rt.com
Rose McGowan tells Democrats they are in a cult, and their whining, defensive responses prove her right
Bedingfield also dismissed Rogan's opinion in a CNN interview where she said Rogan not being a doctor basically strips his words of any merit.
"I guess my first question would be, did Joe Rogan become a medical doctor while we weren't looking?" she asked. "I'm not sure that taking scientific and medical advice from Joe Rogan is perhaps the most productive way for people to get their information."
Initial social media criticism of Rogan is one thing, but the White House pitting themselves against a private citizen having an open and frank discussion on a podcast is concerning. It's alarming enough that White House officials busy with vaccination efforts and a still-fresh administration would take the time to debate Rogan on the subject, but the responses to his discussion also show that administration officials are fearful of open debate and conversations about the vaccines. If one even strays from the belief that vaccines are 100% safe and every single person, regardless of age or health, should take them, they are attacked, at least if you have the following that Rogan has.
Rogan's discussions on Covid-19 vaccines do not boil down to a debate on whether getting inoculated against the virus is good for everyone or not. The recent viral clip even opens with the podcaster saying vaccines are safe, and he acknowledges that what he says about children and young, healthy people is not true across the board. He merely expresses concerns as a father and gives a personal opinion that in no way discourages everyone from getting a vaccine.
Looking at Fauci and Bedingfield's responses, it appears they aren't even debating what Rogan actually said.
Fauci, who has been a controversial figure himself and accused of flip-flopping multiple positions during the pandemic, argues that it is the potential transmission of the virus from one person to another that is the reason everyone should be vaccinated. Rogan never talks about the risk of transmission though. He simply makes the argument that a healthy individual who is younger may not need a vaccination to protect themselves from the deadlier aspects of Covid.
Also on rt.com
The woke MSM in a frenzy about Justin Bieber's dreadlocks shows how silly the idea of cultural appropriation is
Bedingfield's argument is even lamer as she says without a "Dr." title, Rogan simply can't have concerns about vaccinations for children and others. She argues no one should take "medical advice" from a podcaster, setting Rogan up as a man who presented himself as some kind of expert on vaccines, dishing out advice to his listeners, who apparently aren't intelligent enough to make up their own minds, according to these critics.
Fauci and Bedingfield and any other White House official who decides to paint Rogan as the face of anti-vaxxers should be ashamed of themselves. Their personal attacks are an opportunistic way to take a shot at someone who has somehow become a near-pariah on the left, and to discourage open and frank discussions about vaccines. Their swift dismissal of a comedian who is not quite waving the flag for every single person to be vaccinated shows that they don't want discussion from citizens they want compliance and for people to keep nodding their heads at their ever-changing talking points and guidelines.
It really doesn't matter who is right in the White House versus Joe Rogan debate because there shouldn't be a White House versus Joe Rogan debate. Ironically, Fauci and Bedingfield have probably made more people aware of Rogan's comments by addressing them. They and other officials have taken questionable criticism of a fairly harmless conversation and used it to create a false narrative about one man to strike fear into anyone who would dare consider what he or anyone else would say above what they do.
If you like this story, share it with a friend!
The statements, views and opinions expressed in this column are solely those of the author and do not necessarily represent those of RT.
You can share this story on social media: