Germany's trampolining 'Queen of the Greens' leaps into the lead to replace Angela Merkel as the ruling alliance fades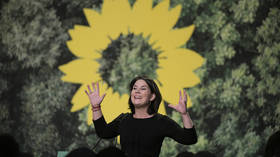 Polls show that rising star Annalena Baerbock, a charismatic 40-year-old mother-of-two who can do a natty handstand, is on course to become the country's first Green chancellor.
If anyone had ever asked German Chancellor Angela Merkel to express – without saying a word – how she felt about becoming head of state of the fourth largest economy in the world they would have been surprised had she chosen to spring a handstand in response.
But that's exactly what the first ever Green candidate for chancellor, 40-year-old Annalena Baerbock, did when asked that very question by German newspaper Süddeutsche Zeitung and the photo is there to prove it.
It has to be said, the former star trampolinist – winning bronze three times as a teenager at the national titles – popped the tricky move just fine.
Before viewing that stunt as something of a spontaneous celebration of excitement at the prospect of one day becoming chancellor, understand that the ambitious and clever Baerbock knows exactly what she is doing.
Born in Hanover in 1980, the same year as the party she now leads was founded, the married mother-of-two with a Masters in International Law from the London School of Economics is known as a talk show habitué for her countless TV appearances, and is a canny political operator now in the driving seat of yet another well-oiled German machine.
When she became co-leader of the Greens alongside Robert Habeck in 2018, it was clear she was playing second fiddle. Within months, though, those roles had been reversed, and today she is firmly number one.
Ulrich Schulte, a journalist who's written a recently-published book on the Greens called Die Grüne Macht (The Green Power), has compared Baerbock to the earnest, high-achieving character ­Hermione Granger from Harry Potter.
There is no doubt she is on a roll at exactly the right moment. With less than six months until September's federal elections, the ruling union of Christian Democrats and Christian Socialists is riddled with allegations of corruption and sleaze, Mutti Merkel's about to depart the scene, and the alliance, frankly, seems kaput.
Bearing in mind the shift in political debate that is already underway, by election time the pandemic may have been dislodged by the climate as the most urgent issue deserving mankind's attention and if there is one issue the Greens know, it's that.
Also on rt.com
Germany facing 'very serious' third wave, Merkel warns in push for wider Covid powers
But it's not all about the environment, of course, and on the campaign trail there will be more to talk about than planting trees and a commitment to vegan leather. The enhanced scrutiny of Baerbock and the rest of her Greens will be like never before and it's how they stand up to that which will determine their result in September.
So far, the signs are good for Baerbock. Merkel's alliance has picked a plodding, unremarkable 60-year-old male as its candidate to replace her, a humdrum choice if the reaction of the polls is any indication. The Armin Laschet announcement resulted in an unprecedented seven point lead to the Greens, putting their support on 28% over the CDU/CSU's 21% – a record low for them – in one seismic poll.
As Baerbock pointed out when accepting her nomination as candidate for chancellor of a new, family-friendly Germany, "I stand for renewal. The others stand for the status quo." That means you, Herr Laschet.
Baerbock won't need to try too hard to attract the vote from the German left, the ideological heartland of the Greens, and there are even enough Green-leaning CDU voters to be culled from the Union ranks to further build support.
The Green hopeful has learnt from her countless media appearances over the last few years that it's not just the agenda you seek to control in politics, it's also the language.
So she's been keen to speak of German heimat, meaning 'homeland' or 'roots', the sort of patriotic ideals usually favoured by the right. Combining this subtle choice with the party's 'zero tolerance' for Muslim extremism, a call to increase police powers and even a call for pro-market policies, the Greens have moved on from the days when their deputies could be found knitting jumpers during parliamentary sessions at the Bundestag.
Their recent rise is not totally unprecedented, however, because the Greens have form in power, having ruled as the junior partner in a coalition with the Social Democrats (SPD) under Chancellor Gerhard Schroeder from 1998 until 2005, the same year Baerbock joined the Greens and the long reign of Angela Merkel began.
That experience in power has clearly instilled confidence in the party about what is possible, but this time it's not about being the subsidiary partner in somebody else's government, it's about the Greens taking charge themselves, and Baerbock taking Merkel's place in the Federal Chancellery in Berlin. (What price, I wonder, on her walking in on her hands?)
To achieve victory, the Greens need to convince the electorate that they're not just a bunch of bourgeois idealists, but a party ready to rule.
Baerbock is certainly match fit and seems to be doing everything right. When nudging her co-leader gently aside for the chancellor candidacy, there was no internecine warfare and Robert Habeck conceded gracefully – lauding her as a "pugnacious, focused, strong-willed woman who knows exactly what she wants," – which is exactly what voters want to see.
In the time spent developing her 'Queen of the Greens' persona, she took part in the Swiss forum for young global leaders dubbed the 'summer Davos', rubbing shoulders with fellow alumni who include New Zealand PM Jacinda Ardern, French President Emmanuel Macron, Austrian Chancellor Sebastian Kurz, Facebook founder Mark Zuckerberg, Chinese billionaire Jack Ma and even Hollywood types like Charlize Theron and Leonardo DiCaprio.
They're the sort of names that pop up on a national leader's smartphone when it rings and now Baerbock has them.
Merkel's Union faces a struggle to bridge what appears to be a widening gap between the fading appeal of the alliance and Baerbock's newly-invigorated party particularly when the slick opposition don't seem to be putting a foot wrong.
So when the time soon arrives to start thinking about the curtains for the new German chancellor's office, perhaps the decorators should be looking for something in green. And a trampoline for the garden, maybe.
Like this story? Share it with a friend!
The statements, views and opinions expressed in this column are solely those of the author and do not necessarily represent those of RT.
You can share this story on social media: