France tells its citizens to flee Pakistan as deadly anti-French riots intensify over Emmanuel Macron's perceived slight on Islam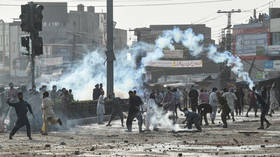 Pakistan Premier Imran Khan, struggling to stop hardliners from venting their fury, has banned a radical party and pulled the plug on social media. But he's the one who first lit the fuse and is now paying the price.
When he first waded into the domestic affairs of France, Pakistan's Prime Minister Imran Khan probably thought he could rely on the muscle of fellow Muslim leaders, including bellicose Turkish President Recep Tayyip Erdoğan, to help see off complaints about over-reach.
Also on rt.com
Muslim boycott threats and politics play out in attacks on 'mentally ill' Macron as he ups the rhetoric against Islamists
However, in just six months, the relationship between Islamabad and Paris has deteriorated to such an extent that French nationals and companies have now been told by their government to leave the Muslim nation "because of the serious threats to French interests in Pakistan".
Radical Islamists are largely to blame for the escalation of hostilities and mobilised crowds via social media and messaging apps to blockade the country's two largest cities, Lahore and Karachi, earlier this week.
This forced Khan's hand and he has had the leader of the hardline political party, Tehreek-e-Labbaik Pakistan (TLP), arrested. In the violent demonstrations that followed Saad Rizvi's detention, two police officers were killed. The party, instrumental in stirring up anger against France over satirical caricatures of the Prophet Muhammad published in Charlie Hebdo magazine, has now been banned and its dissolution sought in the country's Supreme Court.
In a more direct effort to prevent troubleseeking Islamist mobs assembling, the government today also asked the Pakistan Telecommunications Authority to pull the plug on Twitter, Facebook, WhatsApp, YouTube and Telegram nationwide to prevent TLP radicals from winding up others during Friday prayers.
It's a serious move and shows that the Pakistan leader recognises things have got out of hand. However, he has to take a large share of the blame for things reaching this point.
Tensions were running high across the Islamic world following President Emmanuel Macron's defence of the publication of caricatures of the Prophet Mohammed and their use in French school lessons which had led to the the decapitation of schoolteacher Samuel Paty last year and a second terrorist attack which left three more people dead in just a matter of days.
Macron's staunch defence of the French laïcité (secularism) provoked a series of angry Twitter responses from PM Khan, keen to display his Islamic credentials by alleging that the French president had "chosen to encourage Islamophobia by attacking Islam rather than the terrorists who carry out violence."
And it was that tone which set the cat among the pigeons.
Macron doubled down, tweeting later on the same day: "We will not give in, ever.
We respect all differences in a spirit of peace. We do not accept hate speech and defend reasonable debate."
Also on rt.com
Macron needs the help of Muslim world leaders or France's tally of decapitated heads will continue to rise
As ill-feeling bubbled along, it was revealed that France had decided not to assist with the upgrade of the 150 Mirage fighter jets that Dassault Aviation had sold to Pakistan, leaving Khan with only half a fleet fit to fly. Similar requests to help upgrade the country's French-Italian air defence system, along with its three Agosta 90B submarines, were also declined.
The pressure has been building on Pakistan ever since but the radicals are on a roll.
Meanwhile, in Turkey, the redoubtable Erdogan eventually chose a more pragmatic line and patched things up with his French counterpart last month, releasing a statement that both countries "can contribute significantly to stability and peace" and that "Turkey wishes to cooperate with France" in seeking to achieve their mutual aims in Europe, the Caucasus, the Middle East and Africa.
Khan, however, has found it harder to rein in the fury of the TLP and its supporters, who are still seething over what they see as state-sanctioned blasphemy against Islam by France, for which a price must be paid.
The problem for the former international playboy and cricket star who now leads a population of more than 212 million people – including 174 million Muslims – is that he not only lacks the authority of his Turkish friend – with a much smaller population of 82 million – but that the constitutional empowerment of Pakistan's religion makes it more difficult to pivot when a touch of pragmatism is needed to diffuse a tricky situation.
If the banning of the TLP and the heavy handed restrictions on social media have the desired effect in keeping the radicals from dictating the public mood, Khan might have enough breathing space to start rebuilding his relationship with Macron.
Otherwise he risks being isolated, stuck with a hamstrung military, and being viewed as a Islamist terrorist sympathiser to be kept at arm's length by the rest of the world's leaders.
Like this story? Share it with a friend!
The statements, views and opinions expressed in this column are solely those of the author and do not necessarily represent those of RT.
You can share this story on social media: