Macron needs the help of Muslim world leaders or France's tally of decapitated heads will continue to rise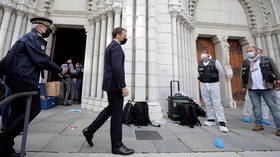 After another day of horror in France, President Macron stood firm in his defence of free speech. But as the bodies pile up, what he really needs is Muslim world leaders to categorically condemn the mindless terrorist attacks.
As France struggles to comprehend the horror of yet another Islamist extremist beheading of an innocent civilian in broad daylight, President Emmanuel Macron faces the dilemma of either sticking to his defence of freedom of speech or caving in to Muslim sensitivies in a bid to stop these atrocities.
The French leader gives a good speech and he wasn't short on words as he said, "If we are attacked, it is because of our values, our values of freedom and our desire not to yield to terror."
But this will never be enough to quell the fury he's stirred up over his support for the publication of controversial caricatures of the Prophet Mohammed. He's been demonised around the Muslim world, but the true, ghastly price he's paying is exacted much closer to home and counted in the severed heads of his citizens.
The attack which left three people dead in the Notre Dame basilica in Nice saw one of the elderly victims decapitated by a 21-year-old Tunisian migrant called Brahim Aoussaoui, repeatedly shouting "Allahu Akbar" as he pursued his slaughter, a cry the killer kept up despite being shot by police and sedated by the medical services.
In the south-eastern city Lyon, a man of Afghan origin was arrested while armed with a 30cm knife and wearing a tactical vest as he tried to board a tram. Another man also armed with a knife was arrested outside a church in Sartrouville, north-west of Paris, after he reportedly claimed he wanted to carry out an attack similar to the earlier one in Nice.
And it didn't stop there. In Saudi Arabia, a local man was apprehended after stabbing a security guard outside the French embassy in Jeddah.
All this in a single day and just two weeks after teacher Samuel Paty was decapitated outside the school where he worked by a radicalised 18-year-old Chechen refugee.
In a timely and strongly worded statement, the Saudi state news agency said, "The kingdom categorically rejects such extremist acts, which contravene all religions ..., while stressing the importance of avoiding all practices which generate hatred, violence and extremism."
This is exactly the sort of unequivocal condemnation of such atrocities and a welcome show of support from the Muslim world that President Macron must demand if he is to have any chance of preventing further attacks.
While rogue nations like Iran and Syria are unlikely to call off the attack dogs, Turkey's President Recep Tayyip Erdogan and Pakistani Prime Minister Imran Khan – plus the new government in Lebanon – would prove helpful allies in stopping this seemingly unending string of attacks, if they would stop the incredibly unhelpful rhetoric for a bit.
Otherwise, deluded, radicalised crazies will continue the bloodbath, which for France, has been ongoing for some time.
Also on rt.com
Christians must not become 'symbol to be cut down' after Nice church attack – French bishops
It's not the first visit of extremist terrorism to Nice. Eighty-six people were killed on the famous Promenade des Anglais in 2016 when a 19-tonne truck was deliberately driven into crowds of people celebrating Bastille Day. The perpetrator, another Tunisian living in France, was shot dead by security forces.
Sure enough, the then-rampant Islamic State (IS, formerly ISIS) claimed the credit at the time, saying the attacker had answered "calls to target citizens of coalition nations that fight the Islamic State."
That was just over four years ago and Islamic State has suffered some serious setbacks in its bid to establish a caliphate in Syria, with Western forces claiming to have all but eradicated it. But to suggest that this outfit of murderous psychopaths is dead is a long way off the mark.
In a shockingly under-reported speech two months ago, the United Nations' counter-terrorism chief Vladimir Voronkov told the UN Security Council that more than 10,000 Islamic State fighters are estimated to remain active in Iraq and Syria two years after the militant group's supposed defeat in the region.
He said IS had regrouped and its activity increased, not only in conflict zones like Iraq and Syria, but also in some regional affiliates. And he pointed out that its constant internet-driven campaigns and homegrown terrorist radicalisation continued to prove a threat in Europe.
If evidence of Voronkov's claims is needed, we don't need to look too far.
The media has reported that Samuel Paty's killer, Chechen teenager Abdullakh Anzorov, had in fact been in touch with an Islamist fighter in the north-western Syria jihadist holdout of Idlib in the days leading up to the attack. And following his murderous assault he sent images of the teacher's severed head to Chechen IS Telegram channels where it was shared widely.
With France's national security alert at "terror attack emergency" and 7,000 troops on the streets to protect churches and religious sites around the country as it heads into the All Saints holiday weekend, President Macron clearly believes there could be more to come.
Starting tomorrow, France enters a second national lockdown in its ongoing battle to contain the spread of the coronavirus. It's tough, but it has been proven to be effective in keeping infection rates of Covid-19 at a manageable level.
But it's not just the fear of an invisible killer virus that French people have to deal with. Just as frightening are the unpredictable and murderous flare-ups stemming from a clash of two cultures with those flames of hate fanned by Islamist extremists and reckless politicians.
Covid-19 will eventually be beaten by a vaccine. The cure for what else ails France is proving more elusive.
Think your friends would be interested? Share this story!
The statements, views and opinions expressed in this column are solely those of the author and do not necessarily represent those of RT.
You can share this story on social media: