Overlord celebrities like J.Lo and Lady Gaga are using Covid-19 to promote meaningless 'health seal' that could run you $12,000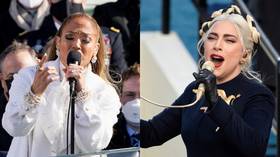 Lady Gaga, Robert De Niro, and other stars are continuing the gag-inducing trend of celebrities preaching to us about Covid-19, this time promoting an expensive 'health seal' that is as hollow as their authority on the matter.
We may soon be living in a world where not only do you need a vaccine passport to have a life outside of your home, but the businesses you enter may need a seal of approval to let everyone know they "put your health and safety first."
The latter is being proposed by celebrities from Jennifer Lopez to Wolfgang Puck, each of whom participated in one of those lovely videos where stars preach to us about a situation they have no expertise in and proceed to repeat one phrase over and over again. This time, that phrase is: "look for the WELL Health-Safety Seal."
The video is a glossy ad directed by Spike Lee (nothing better to do, Spike?) that informs us the WELL Health-Safety Seal is an endorsement that comes after a business (everything from stadiums to banks) meets criteria in areas like emergency preparedness and cleaning and sanitation. The criteria is based on "years of input in research," though the Covid-19 pandemic has not exactly been around for "years," but let's not get caught up in the math.
Like most of what celebrities push, the seal appears to be a hollow attempt to just make some money. De Niro, Gaga and others may be telling us this is all about feeling "safe" as the world begins to reopen, but a few seconds on the company's website and you start to get a clearer picture.
Also on rt.com
Monsters & the military: How 'Godzilla vs Kong' follows a long tradition of US meddling in the movies
If you want one of these seals, it could cost you over $12,000. That may sound like a lot of money to a populace that has been dealing with businesses closing and bread-crumb stimulus payments, but it's got to be worth it, right? For that much money – and with these trustful celebs throwing their weight behind it – you must be getting some bang for your buck.
Not really. Turns out there is no performance testing with this seal. Everything is "documentation-based."
Oh, and if one bothers to watch the now-viral ad beyond the celebrity droning, there is a bit of a legal loophole too as we are informed the seal "does not guarantee that a space is safe or free from pathogens."
In other words, like healthy and vaccinated people rolling around in masks and the proposal of vague vaccination cards, this seal means absolutely nothing and is merely to make scared people who put too much trust in celebrities feel better.
Luckily, few seem to be taking this 'health seal' seriously as the celebrity-filled ad has mostly just given people the creeps as it's being blasted as either a scam or a sign of that 'New World Order' we always hear is coming.
In a pre-pandemic world, maybe having preachy stars be your "ambassadors" could have brought some legitimacy, but Covid-19 shutdowns and the bitter political battles that have ensued over the last year seem to have accelerated the populace's rightful distrust of celebrity.
Stars like Sean Penn shame us about mask-wearing, and then set off on tropical vacations with billionaires with no masks in sight. Loudmouths like Michael Moore tell people he disagrees with they don't deserve the vaccine. And let us not forget that as the US plunged into pandemic mode and shut down – here's to those 15 days to flatten the curve or whatever – stars like Gal Gadot sang us a rendition of John Lennon's 'Imagine' from their mansions to let the struggling world everything would be okay.
Also on rt.com
Let celebrity culture burn: Hypocritical movie stars and politicians break their own Covid-19 advice while shaming the rest of us
Those examples and more have led us to a world where it should be clear to everyone that preachy celebrities talk at us from a cultural bubble, one protected by true privilege and politicians, corporations, and a media spoon-feeding these millionaires about their 'importance' on issues.
At least at the beginning of the pandemic, however, celebs were just trying to keep our attention with silly singing videos we could all just make fun of. Now they are exploiting a situation and asking for our money and obedience. No thanks. Go back to Lennon covers, you hacks.
If you like this story, share it with a friend!
The statements, views and opinions expressed in this column are solely those of the author and do not necessarily represent those of RT.
You can share this story on social media: