Let celebrity culture burn: Hypocritical movie stars and politicians break their own Covid-19 advice while shaming the rest of us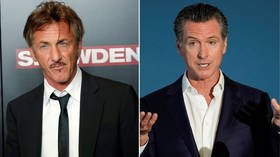 While actors and lawmakers shame people and preach to them about the pandemic, their actions show they believe they are far above the very rules they lay down for the rest of us. It's time we took a torch to the cult of celebrity.
Are you one of those villainous cretins who question whether masks are the be-all, end-solution to stopping the spread of Covid-19? Well, part-time filmmaker and full-time pseudo-expert on anything and everything Sean Penn has a message for you: you're ruining the economy!
"To those who reject masks: Please change your minds. People are suffering and dying, and the economy is totally collapsing entirely due to YOU," Penn tweeted this week.
To those who reject masks:Please change your minds. People are suffering and dying, and the economy is totally collapsing entirely due to YOU.

— Sean Penn (@SeanPenn) November 17, 2020
While Penn could be seen wearing a mask during his latest interview with CNN where he got to rant about President Donald Trump "betraying" the country with his pandemic response, he was curiously pictured without a mask, and a shirt, only days before his Twitter message while strolling on a Hawaiian beach with billionaire Twitter CEO Jack Dorsey.
The problem with Penn jetting off to Hawaii and chilling with billionaires is that masks are missing. The problem is such behavior being combined with the Penn we see on Twitter and in media interviews where he spells out doom and gloom and preaches to the world about the exact way we need to act to solve this pandemic because, hey, he knows. He's "Dr. Penn."
One can argue to death the science behind the risk factors of Penn's decision. He and Dorsey could both be negative for Covid-19, they are outdoors, etc. But there are no ifs, ands, or buts to his mask tweet or his ranting interviews on CNN. He makes no exceptions, so why should we? States like California have travel advisories in place, warning people to skip out on jetting around for the holidays, and mask mandates can be found all over the US. When was the last time you walked shirtless on a beach without a mask in Hawaii?
The Covid-19 pandemic has put a cruel, yet honest light on celebrity culture in the US. From interviews about the pandemic with Stephen King to Penn, this light has revealed an ugly obsession with the idea of celebrity, as well as the need for many to connect celebrity status with intelligence and perspective, especially on the left.
And this celebrity cult goes far beyond the star of 'Fast Times at Ridgemont High' as this obsession with public figures has also infected politics, and it's only been worsened during Covid.
Gov. Andrew Cuomo can't tell New Yorkers enough about how their behavior has helped spread Covid-19 in his state. While he's been running this shame campaign, however, Cuomo has traveled out of state and been seen without a mask.
Also on rt.com
Democrats are giving McCarthyism a major comeback with blacklists for Trump supporters, and we should all be worried
And Cuomo is a perfect example of the line between politician and celebrity being blurred, as he's spent more time promoting a book and talking about his dating life in gushy interviews than he has addressing legitimate controversies like an order in his state early on in the pandemic forcing nursing homes to accept Covid-positive persons, a decision many believe is behind the deaths of thousands and a serious contributing factor to New York's current predicament.
And how about Chicago Mayor Lori Lightfoot? She's another politician who seems to spend less time governing and gives more attention to building her brand, either through nonsense ideas like the Census Cowboy or bizarre videos celebrating Joe Biden's presumed presidential victory and preaching to us about...science!
Lightfoot believes in science so much that she recently issued a stay-at-home order in her city after a spike in cases. Days before this, she was pictured in a mass gathering on the streets of Chicago celebrating Trump's defeat on election night. At one point, she even spoke, with that pesky mask acting more as a chin diaper.
This may seem hypocritical of someone encouraging people to cancel Thanksgiving traditions and complaining about weddings and funerals being held, but, hey, it's all good because Lightfoot told MSNBC so. Sometimes we need "relief," she said, and that was one of those moments. Your Thanksgiving, however, is not and is entirely too dangerous. Listen to her. She's on TV!
Down and down the rabbit hole goes. Lawmakers are jetting off to Hawaii for a conference on, ironically, how to end economic shutdowns, and Gov. Gavin Newsom recently attended a birthday party where more than three households were in attendance (not cool, according to Covid restrictions in the state).
Also jetting around the world during a time when many are banned from traveling, is Tom Hanks, who made sure to tell us just how serious Covid-19 was after he got it. Hanks took a trip to Greece and even got citizenship there during the pandemic. The rest of you stay home, though, because traveling could help spread the virus and you could be a carrier. Not Hanks, though. He believes in science and has no respect for all you non-mask wearers.
Also on rt.com
Candace Owens vs. Harry Styles: Proof that masculinity IS under attack — and black voices only matter if they're left-wing
You can also find plenty of celebs throwing maskless parties and ignoring limited gathering restrictions while the rest of the world is told by our celebrity overlords how much we must sacrifice, but don't worry, because we are all in this together. Gal Gadot told me so when she and her friends sang 'Imagine'...
Enough of this nonsense. Enough with navel-gazing of celebrities and treating them like they are above the strict rules they preach. Enough pretending they are experts whose claims should be sent out through the media airwaves. Enough of allowing politicians to skirt accountability in favor of puff-piece interviews where they can paint a false picture of their leadership during the pandemic.
Many lessons will be taken away from this year that is 2020, and one of them should be that celebrity culture needs to burn to the ground. An A-list profile in Tinseltown and some charity work does make you an expert and does not exclude you from the same authoritarian restrictions you support, and neither does a political office and government check.
If you like this story, share it with a friend!
The statements, views and opinions expressed in this column are solely those of the author and do not necessarily represent those of RT.
You can share this story on social media: