EU goes 'better dead than red' on Russian vaccine & China sanctions. Guess whose interests it really serves?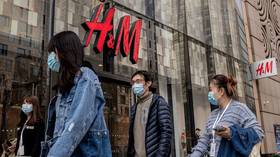 While the EU says it's pursuing an autonomous foreign policy, its actions this month show that it's perfectly fine being a pawn in America's New Cold War.
The European Union publicly espouses a policy of strategic autonomy, meaning that it should, in theory, strive to be more independent, pursue its own interests. However, recent events suggest that the EU is perfectly content being a ping pong ball in the US' Cold War 2.0: Electric Boogaloo.
For starters, the Internal Market Commissioner Thierry Breton, who heads the EU executive's vaccine task force, told TF1 television on Sunday that the EU has "absolutely no need for Sputnik V," the highly-effective Russian-developed vaccine. This comes as the 27-country bloc is falling into a third Covid-19 wave.
Deadly variants of the 2019 coronavirus are spreading like wildfire in Europe and, of the highest death rates in the world for the virus, EU member states are at the very top of the list. The EU is objectively in need of vaccines to stop this and, in fact, on Wednesday Germany urged the European Commission to move forward on purchasing Sputnik V at the EU level.
For its part, the EU itself has failed to produce an effective vaccine rollout program – but it deserves reflection as to why.
As journalist Dave Keating masterfully pointed out on Twitter, the EU has pretty-much gotten shafted by the US and UK on this front. Both of these countries included country-first clauses in their funding agreements with vaccine producers, while Europe relied on good faith from its partners. We see how that turned out.
Through executive action, then-President Donald Trump ensured that any vaccine produced in the US would stay in the US. Sure enough, President Joe Biden is continuing this policy by reportedly blocking the export of the not-yet-approved AstraZeneca vaccine to the EU. The UK also has its own export bans on the AZ vaccine that made supply issues with the EU complicated.
It just goes to show that an overreliance on America and Britain is quite literally endangering EU citizens.
It also adds another layer to this controversy when you consider that the US pharmaceutical lobby is, according to Lee Fang's reporting in The Intercept earlier this month, actually pushing the Biden administration to take action against countries, including some EU member states like Hungary, for "seeking to ramp up the production of Covid-19 vaccines and therapeutics without express permission from pharmaceutical companies."
I'm pretty convinced that one day there will be stories vindicating this claim, but right now I think it would not be unthinkable to assume that Western drug companies are exerting political pressure in Europe to make the use of Sputnik V untenable. Hard to see what strategy or autonomy there is in this situation.
On another pressing matter, the economy, the EU is also shooting itself in the foot to appease Western interests. Hell, US Secretary of State Antony Blinken is even positioning himself as something of an EU trade spokesperson. On Wednesday, the US' top diplomat said that it will be up to China to make good on its trade commitments with the EU, referring to the EU-China Comprehensive Agreement on Investment (CAI).
"Our judgment is that the onus is really going to be on China to demonstrate that the pledges it has made on forced labor, on state-owned enterprises, on subsidies are not just talk," Blinken told a news conference following a NATO meeting.
The problem is that it's not about 'forced labour' – the accusation that China strongly denies – but political posturing that will inevitably hurt the EU's economy. Already clothing companies like H&M, Nike and others are getting ditched in China after making statements about alleged use of "forced labor" in the production of cotton in Xinjiang Uighur Autonomous Region.
Also on rt.com
Beijing blasts US for historical use of slave labor, dismissing Nike and H&M allegations on rights abuses in Xinjiang
This week, the European Union, followed by the US, Canada and the United Kingdom, sanctioned Chinese individuals and entities over alleged human rights abuses against the Uighur Muslim minority in Xinjiang.
In return, China – which sees these allegations as baseless and provocative – responded with heavier sanctions against European entities. Now, the EU-China Comprehensive Agreement on Investment (CAI) that was struck just at the end of 2020 is being put in jeopardy.
A swath of EU parliamentarians are pushing to make the ratification of the deal, which would give EU companies unprecedented market access in China and would help drive the bloc's economic recovery, dependent on China lifting its sanctions.
This is, as we in the business call it, just plain stupid. China's importance to world economic recovery is irreplaceable and any country (or group of countries) that could gain access to its growing consumer market would be silly not to. Last year, China was the only major economy to see positive GDP growth and was the largest recipient of foreign direct investment (FDI).
Not only is China predicted to be the world's largest economy by the end of the decade but, just at the beginning of this year, analysts from Morgan Stanley predicted that China's consumer spending would double by 2030 to approximately 12.7 trillion US dollars, which is about what American consumers spend right now. China's growth potential is almost limitless when you consider that the country's growth hasn't even really begun since its GDP per capita is still far below, for example, the US'.
Meanwhile, the EU in return for its collusion with America on sanctions against China and Russia – in typical American fashion, got... its very own threat of sanctions. Blinken said in Brussels that EU member states, namely Germany, could see new sanctions over the Nord Stream 2 natural-gas pipeline being built from Russia to Germany beneath the Baltic Sea.
Also on rt.com
The US' push for allied sanctions on China edges us closer to a new Cold War, but Biden mustn't bank on long-term European support
"President Biden has been very clear, he believes the pipeline is a bad idea, bad for Europe, bad for the United States, ultimately it is in contradiction to the EU's own security goals," he said.
So according to the Biden administration, it's actually Washington that knows the EU's interests more than the EU itself.
This has been a painful month to watch for the EU. I have to say that, after Donald Trump and his attack dog, Mike Pompeo, left office, many of us genuinely believed Brussels had learned its lesson with Washington. That may, in fact, have been an overly optimistic assessment since they appear to be quite accepting of the fact that the new administration is barely any different.
Think your friends would be interested? Share this story!
The statements, views and opinions expressed in this column are solely those of the author and do not necessarily represent those of RT.
You can share this story on social media: