WATCH: In first solo press event, Biden admits he MISSES Trump, blames him for problems and hints at 'changing the paradigm'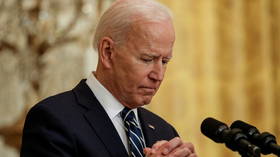 In the first official press conference of his presidency, Joe Biden dodged questions from friendly reporters with rambling digressions and wondered if there will be a Republican party to oppose him in 2024, should he run again.
On Thursday, Biden faced the White House press corps for the first time since taking office 65 days ago, having waited longer to do so than any US president in over a century. Calling on pre-selected mainstream reporters, he faced questions about the immigration crisis at the US' southern border, the Senate filibuster, gun control and China.
Biden blamed the border situation on Trump and argued he knows better why the migrants are coming to the US, brushing off reporters literally quoting the reasons given by migrants they interviewed. He also denied any of it could be his fault, saying he makes "no apology" for revoking all of Trump's border policies.
Also on rt.com
Biden: 'Vast majority' of migrants reaching US border are being sent back
He would not directly commit to eliminating the Senate filibuster – the rule requiring 60 votes to pass major legislation, even as he agreed with a CNN reporter that it was racist. He claimed most Republicans support his policies even if no GOP members of Congress do, citing mainstream media polls.
"My predecessor… oh god I miss him," he said at one point, instead of answering whether he'll run in 2024. Biden said he expected to, but dodged a question about a rematch against Trump by saying much could change in four years. "I have no idea if there will even be a Republican party. Do you?" He also spoke about changing the "paradigm" of US politics somehow.
Also on rt.com
Biden, already the oldest president to assume office, says he expects to run for re-election in 2024
Asked about gun control, Biden started talking about infrastructure. Another rambling answer came to a question about China, which he said the US did not want to confront – even as he painted the next century as a grand clash between "democracies and autocracies" like China and Russia.
One of the few direct answers confirmed that the US troops will not leave Afghanistan by the May 1 peace agreement deadline for "tactical" reasons. "If we leave, we're going to do so in a safe and orderly way," Biden said, before contradicting that in his next breath to say the US troops will leave, but "the question is when."
Also on rt.com
Troops NOT leaving Afghanistan before Trump pullout deadline, as Biden makes vague 'we will leave' promise
Biden has waited longer than any of his predecessors to face the media. Donald Trump addressed the media after 27 days, while Barack Obama, Biden's old boss, waited just 20 days. With Biden under pressure from reporters, his opponents have accused him of hiding from the media, and some conservatives have been suggesting he was hiding his alleged cognitive decline.
Much has happened since Biden took office. The president has fired off 50 executive orders, ordered airstrikes on Syria, overseen a natural disaster in Texas, and signed a $1.9 trillion coronavirus relief bill. His administration faces an ongoing crisis at the Mexican border as it struggles to process tens of thousands of illegal immigrants, and both Biden and Vice President Kamala Harris have pushed Congress to enact tough new gun control laws in the wake of two mass shootings in as many weeks.
Biden promised from the outset to lead an open and transparent White House. However, aside from waiting nine weeks to hold a press conference, his administration has imposed a media blackout on detention facilities at the Mexican border, and Biden himself rarely takes questions after live events, with his aides often whisking him away from reporters.
Also on rt.com
'What did you have for breakfast, Joe?' As CNN publishes 'tough' questions for Biden, critics guess how low the bar will REALLY be
Like this story? Share it with a friend!
You can share this story on social media: