The US' push for allied sanctions on China edges us closer to a new Cold War, but Biden mustn't bank on long-term European support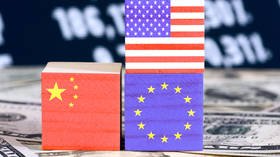 The European Union is standing beside the US, UK and Canada over sanctions on Xinjiang… for now. But the strength of Beijing's response and the EU's need to retain good relations may force it to reconsider in future.
Will this week mark a new turning point for China's ties with the West? Has the EU's policy of engagement with Beijing abruptly ended? On Monday, in tandem with the United States, United Kingdom and Canada, the bloc unleashed a number of sanctions on officials within the Xinjiang autonomous region and on the Xinjiang Public Security Bureau over the internment of Uighur Muslims.
The measures were the first placed by the EU on China since 1989, and also the first collaborative effort pursued by the Biden administration, following the old Barack Obama-era playbook of 'co-ordinated sanctions'. China responded by blacklisting a number of EU figures and entities – a move that was disproportionately greater.
On numerous occasions, I had noted that transatlantic relations between the US and Europe had deteriorated, especially on the matter of China, where there had been obvious differences in open play, the majority of them brought about by Donald Trump's aggressive rhetoric. The creation of the Comprehensive Agreement Investment (CAI) between Brussels and Beijing on the last day of 2020 stunned US officials and the incoming Biden administration.
However, many have now used yesterday's events to argue the opposite – that transatlanticism is back, the CAI is history, and the EU and the US are finally going to co-operate on China.
Looks can be deceiving, though. Despite all the drama, what happened was, in fact, relatively insignificant. It was not even close to being a gamechanger for EU-China relations, given the low-stakes nature of the sanctions and the fact they will have no economic impact.
It should instead be interpreted as a statement of disapproval rather than Brussels signing up for a comprehensive containment effort against China at the behest of the US. While shared ideology and culture means there will always be some overlap on the issue, there are substantial differences in a number of areas. As Beijing's response shows, Brussels does not have the political will or space to engage in a prolonged confrontation with China.
Are the sanctions really a big deal? The fact the West has felt compelled to act is obviously important, but they will make very little difference. To put them into context, the US has effectively managed to get its allies to agree to sanctioning China's equivalent to a local council leader and a regional police chief. And this alone shows the different stakes for the allies.
Last year, the US sanctioned Chen Quanguo, the Politburo member who is the party secretary for Xinjiang. This time around, lower-ranking individuals were targeted, including a former official. This proves that its scope is extraordinarily narrow. Their fate doesn't really matter or hold any consequences, and the sanctions themselves won't change China's policy in the region.
Also on rt.com
Biden's dual assault on China and Russia may backfire as it is pushing Beijing and Moscow closer together
Blacklisting officials is, for the most part, symbolic, yet even this move was a stretch for the EU, which clearly still has many practicalities to consider when it comes to engaging or disengaging with China. Indeed, why would the European nations trust the US on everything?
For all this so-called transatlanticism, Secretary of State Antony Blinken was in Brussels yesterday, threatening sanctions on European states over the Nord Stream 2 natural-gas pipeline being built from Russia to Germany beneath the Baltic Sea. The dynamic of the US imposing its interests on Europe by force remains a constant theme of relations, so, even if the EU and US can find common ground on the Xinjiang issue, why would Brussels bend over backwards to complement America's self-interested goals?
This is a move that was undertaken with caution, and, even then, the EU was caught off guard by the strength of China's response, illustrating the price it may have to pay if it goes further. Plus, despite the fact the US' allies were co-ordinated, the conspicuous absence of both Australia and New Zealand was notable.
The duo released a statement supporting the measures, but the language used in it was noticeably less harsh than that of the UK-US-Canada joint statement. Why has Five Eyes now become three? Is this not testament to the fact that China's trade sanctions against Australia have worked as a deterrent, and that New Zealand also has a huge trade surplus with Beijing?
On that premise, it's no surprise that China has made its point by hitting back hard at the EU, so it's legitimate to speculate just how far Brussels will push on this matter. Will it rock the boat with its largest trading partner, especially when it's so weak economically? The question of internal unity is actually debatable, with Hungary's foreign minister blasting the sanctions. This means Washington's drive for more co-operation in future will likely be easier said than done.
The US has opted to aim for low-hanging fruit so as to send out a message, rather than to take definitive action that would significantly change things. But China's willingness to respond is real – Beijing does not compromise on core territorial issues and never will, and thus it's prepared to hit back hard at any Western attempt to contain them. We should also remember that the CAI agreement is for Europe's benefit, more than China's. Given all that, don't let yesterday's window-dressing move fool you. Some tough decisions lie ahead for Brussels.
Think your friends would be interested? Share this story!
The statements, views and opinions expressed in this column are solely those of the author and do not necessarily represent those of RT.
You can share this story on social media: