Laura Loomer: As a Jewish woman, I can tell you Gab is NOT an anti-Semitic platform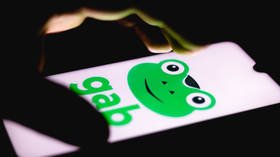 After being banned by Big Tech in 2018, I, as a Jewish journalist, was warmly welcomed into the Gab community, where free speech is welcomed, unlike on Twitter and Facebook. Can someone explain how that makes it anti-Semitic?
You know what they say? Everything is bigger in Texas, and that seems to also apply to the free speech hypocrisy that was just displayed by Texas Governor Greg Abbott, who has spent the last few weeks touting himself and his state as a place where free speech would be protected and Big Tech censorship wouldn't be tolerated.
Now, Governor Abbott has done a complete 180 and has publicly attacked the free speech site Gab, accusing it of being "anti-Semitic." During a recorded statement, which he posted on anti-free speech site Twitter, Governor Abbott said, "Anti-Semitic platforms like Gab have no place in Texas, and certainly do not represent Texas values."
As he made the statement, he was sitting next to state representatives Phil King and Craig Goldman in front of an Israeli flag, despite the fact that Governor Abbott is an American lawmaker who is beholden to the values within the United States Constitution, including the First Amendment which is not conditional on our US relations with Israel.
"Texas values" and Texas free speech laws are supposed to be in alliance with the United States Constitution, and while anti-Semitism is offensive speech, offensive speech is still constitutionally protected speech.
As a Jewish woman who also happens to be the most banned woman in the world, and the first deplatformed federal candidate in US history, I do not find Gab to be anti-Semitic as a platform. While Gab certainly has some anti-Semitic users, that doesn't make Gab itself an anti-Semitic platform.
As a free speech platform, the fact that Gab allows for even the most offensive speech to exist on its platform is a testament to its commitment to being a true free speech platform. However, violent speech is where Gab draws the line, as it should, because incitement of violence is not constitutionally protected speech.
If Governor Abbott is going to claim that Gab is anti-Semitic and that it shouldn't be allowed in Texas, then he should also say the same for Twitter and Facebook.
I was permanently banned from Twitter on November 21, 2018 for a tweet in which I called Congresswoman Ilhan Omar "anti-Jewish." Ilhan Omar is such an anti-Semite that House Democrats were forced to pass a resolution on anti-Semitism. It was later revealed by the Wall Street Journal that I was banned from Twitter after the Council on American Islamic Relations (CAIR) lobbied Twitter executives to ban me. In 2014, CAIR was classified as a terrorist organization in the United Arab Emirates and labeled as a Muslim Brotherhood entity by the United States. Hamas is the Palestinian branch of the Muslim Brotherhood.
Also on rt.com
Laura Loomer: Gina Carano is right to compare cancel culture to a Holocaust precursor
As I have reported on extensively, CAIR still has a Twitter account and various branches in Texas. In 2008, CAIR was named an unindicted co-conspirator in the Holy Land Foundation terrorism trial, the largest terrorism financing case in US history, which took place in Texas.
During the trial, CAIR was labeled as a Muslim Brotherhood entity by the United States Justice Department and was found by a federal judge, the US attorney general's office, and the Fifth Circuit Court of Appeals as having direct ties to Hamas. On July 1, 2009, Chief US District Court Judge Jorge Solis out of Northern Texas upheld CAIR's designation as a co-conspirator in the terrorism financing trial, declaring that there was "ample evidence" that linked CAIR to Hamas.
As a result of this trial out of Texas, the FBI discontinued its work with CAIR. Meanwhile, the US State Department classified Hamas as a designated terrorist organization in 2008. Hamas' stated goals are the destruction of Israel and the killing of Jews.
Despite these facts, CAIR is still allowed to operate on Twitter and Facebook, as well as in the state of Texas, while I as a Jewish journalist and congressional candidate remain banned. CAIR, despite its blatant hatred of Jews and terrorist ties, still enjoys access to Big Tech executives and Texas officials, who have never once attempted to call out its anti-Semitism.
While conservatives are being purged from the internet, silenced and deplatformed for simply supporting President Donald Trump, Texas officials like Houston's Mayor Sylvester Turner have been busy dedicating a citywide holiday to CAIR.
Also on rt.com
As the 'most banned woman in the world', I know conservatives are being censored by Big Tech. It's blatant election interference
I'd love to ask Governor Abbott if giving terrorism tied organizations official annual Texas holidays equates to "Texas values"? Is allowing for Islamic terrorism tied organizations like CAIR to operate in Texas "Texas values"?
When Big Tech silenced me as a Jewish journalist for exposing Ilhan Omar's anti-Semitism and ties to CAIR, it was Gab that came to the rescue and offered me a platform. I have been using Gab since 2016, and Andrew Torba, the CEO of Gab, has only treated me with respect and kindness.
Gab is a true free speech platform. CAIR has been designated as a terrorist organization overseas and has documented ties to radical Islamic groups that kill Jews. Yet CAIR and its executives still enjoy more internet and platform access and free speech rights in America than I do, and they have more platform access and less scrutiny from Governor Abbott than Gab has.
If Governor Abbott is so concerned about keeping Jew hatred out of Texas, how come he has never once said CAIR has no place in Texas and that CAIR's values aren't Texas values?
Governor Abbott is wrong and extremely misguided to say Gab has no place in Texas. As Gab tweeted in November 2018, just five days after I was permanently banned by Twitter for exposing anti-Semitism, "Just spoke with Laura Loomer… Gab, which the media has falsely smeared as a "Nazi platform" is the only platform on the internet to give this Jewish journalist a voice."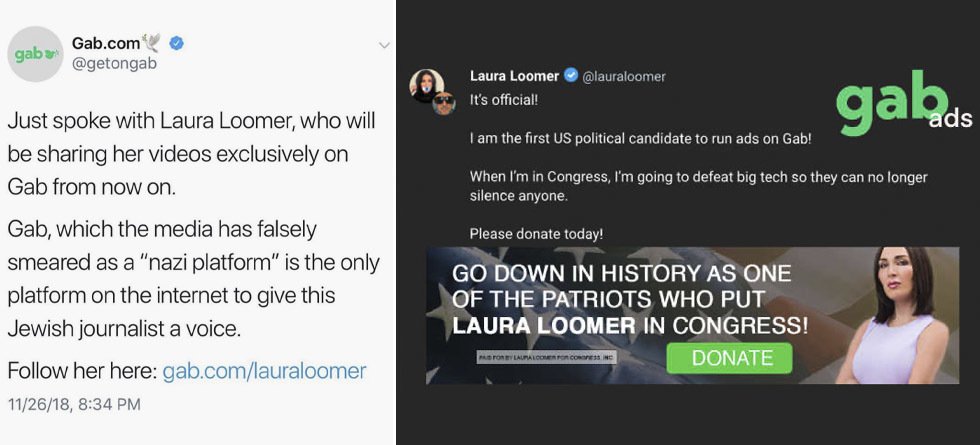 When I ran for Congress in Florida's 21st District as the first deplatformed candidate in US history, and made history by winning my primary and securing the endorsement and vote of President Donald Trump, who lives in FL-21, it was Gab that gave my campaign a platform while Twitter, Facebook, Instagram, and PayPal refused to let my campaign have accounts or run ads. It is worth noting that as a Jewish woman, Florida 21, the district where I ran for Congress in 2020 and am now running again in 2022, is the most Jewish District in America.
Without free speech platforms like Gab, Parler, and Telegram, I would not have been able to get my campaign message out or reach voters. And I can't sit back and watch lawmakers and elected Republicans like Governor Greg Abbott – who have an inadequate understanding of the internet and the complexity of deplatforming – make false smears and accusations against a platform that is currently one of the only free speech havens for conservatives online at the moment, as Big Tech continues its war on free speech.
As a US governor who took his oath of office to uphold the Constitution, Governor Abbott should already know that the First Amendment guarantees protections for speech he doesn't like, including alleged anti-Semitic speech.
Just last week, Governor Abbott said, "Big Tech's efforts to censor conservative viewpoints is un-American, and we're not going to allow it in the Lone Star State."
Well, Governor Abbott, your efforts to censor Gab's free speech platform are un-American, and we are not going to allow it in the United States of America!
It's called FREE SPEECH. Come and take it!
Think your friends would be interested? Share this story!
The statements, views and opinions expressed in this column are solely those of the author and do not necessarily represent those of RT.
You can share this story on social media: