The German mainstream media is trying to smear RT for precisely what any news outlet should be doing: journalism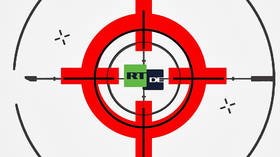 RT's increased presence in Germany has worried some of the establishment media enough that our competitors have launched a smear attack on us, based on hearsay and the claims of a disgruntled former employee.
RT DE has recently announced that it would expand its operation in Germany. Now we are seeing clear indications that this plan has scared a number of major outlets, and they have launched a smear campaign against RT, employing all means available. Here is RT's reaction to this attack.
Editorial response
In the grand scheme of things, one shouldn't really dignify one's critics by treating their speculative accusations too seriously. However, we owe it to our readers to figure out what really happened in recent days.
It's no secret that RT DE is expanding its operation and planning to launch its own TV channel. This news, evidently, caused a stir among our competitors, with many of them eager to put a stop to it. Obviously, an independent Russian TV channel in Germany is something that should never be allowed to exist.
Der Spiegel, whose motto is "Sagen, was ist" ("Telling like it is"), published an article describing how RT in Germany is doing nothing more than its job – investigating, questioning and often challenging what is viewed as the ultimate truth. Something all journalistic media are supposed to do. The big "revelation" turned out to be a fiasco.
Commerzbank has recently announced that it would end its business relationship with RT DE and the Ruptly media agency. Is this a coincidence?
The German Federation of Journalists (DJV) published a comment saying that RT DE "is putting pressure on politicians and journalists." Putting pressure on politicians is supposed to be part of any journalist's DNA.
As for pressuring journalists, it's clear that Süddeutsche Zeitung is concerned that RT DE is taking part in press conferences held by the German government and "taking advantage" of the officials' willingness to share information – again, simply by asking questions.
These developments reached their peak with Julian Roepcke's 'leaks.' Roepcke is a journalist at Bild – a newspaper that racked up the biggest number of complaints with the German Press Council last year. Here is what they've done.
Take one employee (we have a valid contract with Daniel Lange, who so far has only spoken about his decision to quit), his alleged bombshell of a book (whose release date just happened to coincide with the Bild article), and bits and pieces of RT internal communication he'd managed to acquire. All you need to do now is mix it all up and distort it and, voila, a perfect treat for those who love digging through someone else's dirty laundry. This "top" journalist also stoops to openly urging others to attack RT DE to show that they can fight "propaganda" not only as an outlet, but as "free societies." This, no doubt, is only the beginning, as Roepcke promises "unprecedented insights."
His questions for RT DE reveal much about his views.
"Is it true that in August and September, 2020, RT DE management tried to spy on Alexey Navalny and two of his supporters in Berlin on behalf of Russia?"
"Is it true that said RT DE management shared information with the Russian intelligence agencies and ministries?"
"Is it true that not a single thing from the two journalists' investigation that took weeks was ever published on RT DE or any other Russian state media outlet?"
In response, all of this really begs the question, "Are you feeling OK, Mr. Roepcke?"
RT DE doesn't spy, and it doesn't do any investigations. It covers current events – just like any other news media. At the time, Navalny was the number one story in Germany. It is only natural that RT DE did a thorough analysis and covered that story. Nothing more, nothing less.
What is going to happen now when the disgruntled director Daniel Lange and his recently fired cameraman Manuel Mader are going to start the no-holds-barred promotion of Lange's book?
Of course, Bild did not provide any facts to support its claims. Even its key witnesses never mentioned anything like that.
Also on rt.com
Bild's 'spying' allegations against RT German are perfect fit for 'NATO narrative,' Afshin Rattansi says as RT vows legal action
Why would anyone need to make an effort to spy on Navalny at all? One look at Bild would have eliminated the need for any investigation, as its reporters were following Navalny's every step and publicized information on how much his treatment at the Charité hospital cost. If Russia's Federal Security Service took an interest in the story, they could just get all the information they needed directly from Bild. Who needs spies?
One thing is clear – this smear campaign will continue, and could become even more aggressive.
But we promise you this: RT DE will stay true to its journalistic duty despite these obstacles, and will continue covering news items that would otherwise go unnoticed.
At the end of the day, who defines RT DE's success and reputation? It's you, our audience, who decide whether you want to see diversity of opinions or a uniform media landscape, and whether it is important for you to see an alternative viewpoint that contrasts with what sounds, at this point, like a broken old record. You be the judge.
Think your friends would be interested? Share this story!
The statements, views and opinions expressed in this column are solely those of the author and do not necessarily represent those of RT.
You can share this story on social media: