What happened to facts and science? Western propaganda about 'vaccine disinformation' is just another Russiagate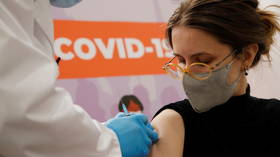 By accusing Moscow of spreading disinformation about Covid-19 vaccines, US propagandists that spread the original 'Russiagate' conspiracy are doing it again, stoking fear and hatred and projecting amid a pandemic.
Over the weekend, the Wall Street Journal quoted an unnamed State Department official to claim that Russia is using four websites "linked to" intelligence agencies to "inject false narratives" about Western vaccines against Covid-19 that "can be amplified" by other media.
Asked about this on Monday, White House spokeswoman Jen Psaki said the Biden administration is "monitoring" and "taking steps to address" these efforts. Meanwhile, the WSJ report was being, well, amplified on Twitter by prolific influencers declaring the alleged Russian behavior to be a "crime against humanity."
Thing is, all of this amounts to a disinformation and influence operation itself – by the very methodology the people involved are using. The WSJ source is someone from the Global Engagement Center, set up in 2016 as a propaganda shop against Islamic State (IS, formerly ISIS) terrorists, which was later expanded to advancing "fact-based narratives that support United States allies and interests" and countering "Russian disinformation."

The claim that the four websites were Russian spy cutouts was "a result of a joint interagency conclusion," the Journal cited an unnamed State Department spokesman as saying. In other words, just like the infamous 'Intelligence Community Assessment' that made Russiagate official.
The WSJ article also previews a "report" – published Monday – by the Alliance For Securing Democracy, a project of the German Marshall Fund NGO notorious for their 'Hamilton68 dashboard' that promoted and amplified Russiagate by seeing 'Kremlin bots and trolls' everywhere.
Now we're getting somewhere! Except the report itself ends up being full of qualifications, weasel-words and hair-splitting parsing of how certain headlines in the media are "coded," in an effort to, well, promote a narrative.
ASD analyzed tweets – of course they did – from Russian, Chinese and Iranian media and concluded that "there were few instances of any studied country promoting verifiably false information about vaccines" but that reports about certain Western vaccines "were often sensationalized while downplaying or completely omitting key contextual information."
Keep in mind that demanding "context" is a favorite trick of so-called fact-checkers to argue that something is false even when factually true.
Also on rt.com
'People deserve to have choice': Russia 'open' to supplying Sputnik V to EU but doesn't 'insist' on it – vaccine funder to RT
As ASD itself admits, Russia, China and Iran sought to persuade their own public that their vaccines were "safer, more effective, and more affordable than certain vaccines produced in the West."
Except, that's what clinical trial results published in reputable Western medical journals such as Lancet literally say when it comes to Sputnik V. Doesn't matter, it's now "disinformation" to point out facts that the Russian vaccine costs less than the mRNA vaccines made in the West, or doesn't require their expensive cold storage.
ASD even admits in a tweet that they believe "info strategies" of Russia, China and Iran "represent a balancing of public health needs, economic pursuits, geopolitical posturing, & other strategic interests" rather than targeting Western vaccines with negative messaging – which is itself a strawman of ASD's own construction, but whatever.
By now it should be obvious that the allegations of a 'Russian disinformation campaign' are about as dishonest as the original Russiagate, which isn't surprising considering it's coming from the same quarters. It is also reminiscent of last year's attempt by the EU's propaganda shop to allege the same thing, only to be torched by independent academics as "border[ing] on disinformation" by their own definition of the term.
Also on rt.com
No Covid-19 fake news on RT, EU accusations are 'problematic' – UK watchdog
To the Wall Street Journal's credit, they did reach out to Kremlin spokesman Dmitry Peskov, and quoted his dismissal of the State Department and ASD claims as "nonsense." Peskov also said that Russian intelligence has "nothing to do with any criticism against vaccines."
If Russia treated every negative story about Sputnik V as a result of Western spy efforts "we would go crazy," Peskov added, because such stories are published daily. That's a verifiable fact, and the examples are legion.
In his inaugural speech, Joe Biden told Americans he would value facts and science. The science on Sputnik V is pretty clear, while even "troll hunters" admit the reports of side effects of certain other vaccines are factual as well. So why defy both facts and science to allege some sort of Russian conspiracy – again?
Could it be that Biden and his VP Kamala Harris have spent the past year demonizing President Donald Trump's coronavirus policies and even vaccines, only to do a 180 now that they're in charge? So we get things like making up stories about "starting from scratch" or accusing Russia of "amplifying narratives" or some such nonsense, to deflect blame from their own statements sowing vaccine skepticism among Americans.
While both hypocrisy and scapegoating come as easily as breathing to someone who's been in politics for 50 years now, there's a pandemic on and people are dying. So c'mon man, kindly knock it off.
Also on rt.com
'You don't need our vaccine': Michael Moore, other libs rage at Texas for daring to fight Covid-19 without authoritarian lockdown
Think your friends would be interested? Share this story!
The statements, views and opinions expressed in this column are solely those of the author and do not necessarily represent those of RT.
You can share this story on social media: