State Dept propaganda team in disarray – report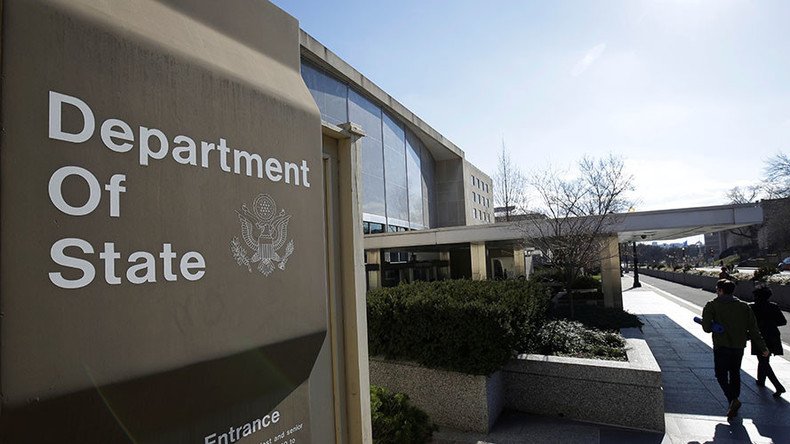 Three members of the US government's messaging arm, which was set up at the State Department to "counter narratives" from ISIS and Russia, quit last week, leaving the year-old operation in limbo.
The Global Engagement Center's chief technology officer, along with two other members of its analytics team, resigned without providing reasons, Defense One reported Tuesday.
The outlet has obtained former tech chief Nash Borges's farewell email, in which he makes general suggestions about better management.
Former President Barack Obama established the GEC in March 2016, directing it to "counter the messaging and diminish the influence of international terrorist organizations," including Islamic State, Al-Qaeda "and other violent extremists abroad."
By the year's end, the 2017 National Defense Authorization Act had broadened the GEC's mandate to include advancing "fact-based narratives that support United States allies and interests" and countering what Congress called "Russian disinformation."
It's not immediately clear how many analysts remain at the center. Defense One cited a former senior official describing the three team members who quit as "the whole enchilada," adding that "things are bad."
The GEC is currently leaderless, the outlet reported, saying the State Department has not filled the director's job, which requires Senate confirmation, or the post of acting director, which does not.
Last month, Secretary of State Rex Tillerson agreed to greenlight $60 million for the GEC. Congress initially allocated $80 million for the operation, $60 million of which was to be used to counter Russia and only about $19 million aimed at ISIS, according to Defense One. It's still unclear how the GEC plans to spend the funds that Tillerson approved.
The Secretary of State faced criticism from Republican and Democratic lawmakers for seemingly not being interested in all of the money Congress had allocated for the GEC.
"Congress has provided substantial resources to combat foreign propaganda, particularly from Russia. There is broad agreement that the US Government is behind the curve on this threat," Senator Rob Portman (R-Ohio) said in a statement.
"Countering foreign propaganda should be a top priority, and it is very concerning that progress on combatting this problem is being delayed because the State Department isn't tapping into these resources."
Last November, at the Defense One summit in Washington, DC, GEC's former director Michael Lumpkin described how the center was using Facebook ads to push its messaging.
"Using Facebook ads, I can go within Facebook, I can go grab an audience, I can pick Country X, I need age group 13 to 34, I need people who have liked — whether it's Abu Bakr Al Baghdadi or any other set — I can shoot and hit them directly with messaging," Lumpkin said. He emphasized that with the right data, effective message targeting could be done for "pennies a click."
Last week, Facebook issued a statement saying it had looked into whether Russia purchased ads on the platform to interfere with the 2016 US presidential election.
The social media giant claimed it "found approximately $100,000 in ad spending from June of 2015 to May of 2017" connected to "about 470 inauthentic accounts and Pages in violation of our policies. Our analysis suggests these accounts and Pages were affiliated with one another and likely operated out of Russia."
A number of news outlets, including Defense One, interpreted Facebook's assessment that the accounts were "likely operated out of Russia," as to assert that the Kremlin bought the ads.
Earlier this week, The Daily Beast claimed the Kremlin set up a Facebook event to organize a protest in rural Idaho last year, which was attended by four people.

You can share this story on social media: