F***ing awful: Rishi Sunak's toe-curling chat with sweary chef Gordon Ramsay is an insult to UK's decimated hospitality industry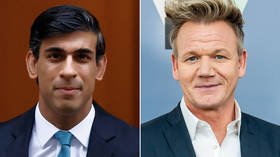 Chancellor Rishi Sunak's soft-soap interview with multi-millionaire chef Gordon Ramsay is a tone-deaf affront to those who have lost jobs in Britain's hospitality sector during lockdown, offering no useful advice at all.
There's an audience out there who just love Gordon Ramsay, and would watch him peeling carrots and swearing at his underlings all day long as he bragged about Michelin stars, the millions he has made, cooking for his huge family and what an all-round genius he is.
And the UK's Chancellor of the Exchequer, Rishi Sunak, is clearly part of that audience if the launch of the first of his ill-conceived 'In Conversation' home videos is any indication.
Flagged as a series of HM Treasury YouTube conversations with industry leaders, fan-boy Sunak's chat is little more than an advert for the celebrity chef. He gives Ramsay enough time to express his wonder at the brilliant financial support policies of the government brought in during the coronavirus, before allowing him to bore us all with his heroic tales of mentoring female chefs who went on to greatness – having left his employ – and the incredible new game show he has devised in lockdown, which will be shown not just for the benefit of British TV audiences, but for all mankind.
True to form, Ramsay obliges on the swearing front, but holds back on the F-word, although that just may not have made the edit. And there's Rishi, just dying to ask the questions he clearly wants answers to as a big Ramsay fan, not the second most senior figure in the British government. Sunak's opening gambit of telling him how "super excited" he is to speak to him perfectly sets the tone.
But those questions are not, "How much have you taken from the government furlough scheme?" and "Are you going to give full-time jobs back to the 500 staff you laid off last March?" No, in the fawning style of Piers Morgan, or even Oprah, any inquiry is preceded by a huge preamble of brown-nosing. David Frost he is not.
Also on rt.com
Pandemic poster boy Rishi Sunak is being tipped to succeed BoJo. Are British people ready to vote for a BAME prime minister?
It's excruciating: a bromance played out for all the nation to see, just one working class multi-millionaire to another.
Forget about the industry leader stuff, let's talk about how wonderful you are, Gordon. As Oprah at her most probing would ask, "What do you say to all those amazing things people say about you?"
One Sunak inquiry goes, "Look at you now, right, probably one of the most successful business people, chefs, athletes, media personalities that the country has, what were the ingredients that got you where you came from to where you are now?"
Talk about overcooked flattery.
We're subjected to Rishi, forgetting this conversation is expected to shine a light on the struggles the hospitality industry is facing during lockdown, telling the former Rangers footballer how great he is. "Starting with sports, you were very, very competitive when you were young at a very good level and then now you're doing a million triathlons, iron men, marathons and all the rest of it," he gushes.
Also on rt.com
Britain needs a wealth tax to pay for Covid lockdowns and to reduce inequality. But will our craven politicians even consider it?
Wait! Hang on! A million triathlons? Are you sure, Rishi? That sounds quite a lot. Aren't you the numbers guy?
But, modestly, Ramsay just nods along as the open-ended softball question is lobbed gently into his lap. It had something to do with middle-aged men and exercise. I dunno, I was laughing too much to pay attention.
Although luckily I'd recovered in time to hear the chef recount putting a rucksack of potatoes "from Claridges" on his back and running across London to Canary Wharf. I've checked all over his eponymous website, but can't for the life of me find what recipe that's from.
Speaking of recipes, Sunak quizzes Ramsay about a menu appropriate for the world leaders' summit hosted by Britain in Cornwall later this year. The chef suggests spring lamb, some salmon and maybe a cherry bakewell tart for dessert.
So grateful is the chancellor for Ramsay, who he thanks for being "so generous" with his time, that I finally understand what the G in G7 stood for. It's 'Gordon' of course. How did I not know that?
Like this story? Share it with a friend!
The statements, views and opinions expressed in this column are solely those of the author and do not necessarily represent those of RT.
You can share this story on social media: