Pandemic poster boy Rishi Sunak is being tipped to succeed BoJo. Are British people ready to vote for a BAME prime minister?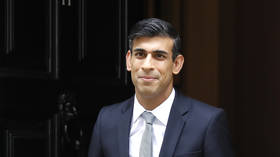 After spending billions of pounds bailing out a decimated economy, Chancellor of the Exchequer Rishi Sunak is being talked about as the UK's next PM. Is it time for the country to elect a British Asian leader to Downing Street?
If anyone can be said to have enjoyed a good pandemic, it is wonderboy chancellor Rishi Sunak. But talk of him being a shoo-in as Britain's next prime minister is a little premature
A first-generation British Asian go-getter as Premier of the nation? What are the odds? William Hill has him at 4/1.
That mega-watt smile, the perfect hair, the confident demeanour – oh, and the £300 billion he's chucking at the economy in an attempt to breathe some life back into what's left of Great Britain plc – have made him something of a pandemic poster boy for a government that has otherwise made a complete hash of things up to now.
The Tory faithful love him, and even opposition MPs speak warmly of his free-spending initiatives – what's not to like about £10 off at Wagamama? The 40-year-old ticks boxes like no one else on the political frontline at the moment.
Among the lovestruck media, Sunak is hailed as a man who knows what he's doing. Even if, maybe, he doesn't.
Also on rt.com
UK economy suffers worst decline in 40 years due to Covid-19 pandemic
So are big things really in store for the teetotal, Hampshire-born son of Indian-East African immigrants? Or is the public crush on Sunak, which has resulted from him being the only person to deliver us any good news in four months of lockdown, messing with our melons?
Sure, the Conservatives were the first party in Great Britain to deliver a female Prime Minister, in Margaret Thatcher. And not only did she win over the Tory faithful, she won three successive elections and was in the top slot for 11 years.
But after Maggie, those top jobs for Tory women largely dissolved. And those from BAME backgrounds? Well, let's just say they've had a history of under-representation in the Conservative Party. So while Thatcher broke the mould, it's still in pieces on the floor where she left it and no one has made a new one.
Until Sunak came along. And he really is an arriviste, having only been a member of Parliament since the 2015 election, coming from a background at Goldman Sachs and a string of hedge funds – a hugely lucrative and rewarding life that is not really the ideal preparation for the real world.
Oh, and there's also the Indian billionaire's daughter he married, Akshata Murthy.
Also on rt.com
Galloway's Rogues Gallery: Boris Johnson, a champagne-swilling cad who routed political opponents only to be sunk low by Covid-19
So let's park his sparky personality and handsome features for a minute and look at this super-rich former banker currently in charge of the national piggy bank. He's smashed it open with a sledgehammer and is doling out the spoils like there is no tomorrow and we're all lovin' it, with our meal vouchers and fully-paid days off in the warm summer sun, thanks to good ol' Rishi.
However, to even consider him for the top job, we have to ask the big question: When the time comes for another general election, will people outside his Yorkshire constituency of Richmond actually vote for Rishi?
Will a largely white Britain vote for a man of minority ethnicity to lead the country? Sure we already have sons and daughters from migrant families in top Government posts.
There's British-Ugandan Priti Patel as Home Secretary, having taken over from son of Pakistani parents Sajid Javid, who held the post formerly and also that of Chancellor of the Exchequer. We have Indian-born Alok Sharma as Business Secretary, daughter of Indian-African parents, Suella Braverman is Attorney General and… and… nope (checks notes), that's it.
But, and this is the big one, these are all appointments. While elected as MPs, though obviously unelected peers can also hold these posts, the great British constituency did not vote for these secretaries of state. That was all down to Boris Johnson.
Also on rt.com
Prepare for post-2008 austerity nostalgia: £300bn to be paid in UK for Covid-19 & it WON'T be billionaires who foot the bill
When it comes to handing over the door keys to 10 Downing Street, the constituency becomes more circumspect and a bit harder to read. While Conservatives and the media might be going mad for Rishi, poll results could be skewed, as people answering delicate questions on whether or not they would vote for a BAME prime minister consider the social aspect of their response, particularly, but not wholly, in light of the recent public debate on race.
It used to be known as the Bradley effect, after former Mayor of Los Angeles Tom Bradley, an African-American who lost the 1982 California governor's race despite being ahead in voter polls going into the elections.
The theory is that some voters who intend to vote for the white candidate tell pollsters that they are undecided or likely to vote for the non-white candidate, because they don't want to be seen as racist.
Granted, this could be a simple get-out for a pollster with poor results, but it addresses the idea of race as a factor when voting for a candidate.
Maybe a general election with a potential BAME prime minister in the mix will show us how far we have come in the Black Lives Matter environment.
One can only imagine the national amazement if the outcome of all that statue toppling, those protest marches and the intense media debate that continues to rage turned up one massive, but unexpected result.
Prime Minister Rishi Sunak.
Think your friends would be interested? Share this story!
The statements, views and opinions expressed in this column are solely those of the author and do not necessarily represent those of RT.
You can share this story on social media: