Galloway's Rogues Gallery: Boris Johnson, a champagne-swilling cad who routed political opponents only to be sunk low by Covid-19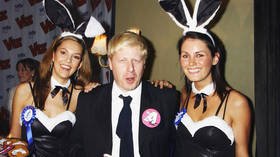 Boris Johnson's idea of sending 30 million letters to all British households with envelopes and stamps would be a peculiarly 20th century one, even if the sender wasn't licking them with coronavirus.
What Johnson intends to say that couldn't be said on the news or through a glass darkly in a self-isolation video is, of course, nothing.
But to be honest, just as I wouldn't go tiger-shooting with the prime minister, I'd be even less inclined to leave him alone with my wife and daughters. Our prime minister is a peculiarly 20th century private-school cad. A bounder, a mountebank and – up until the late 1960s – would've been horse-whipped out of public life.
A proven liar, a serial cheat, a man who impregnated women in his extra-marital affairs before refusing to acknowledge or even enumerate the resultant offspring. And if the Jennifer Arcuri report is EVER released, it will show that which cannot be hidden: he hasn't the slightest qualm about doing it all on the taxpayer's shilling.
Also on rt.com
Boris Johnson getting Covid-19 is just what the doctor ordered for Britain, his likely uneventful recovery will calm all the panic
In this, indeed in his entire rake's progress to Downing Street, Boris de Pfeffel Johnson has played the private-school scoundrel to a tee. 'Tom Brown's Schooldays' is replete with such a Flashman. Eton and Oxford have produced them by the score.
To be fair, the same system – and indeed the British ruling caste as a whole – has produced saints as sinners and sometimes, as in the case of Johnson's hero Winston Churchill, sinners who became saints, slugs which turned into butterflies, just when it was most needed.
Johnson, though still relatively young, has not – yet, at least – gone into chrysalis.
My first encounter with Mr Johnson perfectly encapsulated the arrogant recklessness – and courage – of his Churchill worship.
"Galloway old chap," he boomed, though we had not yet been formally introduced and I was his senior both in years and membership of parliament. "I want you to get me an interview with Saddam Hussein."
In an earlier age, Churchill would've asked me exactly the same though probably with better manners. Churchill, a soldier-adventurer, doubled as a journalist and a polemical book-writer. Once a politician, he continued to do so, becoming for a time the most highly-paid writer in the English language. Similarly, Johnson himself continued with his Daily Telegraph column after entering politics, though it has since been discontinued.
Johnson addressed this "request" to me not quite as one of them would ask their batman to fetch their bow-tie for the regimental dinner, but at best as one would seek assistance in the sergeants' mess – which would correspond with how he viewed me, come to think of it. I had qualities to be sure, as all sergeants do, but neither the education nor – more importantly – the breeding to be addressed as an equal.
Lest the reader think me exaggerating, in 1987, as a freshman MP whilst sharing a taxi home from parliament with the late Sir Julian Amery, he got off at Dolphin Square, which was later revealed to be a den of upper-class iniquity and vice. Lucky, I declined his invitation to step-in for a "nightcap." Amery was himself an MP whose father Leo's devastating attack on Chamberlain in the Norway Debate in 1940 brought the appeaser prime minister down and put Churchill into Downing Street. He actually said to my face that he liked me, I was a "sergeants' mess type." Amazingly, he meant it as a compliment.
At the time, I was the only public figure in the land on terms with the Iraqi strongman – as we used to call Hussein before it suited us to call him the new Hitler – and the only politician traveling regularly to Iraq.
Interestingly, the Russian Embassy in London would regularly debrief me after these visits but the British Foreign Office never ever did (just one of the reasons why I knew they were lying in everything they said about Iraq).
But Johnson was prepared to take the arduous overland journey in those days from Amman to Baghdad, as he would have been no doubt ready to fight off any "fuzzy-wuzzies" who got in his way. For him, it was just a jolly colonial adventure. A breeze, like all of his life up to that point, fueled by champagne and cognac, cocaine and chutzpah – but most of all by entitlement and privilege.
Also on rt.com
Hold on to your hats, Boris de Gaulle takes power in London: What the UK government reshuffle really means
Later, when Johnson was mayor of London, he would park his bike where I parked my car every week to film my RT show, Sputnik. We would regularly compare notes – he about City Hall and me about the House of Commons, to which place his return was never in the slightest doubt. And neither was his ascent.
Johnson's seizure of power from Theresa May was a masterpiece of which Churchill would've been proud. Likewise, his breenging through of the Withdrawal Agreement from the EU. His 80-seat victory in the Christmas election of 2019 was an equally formidable breakthrough. He routed all his political opponents only to be brought low by a virus. Even Shakespeare couldn't have written that.
Like this story? Share it with a friend!
The statements, views and opinions expressed in this column are solely those of the author and do not necessarily represent those of RT.
You can share this story on social media: