Britain needs a wealth tax to pay for Covid lockdowns and to reduce inequality. But will our craven politicians even consider it?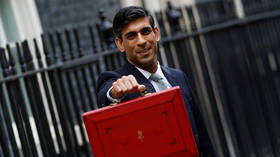 A study showing that the 'one percent' are even richer than we thought puts paid to the lie that we're 'all in this together' – real levies on assets and property are what is needed to make the UK a functioning country again.
It seems the rich are even richer than we thought. Just in time for them, the lucky dears. For the rest of us, as we look into 2021, we're staring unemployment, debt, and rent arrears and poverty in the face.
Without state intervention, hundreds of thousands of Britons will be thrown onto the scrapheap, with no work, no homes, and reliant on food banks for sustenance. This begs the question: is anyone in politics brave enough to suggest the unthinkable – a wealth tax and a mansion tax? Real redistribution of undeserved wealth and a genuine solution for undeserved poverty?
Also on rt.com
A 20/20 vision - is our future a living hell combining the worst of communist tyranny with the worst of capitalism's callousness?
In January 2015, I joined 2,000 housing campaigners to march over Tower Bridge to London's City Hall. Boris Johnson was mayor at the time, and our gripes were: the lack of affordable homes in London, local councils social cleansing the poorest from their boroughs while selling off public assets, and the richest people in the world using the London property market as safety deposit boxes to park their money.
We jubilantly sang: "The rich – the rich – we have got to get rid of the rich"
Obviously that didn't happen – politicians love rich people and want to be wealthy like them (look at Tony Blair, for example) – but a stern look at the one percent and the damage they are causing society is well overdue. The Resolution Foundation think tank published a report last week showing that the wealthiest one percent in the UK were at least five percent wealthier than we thought. They looked at ONS data and the Sunday Times Rich list and found that it is far more difficult than ever to calculate how wealthy the rich really are, particularly when property values are being overestimated and underestimated simultaneously, and also because a large proportion of private wealth in the UK is hidden in other assets, like shares.
Wealth inequality in the UK is rising, and that is the symptom of a society that is sick. Large wealth gaps between rich and poor make the whole country poorer. It sucks hope out of the poorest communities, strangles opportunities for working class people, terrifies the middle class, and leaves the rich in a state of perpetual denial about just how wrong being too rich really is.
In these times of Covid, where the government, the opposition, and the wider political industry apparently want us to "pull together" and see ourselves as a larger community, the truth is we have never been so divided – and no one is being fooled. The last time a chancellor, George Osborne, went for the "We are all in this together" rhetoric was after the bankers played roulette with the world economy and we, not they, lost. The City and Wall Street bet specifically on whether the poorest would be able to pay their mortgages, and hedged on the idea that there would be financial opportunities in foreclosure and working-class people's homelessness. What fun they must have had, and what pockets they stuffed, as they crashed the global economy.
What "all in this together" meant in 2010 was a decimation of public services needed by the working class, such as libraries, schemes to help youths, meals on wheels for old folk, and mass job losses in low-paid but previously reliable local government employment. Hundreds of thousands of people lost jobs as street cleaners, teaching assistants, and youth workers as the government "rebalanced the economy" by cutting billions off public expenditure, with the burden disproportionally falling on those least able to take that financial hit.
It is no surprise therefore that 12 years after the banking crash, ten years of austerity measures, and now a year of lockdowns, illness, pressure on the NHS, and looming mass unemployment, the wealthiest remain untouched. Their wealth has actually increased during Covid – by billions.
So we need a government that grows some cojones and accepts that this rising and obvious wealth inequality gap is out of control and extremely damaging politically, socially, economically, physically, and spiritually. All of us need to have a grown-up conversation about real redistribution that is long-term and lasting, and not just temporary for Covid.
I have no faith that Johnson, now upgraded from mayor of London to prime minister, will be prepared to do this. In April 2020, the chancellor, Rishi Sunak, raised the Universal Credit payment by £20 a week, tacitly accepting that its current levels were impossible to live on. However, he is now warning us that the £20 a week uplift was temporary and will be removed in March 2021. This will throw millions of people into destitution. This chancellor is unlikely to say or do anything as radical as one his celebrated predecessors and "squeeze property speculators until the pips squeak."
Also on rt.com
Covid-19 fallout could cripple up to 4000 UK financial firms, British regulator warns
If there is no political will or bravery to have that conversation of "how much is too much?" and to put in place measures like real asset taxes on property and high pay that have teeth, then the chasm between rich and poor will only continue to grow. We need real consequences for the billionaires, property developers, and money launderers that use the UK economy and the British people as disposable systems and assets to play with and exploit, and who then sail off on their superyachts, having milked the cow dry.
Meanwhile, ordinary people are left with no jobs and depleted pensions. There needs to be a grassroots movement that demands that our governments, both local and national, act on those that simply do not know they have too much because they have been allowed to sail away from the rest of us. Today I don't want to get rid of the rich – I just want to tax them until their eyes bleed.
Like this story? Share it with a friend!
The statements, views and opinions expressed in this column are solely those of the author and do not necessarily represent those of RT.
You can share this story on social media: