A 20/20 vision - is our future a living hell combining the worst of communist tyranny with the worst of capitalism's callousness?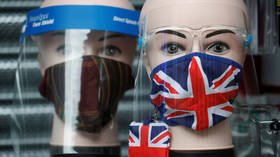 Thanks to a simple respiratory virus, 2020 was a year of upheaval like no other — and may presage a bleak new world for mankind where we own nothing and have no right to privacy.
2020 was a year of upheaval: Coronavirus, Brexit negotiations, and the Trump-Biden popularity contest, where two heads of the same capitalist hydra brawled over who would be POTUS, ensure that it's a year that will not be forgotten anytime soon.
Neither war, terrorism nor natural disasters have managed to bring the world to a standstill, cause grave economic damage, or affected the way we live as much as a simple respiratory virus, one which has existed in some form for at least 10,000 years and which triggers a mild illness for the majority. Over 1.8 million have died so far and in October the WHO estimated that 10% of the world's population, or as many as 760 million people, may have been infected with coronavirus.
Also on rt.com
The Greta Reset: Welcome to the UK 2030 - the no petrol, no transport, no freedom of movement Net Zero future
According to Oxfam, coronavirus has cost the world $11.7 trillion, 83% of which was spent by 36 wealthy countries. Millions around the world have lost their jobs, with millions more set to follow this year. Numerous well-known high streets shops have gone bust in the UK alone. No doubt, alongside repossessed houses, these chains will be bought up by wealthy investors or large companies to further accelerate trickle up economics.
Economic damage may be transient but its long term effects upon the lives of people is long-lasting; the younger the ages of those affected, the greater the long-term disadvantage. For the first time in its seven decade history, UN agency Unicef is helping feed a growing number of British children as the inequalities between the UK's richest and poorest, already significant following years of cutbacks and austerity, continue to grow.
Also on rt.com
An elite-led 'Great Reset' post-Covid? No, what we need first is to get rid of the globalist approach that got us into this mess
Education, education education?
Schools across 188 countries were forced to close for varying periods of time in 2020, affecting the education of over a billion children and young people, including several million in the UK, at the height of the global lockdowns. Of course, not all students will suffer equally as wealthier parents spent 30% more time on helping their children learn compared with their poorer counterparts. The affluent also have access to better learning resources and are more likely to invest in private tuition.
According to the London School of Economics, 2.5 million UK school children did not receive any form of schooling or tuition whilst under lockdown (probably spending the time glued to phones or other electronic devices) putting them at significant disadvantage compared with their classmates when they do eventually return to school.
Paraphrasing renowned English writer Charles Dickens, 2020 has been the best of times and the worst of times — depending on who you are. The world's 2,200 or so billionaires added almost two trillion dollars to their wealth during the year. For example, Amazon owner and world's wealthiest man Jeff Bezos became $67.5 billion richer whilst the world was forced to use his corporation in the absence of high street alternatives.
Never let a good crisis go to waste
A significant number of furloughed individuals may not have jobs to which they can return. An increased adoption of automation technologies took place over the past year and six million UK workers, in particular those (formerly) employed within the hospitality, leisure and retail industries, are at risk of being replaced by machines. No salary, sick pay, pensions, unions or a 40 hour working week — a capitalist's dream. Elisabeth Reynolds, executive director of the Massachusetts Institute of Technology's task force on the work of the future, comments "It is fair to assume that some firms have learnt how to maintain their productivity with fewer workers and they will not unlearn what they have learnt."
Also on rt.com
Humans of the GREAT RESET: What the future MIGHT look like in 2021 – if the controlling elites have their way
Look to the future now
Even if the ever growing number of vaccines available bring about a return to the 'old order' of 2019 where we could host parties, socialise outdoors, travel abroad, or attend political rallies, life will not return to the way it once was.
A blogpost published on the World Economic Forum website imagines (or warns) of a world in the near future where we own nothing, have no right to privacy, yet live blissful lives. If such a thing comes to pass, it will not be the workers' paradise or communist utopia envisaged by Marxist-Leninists. Rather it may resemble a living hell that combines the worst of Communist totalitarianism with the worst of capitalism's detached callousness towards those deemed expendable, perhaps topped off with liberal and woke militants cancelling those committing thought crimes.
Like this story? Share it with a friend!
The statements, views and opinions expressed in this column are solely those of the author and do not necessarily represent those of RT.
You can share this story on social media: