Gina Carano is showing how to beat cancel culture by making a movie with Ben Shapiro. Others must go independent and follow suit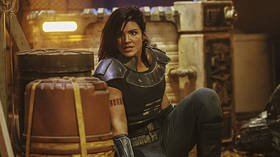 The Daily Wire has signed Gina Carano for its next film after the woke mob forced her firing from 'The Mandalorian'. Independent companies who are prepared to take on the big names hold the key to ending cancel culture.
Earlier this week, a crisis public relations consultant told The Hollywood Reporter that publicists have told their clients to "steer clear of politics, especially anything leaning right." This, of course, follows the dismissal of Carano from 'The Mandalorian' for a social media post that compared the treatment of modern-day conservatives to Jews in World War II.
In a discussion with former New York Times columnist Bari Weiss, Carano expressed her shock and confusion at the response to her post. The following day, Ben Shapiro announced on his podcast that The Daily Wire had signed Carano to star in one of its films. The general sentiment seemed to be "they can't cancel us if we don't let them."
Also on rt.com
Nazi comparisons for me, but not for thee: How the sacking of Gina Carano shows the hypocrisy of the Left
Whether or not Shapiro's outlet is one you want to support, his move in signing Carano deserves to be acknowledged. Taking on cancel culture is just the start. We've seen castmates of conservative actors stand up for their colleagues, but they aren't the people who sign the checks. If a massive company like Disney or Warner Brothers has the final say on a conservative actor's fate, they can hand the mob a victory with a simple edict. Then it's as simple as recasting the character or writing them off and the deed is done.
To fight this, defiance is not enough – there has to be a willingness to put your money where your mouth is. In this particular case, signing Carano to a film the day after Disney lets her go is a shot across the bows. It tells the cancel culture mob that they are not going to get an easy victory, and it warns big corporations that they aren't the only game in town.
This is an attitude that has to be considered across all forms of media. In my own domain of comics, the artist for my current book, 'Preston Acevedo', has told me horror stories about his experiences.
After presenting his art portfolio to someone, he was told that if he didn't want to get involved with politics, then he wouldn't get anywhere within comic books. In his particular case, the mainstream's loss was my gain. There have also been several former members of the military who have left the corporate realm at Marvel and DC because of the political elements there and made their home on the independent circuit. Some were canceled because of their political beliefs.
One thing that should be noted is that this battle is not going anywhere anytime soon. Because people have allowed the arts to become extremely politicized, cancel culture will take time to excise. More big names are going to have to move to publishers and production houses outside of those that bow to the mob.
Also on rt.com
Laura Loomer: Gina Carano is right to compare cancel culture to a Holocaust precursor
This process is going to take years, and between now and then a lot of people are going to also have to put their money where their mouth is. Conservative investors are going to have to start funding these projects. Conservative consumers will have to support them, because some independent creators will go through crowdfunding to try to make their dream happen. And those who simply oppose cancel culture, whatever their political color, will need to help by promoting these artists via word of mouth or social media.
So, Shapiro's intervention is a positive move, and one that Hollywood needed. With that said, it will be pointless if there is no follow-up. This is just another area where conservatives have to step up. If they are complacent, they will lose a battle that won't just affect the next four years, but the next 40.
Think your friends would be interested? Share this story!
The statements, views and opinions expressed in this column are solely those of the author and do not necessarily represent those of RT.
You can share this story on social media: