Nazi comparisons for me, but not for thee: How the sacking of Gina Carano shows the hypocrisy of the Left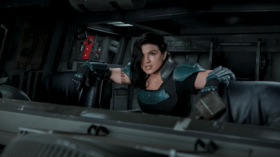 Whatever happened to free speech? Gina Carano must be wondering exactly that after being sacked from The Mandalorian. It seems it's acceptable for those on the left to make tasteless Nazi comparisons, but not those on the right.
One of the oldest memes on the internet is that of Literally Hitler. It's usually seen whenever someone or something is compared to the long-dead leader of the Third Reich. Then there is Godwin's Law, which states that the longer an online debate continues, the greater the probability that someone will get likened to Hitler.
So, it's safe to say that online references to the Nazis are fairly frequent. But while woke Twitter is happy to regularly make comparisons with them, Gina Carano has just lost her job over it.
Also on rt.com
Cancel culture stems from good-v-evil Disney populism – I voiced doubt and now I'm the villain
On February 10, there were two key trends on Twitter. One was "Kid Hitler," which saw Missouri senator Joshua Hawley compared to Hitler. This was profoundly silly, considering the senator has zero beliefs that align with him, but the comparison was made nonetheless.
The other trend was "fire Gina Carano." The same woke mob that was comparing a standing Senator to one of the biggest genocidal maniacs of all-time was in a rage that Carano, the actor and former Mixed Martial Arts star, had compared the current political climate to French citizens ratting out Jews during the second World War.
She posted on Instagram, "Jews were beaten on the streets, not by Nazi soldiers but by their neighbors… even by children. Because history is edited, most people today don't realize that to get to the point where Nazi soldiers could easily round up thousands of Jews, the government first made their own neighbors hate them simply for being Jews. How is that different from hating someone for their political views?"
Was either comparison appropriate? Not really, but I would consider Carano's to be the less offensive of the two. And given the reaction to it, I have a feeling that she is now feeling more justified than ever in the comparison. It seems that all of the whining of the woke mafia finally worked. According to a statement from a Lucasfilm representative, Carano will not be brought back as the popular character of Cara Dune on the Disney+ show The Mandalorian, which is the best-received Star Wars piece since the original trilogy.
There's a massive amount of hypocrisy here, that can be seen from all sides. In the past, Disney subsidiaries have hired individuals that have made much more incendiary statements. Consider, for example, the writer for its Star Wars: The High Republic project who made anti-white racist statements on her social media. And at Marvel comics, the current writer of Captain America is none other than Ta-Nehisi Coates, who infamously stated in his book Between the World and Me that he did not see 9/11 first responders as human beings. Another comparison you could make is director James Gunn of Guardians of the Galaxy fame, who got his job back after being fired for making some perverse jokes in the past.
When you look at all these issues, Carano's statement – although as subtle as a sledgehammer through a glass table – is pretty tame in comparison. Certainly not worth losing your job over. And definitely not worth Disney+ losing a ton of subscribers who are more than happy to cancel on principle, even though the keenly anticipated Marvel series WandaVison just started heating up.
In an ideal world, the inevitable loss of revenue plus the previous backing of Mandalorian director Jon Favreau and the cast's support for Carano would mean that her character could return for the third season. And maybe I am being a little too optimistic, but I actually see this as the more likely scenario.
However, it's possible that Carano's character is simply written off the show in a tasteful way, or she might even be recast. Whichever way Disney goes, it may decide to write off any revenue loss as a temporary one.
For comparison, if you look at Netflix and its loss during the Cuties controversy, you'll find that its stock is back up above the $500-a-share mark. Will Disney see a stock drop in the wake of this? Almost certainly. What's also inevitable is the House of Mouse will recover from this over the course of about three to six months.
Nevertheless, if Disney ignores fan demand to bring back Carano to The Mandalorian it will set an awful precedent. There will have to be several more people that suffer the same fate before corporations realize that they need to prioritize their customers rather than random whingers on Twitter before cancel culture is ever stopped.
Like this story? Share it with a friend!
The statements, views and opinions expressed in this column are solely those of the author and do not necessarily represent those of RT.
You can share this story on social media: