Why India's future development depends on the outcome of farmers' protests and why the West watches silently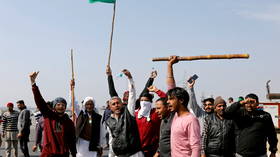 The political stakes of the ongoing Indian farmers' protests are of huge geopolitical consequence, as the US seeks to promote the rise of India to counterbalance China.
India is rapidly becoming one of the most strategically significant countries in the world. With a vast population of 1.3 billion, it is now the anchor of the western 'Indo-Pacific' jargon, a vision that, as declassified White House papers set out, seeks to promote the "rise of India" as a counterweight to China.
Few can argue against the fact that India's potential is huge. The Mughal Empire at its height held about 25 percent of global domestic product, just short of the Qing Dynasty's 35 percent. Undoubtedly, there is a consensus that India and China will once-again become giants of the global economy. However, as of the present day, India has a long way to go and the question beckons, how does it get there?
Connected to this question are the months-long protests outside New Delhi by farmers who oppose new agricultural laws which seek to reshape India's economy by removing government-set minimum prices for certain crops. It would massively expand the market, but would destroy the little man, the small producer.
Prime Minister Narendra Modi is a radical reformer, who has sought to consolidate India's development under the mantle of nationalism and increasingly illiberal means. Supporting him is the Biden administration, eager to drive India's development forward and viewing all this through a strategic lens. However, these farmers show no interest in backing down until the laws are repealed in their entirety, not even delayed. Consequently, India's own future lies within the outcome of this standoff.
India is primarily an agricultural nation. There may be big cities, but a great deal of the country still finds sustenance and livelihood through localized farming communities. It isn't this way by choice: one of the most damning legacies of the British Raj regime was to forcibly deindustrialize the country in order to transform it into a breadbasket for Britain's own food supplies. This has posed long-term damaging consequences for India's own development, which, in order to move forward, has to create a painful transition from being an agricultural nation into an industrial and consumer one.
However, to do so means the status-quo economic structure has to be overturned. By removing the borderline minimum price for agricultural goods and state-backed auctions, Modi envisions the complete liberalization of the food market to allow bigger competitors to join in, as opposed to protecting smaller farmers. This would facilitate mass production and increase supply, making food in India cheaper, more affordable and more accessible, bringing about the kind of grocery consumerism seen in the West. However, it would effectively end the livelihoods of local farmers and landowners in favour of mass corporatized farming, which would be able to undercut these small producers in terms of price.
As a result, farmers have taken to the capital city for months and rebelled against the government, protests that have often turned violent. Despite this, the West has been on the side of Modi, illustrating what is at stake geopolitically in this conflict.
The Biden administration offered open support to the Indian government recently, irrespective of the fact that New Delhi has sought to censor social media, has imposed internet shutdowns around Delhi and has used force against the protesters. This illustrates just how important India's successful development is to the United States, and why agricultural reforms constitute a "keystone" of the country's pathway forwards. India is ordained to be a counterweight to China but, if it remains in a quasi-agrarian state, this is difficult.
Also on rt.com
'Double standards': New Delhi blasts Twitter for treating Capitol Hill unrest & Indian farmers' violent protests differently
In addition, the US will also be eying India up for its own agricultural exports. This marks a continuity from the Trump administration. Given its large population, the demand for food in India is huge, but at present the protectionist system of agriculture means that America cannot export there at competitive prices.
The three agriculture reform laws passed by Modi's Bharatiya Janata Party (BJP) in September are set to change that, and promise a bonanza for American farmers, the kind the previous White House administration strived to carve out with China. This undoubtedly would provide the underbelly of any future India-US trade agreement, allow Biden to pitch himself as providing for American jobs and farmers first, and, of course, would also consolidate Modi's own "made in India" ambitions and the bid to accelerate its industrial rise.
This is why the political stakes of these protests have huge geopolitical consequences. If farmers win, and it appears they will, they will throw a spanner in the works of India's own development plans. This also demonstrates how,in such a huge democracy, it is difficult to consolidate the national unity required to move the country forward in one direction, illustrating the contrast in fortunes in the past 40 years between New Delhi and Beijing. India's politicians' premise, that one interest group effectively has to be sacrificed for the greater good, is easier said than done. Thus, this stand off between farmers and the government will mark a huge part of India's story and its ambitions toward becoming a modern, industrialized country, the anchor of America's very own great power strategy.
Think your friends would be interested? Share this story!
The statements, views and opinions expressed in this column are solely those of the author and do not necessarily represent those of RT.
You can share this story on social media: