Why Biden's pick of Neera Tanden for budget chief might signal a good thing (for the rest of the world)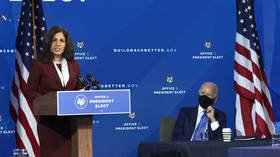 US President Joe Biden's choice of Neera Tanden to oversee federal spending has sparked a lot of heat and fury among Republicans and more-progressive Democrats over her past vitriolic comments.
But her nomination to lead the Office of Management and Budget indirectly signals a good thing: that the new administration will be so focused on dealing with mounting domestic economic problems that US foreign military adventurism will be sidelined.
With Democrats controlling the Senate, there is a strong chance that Tanden will be confirmed as director of the OMB – the largest office in the presidential cabinet – which oversees drawing up and implementing the federal government's annual spending plan.
At her confirmation hearings this week, Biden's nominee was reminded of past partisan comments in which she vociferously attacked GOP senators as "vampires" and vilified progressives like Bernie Sanders within her own Democrat party. Tanden, who has since deleted over a thousand tweets, seems to be an equal opportunity gadfly.
Also on rt.com
Biden's budget nominee Neera Tanden grilled over calling Bernie Sanders 'everything but an ignorant SLUT' at contentious hearing
The 50-year-old Yale Law School graduate, who was raised by an Indian immigrant single mother, previously held positions in the Clinton and Obama administrations. She is closely aligned with Hillary Clinton, having served as her presidential campaign aide, and with the Democratic party establishment. Much to the disdain of the progressive caucus, Tanden embodies the "corporate Democrats" and the party's compromising links to Wall Street and wealthy donors.
She was previously president of the Center for American Progress, a liberal think-tank which is heavily funded by corporate donors, including Walmart, Goldman Sachs and Facebook.
Growing up in poverty with a mother who relied on food stamps and housing welfare, Tanden espouses a commitment to liberal government spending on social programs. As the United States confronts an economic crisis from the coronavirus pandemic, she is advocating more fiscal support for workers and families to revive the economy. In a recent policy paper, she urged "now is not the time to worry about raising deficits ".
Tanden is something of a "policy wonk". She has previously been involved in formulating welfare and healthcare policies in the Clinton and Obama administrations. She wrote policy papers about those issues as president of CAP. Her position is not notably progressive. But what is notable is her dedication to the realm of domestic public policy.
On foreign policy matters, Tandem has a relatively low profile. She has been accused of being pro-Israel, but then that's par for the course among most Democrats and Republicans in Washington. Yes, she is known to have made a crass comment in a leaked email back in 2011 suggesting that oil-rich Libya should have paid for the disastrous US-led NATO military intervention to ease America's fiscal deficit. But that comment indicates Tandem is more clueless than callous, and that her domestic policy obsession is a prism for her thinking.
At this early stage in the Biden administration there have been several indicators of a potentially more hawkish foreign policy. Cabinet members like Avril Haines, Director of National Intelligence; Antony Blinken, Secretary of State; and Lloyd Austin, Secretary of Defense, have sounded hawkish on relations with China and Russia. The Biden White House appears to be more gung-ho about bolstering the NATO alliance and using military force, at least in rhetoric so far. The cabinet is chock-full with Obama holdovers who supported past military interventions in Libya, Syria, Ukraine and Yemen.
But here's the thing: the new administration is also first and foremost committed to a "war-time effort" to overcome the economic devastation incurred by the United States from the coronavirus pandemic and a catalogue of chronic social problems, from record unemployment to homelessness and poverty. President Biden is embroiled in a nationwide vaccination program and a recovery spending plan requiring trillions of dollars.
In this context of immense domestic problems and priorities, one may reasonably surmise that the US will not have the financial resources nor the public support for any of its usual foreign military adventurism that it has seen over the past two decades.
Biden's pick of Neera Tanden as his budget tsar is a tacit admission of the overwhelming task that the US is confronted with in trying to salvage its calamitous domestic conditions. Her fiscal focus at home may be a harbinger of relative peace abroad. America is so broke, it can't afford to indulge in overseas militarism.
The Herculean task facing the US over its internal social and economic problems is comparable to the era of the Great Depression in the 1930s and FDR's New Deal for recovery. The caveat of that comparison is, that decade ended in a conflagration of world war – the worst in human history. Nevertheless, the international balance of power with a strong China and Russia could make for a different outcome. And America has a lot to do at home if it wants to avoid total collapse.
Think your friends would be interested? Share this story!
The statements, views and opinions expressed in this column are solely those of the author and do not necessarily represent those of RT.
You can share this story on social media: