Locking up quarantine dodgers could turn foolish sun-seekers into hardened criminals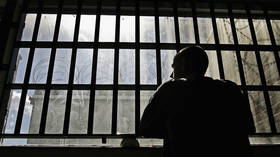 There has been outrage over the plans to impose jail time on those who break quarantine rules, seen as an abuse of state power. But has anyone considered the effect it will have on the actual 'offenders'?
Matt Hancock has rightfully had his feet held to the fire in the past few days. The health secretary plans to lock up quarantine dodgers for 10 years, the same sentence handed to defendants convicted of manslaughter.
Only this week a dangerous driver was handed half of that for killing a mother and injuring her daughter after driving recklessly at over 100mph.
The thing with throwing people in jail is society only worries if it's for long enough – are the guilty being punished appropriately for their crimes? In the minds of the public, once the felons enter their cells, they're forgotten about.
But plenty happens inside prison – it's far from a sterile environment.
A recent study estimated that 15 percent of those in English prisons have a drug problem. Spice, a dangerous psychoactive, is the substance of choice for many, as it's easy to smuggle, it can be sprayed on a letter or a child's drawing, which is then torn up and smoked. Addiction rates have doubled since the last study was carried out in 2014. Harder drugs also double as currency.
If a prisoner is a heroin addict they will be prescribed methadone, a synthetic opioid intended to wean them off heroin.
Many feel the policy of issuing methadone and then upping dosages when a prisoner is set to be released, for fear they might overdose once they are free, traps them in limbo. The Independent found that from a sample of 16 prisons, 13 recorded a rise in the prescription rates of drug substitutes.
HMP Belmarsh, currently housing Julian Assange, has seen a doubling of spending on methadone in recent years. Even worse, HMP Nottingham with an operational capacity of 1,060 saw the number of methadone users rise from 429 to 948, between 2014 and 2018.
Then there's the black market inside jails. Some addicts are known to stuff cotton wool in their mouths, pretend to swallow the methadone and transfer it to a cup later. They can then trade for another drug or access to something else. So the incentive to get clean is massively reduced, as they won't be able to barter.
Also on rt.com
As more and more black people are jailed in Britain, the so-called 'fairness' of the UK legal system is exposed for all to see
The proximity to hard drugs is only one issue, the other major worry is violence. In the year before Covid-19 restrictions, force was used 49,111 times in jails across England and Wales. That breaks down to 59.1 times per 100 inmates, worse odds than tossing a coin.
That's mainly a reaction to the behaviour of the inmates.
Only last month, a shocking incident where five prison staff were injured by two prisoners armed with improvised weapons was classed as a "terror attack" by London's Metropolitan Police. In 2018, a prisoner was stabbed to death in HMP Wormwood Scrubs by a group of young men. And last year, an inmate was given an additional 20 years for fashioning a spike to a handle and rampaging at prison staff. He left one with a fractured eye socket, knocked another unconscious and "punctured" the others.
These are just some high-profile incidents that made the news. Most of the violence never escapes the walls housing the nation's criminals.
The bottom line is, anyone entering a jail will clearly find it hard to avoid drugs or violence. They could develop an addiction or get involved in an attack (potentially lengthening their sentence), and for what?
For merely dodging the rules around lockdown.
Speaking of lockdowns, they are also the reason now could be the worst possible time to send anyone to a prison. The prisons' already-questionable abilities to rehabilitate and resocialise have been severely curbed by Covid-related restrictions.
Prisoners can only leave their cells for 30 minutes and visits from family or friends are severely curtailed. On top of that, access to educational and rehabilitation programs is blocked.
This is not to minimise the need to be wary of Covid-19, but precautions have to be sensible. Back in October, the outgoing chief inspector of prisons in England and Wales Peter Clarke likened the conditions to amounting to solitary confinement and said it was doing "irreparable damage" to the mental health of prisoners.
Also on rt.com
Britain's Covid apartheid: 10 years in jail for quarantine dodgers from developing countries is draconian and utterly unjust
During the first half of 2020 alone, the numbers on ACCT (assessment, care in custody and teamwork) plans – designed to manage those at risk of suicide or self-harm – was only 10 percent less than for the whole of 2010. That's a horrifying trend.
318 people died in jails in England and Wales last year, an eight percent increase on 2019. There were also 58,870 self-harm incidents, across male and female establishments.
None of these figures make easy reading.
Locking up people who are otherwise law-abiding and clean-living citizens, only risks them emerging from jail as drug-addled, violent offenders – that is, if they don't commit suicide while in lock-up.
All of this is without even broaching the subject of the crimewave which some experts are predicting.
Many young people have either lost their job or had their education interrupted due to the pandemic, and some have turned to crime. There is also a concern that gangs will partake in an explosion of violence as they seek to reaffirm their control over territory once lockdown ends.
London is already witnessing a rise in knife attacks, last weekend 16 people were stabbed, two of them fatally.
Some of those who partake in the post-Covid crimewave are going to land in prison and could end up cheek by jowl with a quarantine dodger, perpetuating the cycle.
A naive holidaymaker who breaks the rules doesn't deserve to be thrown into the cesspit, that is Britain's penal system.
This government's ludicrous clampdown is counterproductive and will only create a needless, new generation of delinquents.
Think your friends would be interested? Share this story!
The statements, views and opinions expressed in this column are solely those of the author and do not necessarily represent those of RT.
You can share this story on social media: