Biden should tread carefully… his renewed focus on Russia is only going to push Moscow and Beijing closer together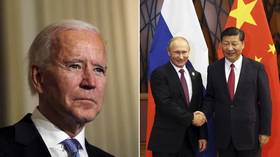 The announcement of an intelligence review on Russia shows Joe Biden's intent to get tough on Moscow, and at the same time discredit Donald Trump. But this is likely to have major geopolitical consequences.
The Biden administration is a couple of days old, but it's already setting out its foreign policy priorities. In a clear break with Donald Trump, who was often accused of being sympathetic to Russia, the new White House has announced an intelligence review on Russia and vowed to hold it accountable for any misdeeds, including the suggestion Moscow interfered in the 2020 presidential election.
Top amongst its priorities is a renewal of the START nuclear arms treaty, with a vow to cooperate with Russia on the one hand, but confront it on its "reckless and adversarial actions" on the other. Although most media coverage has focused on how Biden will approach US relations with Beijing, which deteriorated under Trump, it is notable that Russia has been his immediate focus.
Also on rt.com
How China poked Trump's legacy in the eye on his way out and drew a red line for Biden
The China debate overshadows the fact this was always going to happen. Biden was previously part of an administration which clashed with Russia, and in addition, the past four years have seen the relationship with Moscow become a staple of challenging the legitimacy of Trump's presidency.
In this polarized environment, a new president carves out political space for his own vision by dismantling that of his predecessor, and so Biden is looking at Russia to discredit the Trump legacy, find dirt on his allies and continue a political game that has lasted since November 2016. With the US now wielding a dual 'anti-Russia, anti-China' policy, which was not so much a feature under Trump, one can expect the political relationship between Moscow and Beijing to grow.
Using Russia to discredit Trump is a sensible route. The relationship with Moscow became his Achilles heel, and was the foundation of attempts to undermine his presidency. When Trump won against the odds in the 2016 election, the narrative of 'Russian interference' was whipped up by Democrats to discredit him and to make him and his campaign look suspect. Trump was repeatedly called a "puppet of Putin."
With his administration now gone, it was always obvious that Biden would bring this issue up again. The intelligence review will be significant. It's likely Russia will again be accused of favouring Trump, and in turn this will be used to point the finger at those associated with him.
In addition, the reinvigoration of the Russia issue is being used to make a broader point about restoring American leadership and values, of which Trump was perceived as absconding from. Thus, both literally and symbolically, this issue serves as the launchpad for Biden's presidency and establishing its difference from the preceding one.
This is a role which the relationship with Beijing cannot fill as it is not Biden's initiative, does not discredit Trump and so does not provide political capital for a 'reset' to engineer his agenda. Nonetheless, one should assume that the administration will pursue a dually competitive approach to both China and Russia, where Trump only focused on the former.
Also on rt.com
China won the trade war with the US. Business trumps politics, and China is a cornerstone of the global economy
This will have some long-term geopolitical consequences. Russia and China's diplomatic, political and economic relationship is likely to continue to improve on the basis of 'the enemy of my enemy is my friend'. This is bound to have an impact in the political, diplomatic, scientific, military and technological spheres.
Vladimir Putin is likely to consider his best chance for a breakthrough with the US was under Trump, but this door is now closing. As a result, as Biden eyes a tougher approach on Russia in order to drive forwards his goals, it will create a strategic conundrum that continues to drive America's two biggest adversaries together, and ultimately complicate his foreign policy. Logically, you would have expected him to choose one or the other of the two to focus on – not a balancing act of both which puts them on the same team.
Like this story? Share it with a friend!
The statements, views and opinions expressed in this column are solely those of the author and do not necessarily represent those of RT.
You can share this story on social media: