The UK's vaunted NHS is a National Health Shambles – it wasn't ready for the Covid second wave and can't cope. What a surprise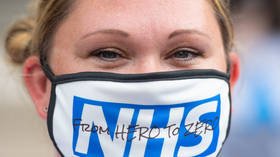 The UK's new lockdown is driven by the NHS's failings – even in a normal winter, it can barely cope with a rise in demand. We need to have an honest debate about it, not put it on a pedestal as the so-called 'envy of the world.'
The news has been full of images of NHS intensive care units full to bursting. When cases shot up from mid-December, particularly in London and the South East, rising hospital admissions soon followed. This potential to 'overwhelm' NHS capacity was a significant factor in introducing the third lockdown and in the refusal to give any date by which these restrictions might be eased.
But given the human and economic costs of further lockdown measures, increasing NHS capacity so that it could more easily cope with a rise in cases seems like a bargain. So why didn't it happen? It's not as if a second wave was unexpected. It was assumed by many leading figures ever since the first wave died down. In mid-September, Boris Johnson declared that the UK was "now seeing a second wave," something which was "inevitable."
Also on rt.com
A second UK Covid-19 lockdown is doomed to fail: Brits have no faith in their leaders anymore and won't comply
Perhaps our leaders didn't really believe that the second wave would be so bad. There is some logic to that. With so many cases in the first wave, there may well have been a degree of immunity that would slow down future outbreaks, particularly in London, which was hit hard the first time round. And it's true that the 'R' number, which indicates how many people each infected person passes the virus on to, has been significantly lower in the second wave.
But this would be to underestimate the problem (something I must admit I did at first, too). It simply means that the spread is slower – but given enough time, and especially going into winter, high levels of infection could still occur. Now throw in the development of a new variant, which led to a rapid rise in the number of cases, and we've reached much higher case numbers, hospital admissions and deaths.
Another aspect might be a tendency to 'cry wolf' over NHS problems in winter. Year after year, there are headlines about the NHS being in crisis. Politicians have been claiming that we have 'six weeks/ 14 days/ 24 hours to save the NHS' for more than 20 years. As a list from satirical magazine, Private Eye, points out, it started with Tony Blair back in 1997 and the idea has been dug up practically every year.
This is the case. And this year matters are worsened by large numbers of NHS staff self-isolating after testing positive, and by the impossibility of sending many recovered patients back to care homes. So statements that this is worse than ever are reasonable. https://t.co/683FSHe4x5

— Peter Hitchens (@ClarkeMicah) January 19, 2021
The notion that the NHS would be overwhelmed in winter has been pushed frequently. These links from 2015, 2016, 2017, 2018, and 2019 are just a tiny selection. Some of this seems politically motivated, coming from those who wanted to attack the Conservatives over the NHS. But because the message has been repeated so often, it is easy to become cynical. Nonetheless, there is clearly some truth in the idea that when the NHS has been 'run hot' for so long in order to keep costs down, and there have been moments every year, in different regions, where 'normal' winter pressures have seriously stretched NHS resources.
Yet in this year of Covid, spending on the NHS – already running at a whopping £150 BILLION a year – has been boosted by an injection of a further £50 billion to allow it to cope. Yet it can't. Like most nationalised state enterprises, it is lethargic, bureaucratic, slow to respond and unenterprising.
Resources that might have gone into the NHS have gone elsewhere instead. Look at the tens of billions piled into the shambolic 'test, trace and isolate' system. The assumption in government was that once it was up and running, we could detect cases quickly, ask the person who was infected to isolate and get all their close contacts to do the same. This, we were assured, could snuff out the spread of the infection quickly without recourse to endless, society-wide restrictions.
But as Andrew Orlowski explained in the Telegraph earlier this month, there have always been multiple problems with the system. Test results weren't turned around quickly enough. People who did test positive weren't contacted quickly enough to get a list of people they had been with so that they could be told to isolate, too. And the rules of isolation were onerous, but there was not enough support to make staying at home manageable. As a result, even people with Covid symptoms are not complying with the demand to stay at home.
This is the case. And this year matters are worsened by large numbers of NHS staff self-isolating after testing positive, and by the impossibility of sending many recovered patients back to care homes. So statements that this is worse than ever are reasonable. https://t.co/683FSHe4x5

— Peter Hitchens (@ClarkeMicah) January 19, 2021
The rise of the new variant seems to have changed a great deal, too. Before it came along, it seemed that this winter would not be qualitatively different to a bad flu season – tough but manageable. In fact, after almost a year to get ready, the NHS has really struggled to cope. Intensive care beds are being created on the fly and staff numbers are down due to doctors and nurses being sick or being forced to self-isolate after exposure to someone with the virus.
The problem is not just patients being admitted to hospital with Covid-19. It is that many people are getting infected in hospitals. Even in December, before things really got out of hand, it was reported that "almost one in four hospital Covid-19 cases were likely to have been caught in hospital." A health service that can't stop people being infected in its hospitals really does raise fundamental questions about the way it is managed and operated.
Undoubtedly, hospital trusts have done much to learn from the first wave in terms of being able to reorganise services at short notice to cope with an influx. But better care brings its own pressures. If people are very sick, but now survive thanks to treatment, it means they may stay in hospital longer than they would have done before.
Also on rt.com
The risks of 'long Covid' are devastating, especially to those with underlying health problems – it's killing thousands
There is also a wider problem of discharging patients. The Nightingale hospitals – essentially, field hospitals set up at short notice in exhibition halls and other big spaces – have been a white elephant because there are few medics to staff them. Meanwhile, proper 'step down' or recovery capacity has been overlooked. (Nobody would choose to recover in an exhibition hall.) So we've seen older patients being discharged into care homes without even having had negative tests.
The burden of mismanagement ends up on the backs of frontline staff, constantly fire-fighting to try to make sure everyone gets proper treatment. It shouldn't have ended up this way. Surely £200 billion a year should buy a better service?
Once the dust has settled, we really need to have an honest discussion about the way healthcare is organised in the UK, and how it is funded. Any time there is any mention of NHS reform, there are cries of horror that 'Our NHS' might be privatised. Politicians are simply too afraid to touch the issue. This ignores the fact that the NHS is one of the few examples in the world of health services being paid for and (mostly) delivered by the state. Other countries have compulsory insurance schemes and let different service providers compete. Are there lessons to be learned from other European countries with more successful health provision?
Academics Tara McCormack and Lee Jones have argued that the problems go even further, that the entire 'post-political, regulatory state' is a mess. There are endless committees, bodies and authorities, but little sense of where the buck stops when things go wrong.
Whatever it takes, let us stop mythologising the NHS, and recognise its problems and have an open debate about how we can make it better. This pandemic has shown just how expensive this avoidance behaviour can be.
Like this story? Share it with a friend!
The statements, views and opinions expressed in this column are solely those of the author and do not necessarily represent those of RT.
You can share this story on social media: