It's time for BoJo to ditch his exhausted deadweight lieutenants as UK's battle against Covid takes its toll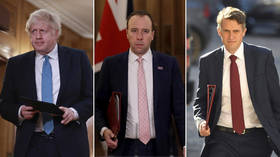 After fighting the coronavirus onslaught for a year, the UK government's clapped-out top team is badly in need of new blood. And those at the top of education and health should be the first to be replaced by Boris Johnson.
Fighting the coronavirus pandemic risks overwhelming British PM Boris Johnson, but a quick fix to his in-tray of mounting problems would be to ditch the clapped-out, leg-weary hacks surrounding him and bring back former advisor Dominic Cummings. Today.
At least Barnard Castle's most famous visitor knows a thing or two about messaging, and could keep the ragtag bunch of government egos from straying off-piste. His unyielding rule over simple, singular messaging was responsible for getting the country to December with most people still on board and understanding the Covid strategy.
Since his departure, however, things have started to look like a mad woman's knitting, and that's no reflection on any contributions from Princess Nut Nut – the PM's girlfriend and Cummings' adversary, Carrie Symonds.
The public adherence to Lockdown 2.0 was not of the same magnitude as that displayed during its precursor earlier in the year, thanks to the government's insistence on regional variations, a promised – then un-promised – relaxation over Christmas, a hastily approved and oversold vaccine programme and a lack of clarity going forward.
Also on rt.com
I know this may be controversial, but a Tony Blair & Nigel Farage dream team is what Britain needs to tackle Covid-19
And Lockdown 3.0 faces similar problems. The last-minute school shutdown has been a disaster and risks huge public upset bubbling on for weeks. While nurseries remain open, puzzled primary and high school teachers ask why their doors are closed. Meanwhile, university students are left in limbo.
GCSE exams and A Levels are off. Or are they on? They're off, Education Secretary Gavin Williamson told the Commons yesterday. While he might have finally achieved some clarity there, elsewhere, he's failed to communicate simple messages to colleagues on Parliament's own education select committee.
This resulted in the head-thumping-desk experience of committee chairman Robert Halfon, a Conservative MP just like Williamson, asking Sky News if it might not be possible that school pupils without access to laptops or broadband be considered vulnerable, and encouraged to attend school for face-to-face teaching.
This is despite advice on that very issue found on the gov.uk website – which has been there since September – clearly stating that children who "may have difficulty engaging with remote education at home (for example due to a lack of devices or quiet space to study)" were deemed vulnerable and should attend school.
There really is no excuse for Halfon to have missed this or to have failed to broadcast it to a wider audience. He should step down immediately, and hand over the chairman's role to someone who shows a little more familiarity with the brief. Time to lose the captain's armband.
Also on rt.com
Boris Johnson confirms new national lockdown for England as UK registers record Covid-19 cases
Clearly, he has moved from being onside to becoming one of those nagging, braying annoyances continually demanding answers from the government in a deluded assault on the moral high ground, while a solution to his purported problem is already staring him in the face.
Presumably the silence over this from Williamson indicates he wasn't aware of this advice either. Or, that he is deliberately failing to point it out to parents, because he'd rather they kept their kids at home. My guess is that he is now so far out of his depth, with exam battles overwhelming him, that he has missed this sitter. Time to call on a sub, and let the knackered secretary of state take a hot bath.
Things took a dark turn yesterday when BoJo's brand new press secretary, Allegra Stratton, issued a statement saying the PM "has full confidence" in Gavin Williamson. Any football manager worth his salt would be packing his tracksuit following that poisonous 'endorsement'.
Boris Johnson has full confidence in Gavin Williamson, according to his press secretary Allegra Stratton, citing the package for home learning set out in the Commons today"It's a huge brief and the PM believes the education secretary is doing it [the job] to his utmost ability"

— Sebastian Payne (@SebastianEPayne) January 6, 2021
He might soon be joined by Matt Hancock, who experienced what could only be called 'a moment' during a TV interview last month when he broke down in tears as the first coronavirus jabs were administered.
Yesterday, with the PM's claim that 13 million Brits will have received the Covid-19 vaccine by mid-February still fresh in people's minds, the health secretary downplayed that, suggesting it's only a best-case scenario. Er, that's not the way to instill confidence, or keep your job.
If Hancock cannot even manage to stay on board for 24 hours with a key building block in the edifice of hope and a vitally important public health message, then surely BoJo needs to find someone who can.
More so than his colleague at Education, Hancock managed to hold it together pretty well up until the vaccine arrived. But now, it's time for fresh legs. Come on Matt, you know the way to the touchline. Leave now while you're marginally in front, don't hang around and be a loser. There's a nice, hot cuppa waiting.
Also on rt.com
Oscar-worthy performance or sincerity? UK Health Secretary Matt Hancock sheds tear as William Shakespeare gets Covid-19 vaccine
This is not unexpected. The past year has been gruelling beyond belief and the prime minister's team have been subject to relentless pressure, comparable only to a government in time of war. Many, including BoJo himself, have been struck down by this blasted virus, and it was always going to take a heavy toll on their smooth function.
When the government's ability to convey clear, unambiguous messaging is damaged – as it is now – because those in charge are too exhausted to keep on top of their duties, then it is a time for a change of personnel, before the weight of what our leaders are dealing with overwhelms them completely.
It's not an indictment on what these men have achieved in the last year, much of which has been bold and brave. But as we enter what will hopefully be the beginning of the end, we need people in charge who can add fresh impetus.
Not exhausted deadweights who are fast losing the plot.
Like this story? Share it with a friend!
The statements, views and opinions expressed in this column are solely those of the author and do not necessarily represent those of RT.
You can share this story on social media: