Desperate Ireland has been seduced by the Joe Biden personality cult and doesn't realise the fairytale won't come true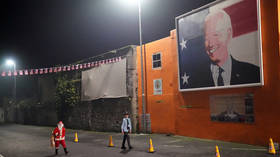 It's a nation of small towns and three of them are laying claim to the future US president's heritage. But apart from a cash-grab on tourists, what else can the Irish expect and why do their politicians keep talking it up?
At home Joe Biden is either an ageing, faltering politician or the ideal person to unite America. But in Ireland, he's unilaterally billed as a hero, a mythical figure about to scatter a shower of gold across the Emerald Isle.
His ancestral home, Ballina, in the county's North West, features a large mural of him alongside 'Future POTUS' posters.
Local official Mark Duffy helped organise the tribute and explained: "We were very keen to demonstrate our pride in a descendant of the town whose family left in a bleak time, worked and lived the American dream and has gone on to hold the highest office in the land."
This supposed connection has been ramped up by Biden himself, who, during a visit in 2016 as vice president said: "Northeast Pennsylvania will be written on my heart. But Ireland will be written on my soul."
The romantic link between Ireland the United States goes back a long way. JFK was hailed for his Irish roots and used it to mobilise a lot of votes. Cities like Boston, New York and Chicago are part of the Irish diaspora, which is reported to include 40 million Americans.
It's an open secret that a large chunk of the IRA and its political arm Sinn Féin's funding came from sympathisers across the Atlantic.
America has always indulged the notion of reuniting Ireland, hence why Biden sent a warning shot across the bows of Boris Johnson when the reintroduction of a guarded border between the Republic of Ireland and Northern Ireland appeared a possibility.
Ireland's current Taoiseach (Prime Minster) Micheál Martin said: "When I invited President Biden to Ireland, he said 'just try and keep me out'. I thought that was interesting."
However, the realpolitik hasn't been grasped in Ireland.
It's a small nation with a strong identity, but it jumps like a puppy desperate for attention from one of the big boys – in this case, Biden.
His PR team have played the Irish like a Stradivarius.
Another media story gushed about when Biden went to Cooley Peninsula on the East Coast of Ireland, as he also has ancestors from there. The tale was that one of his secret-service agents was bewildered by the remote and barren setting until Biden told them: "Listen, man, you're in heaven."
Of course, Ireland's ambassador to the US is going to talk things up, but even Daniel Mulhall should have been embarrassed to comment: "In the president-elect you have somebody that understands the issues that arise in Ireland because he's been involved in them for a long time."
In what form Biden has been involved is unclear. The 70s and 80s bore witness to a multitude of IRA terrorist attacks, with no American involvement to stop them and he was a Senator. When the Good Friday Agreement peace deal arrived in 1998, it was Bill Clinton who drove it home.
The Irish are so desperate to be part of the Biden gang, a third location on the green isle has gone public with their link to him. Maree in County Galway claims to have been home to one of his great-great-great grandfathers.
His third cousin Laurita Blewitt - whose Twitter profile pic is of her and the president-elect - has become a recurring media voice and is supposedly in close contact with the Bidens. "It's not just something he created for the election, it's very much part of him," she claims. And when speaking to the BBC after the election, she added: "It's going to be massive for the town." That suggests what this is all about – dollars and euros.
It can't be long before Joe Biden tours spring up in Ireland, going to his three spiritual homes and rolling out his 'relatives' for meet'n'greets. There is also official whisper of an official 'Biden Homecoming' event.
The Irish are embarrassing themselves as they chase more of the cash that JFK's roots brought. An estimated 100,000 tourists come to see the museum at his grandfather's home in New Ross annually. They even built a full-size replica of the ship that he sailed to America in.
But Biden is no JFK.
And Ireland has nothing to offer the US – its lucrative tax rates that American companies like Apple exploit may even annoy the president-elect once he switches from his 'Irish soul' self and into official capacity. The Irish fly under the radar, whereas Caribbean countries and smaller European states get politically hammered.
One possible 'in' for Ireland to make itself useful lies in the fact that Biden supports the EU and made it clear that he's no fan of Brexit architect Boris Johnson. Once Brexit backer Trump is out the door, the famed Special Relationship honed by Reagan/Thatcher and Bush/Blair will be dead. It could be argued that Biden may form that bond with Ireland and a relatively modest investment by American standards would have a large impact in the small island nation.
He may well shell out that trifle. But for any EU horse trading, he will go directly to Emmanuel Macron and Angela Merkel.
Ireland is the only country to have a standing commitment in every president's diary. It's a photo-op on St Patrick's Day every March.
News reports already claim the 2021 meeting is going ahead despite Covid-19 – only in the Irish media, of course, because nobody else cares enough. The whole thing is classic marketing, the bigger player drops a few cliches and the junior partner salivates at what it could mean.
What is Biden really going to do for Ireland?
They give him a proxy vote in any EU negotiations, but even then it's hard to see anything happening in Brussels to perturb him much.
They don't have any natural resources, a particularly skilled workforce, nor a globally recognised media.
They're a nation of small towns and rural communities, and there's no shame in that.
But they are in for a fall, as the government and the people have bought into the notion they're about to get a ride on Biden's magic carpet.
The Irish thing is merely an image the Biden camp have played up, as Irish culture travels well.
Ireland is about to realise they are an insignificant pawn and Biden has bigger, more important fish to fry.
The statements, views and opinions expressed in this column are solely those of the author and do not necessarily represent those of RT.
You can share this story on social media: