RT's The Wokies: America's politicians had a busy 2020 virtue-signaling. Here are the top 10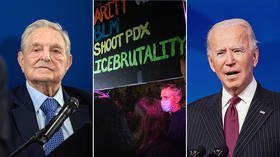 Amid the pandemic lockdowns, riots and a very controversial election, America's politicians raced to out-woke each other. From the obscure to the obvious, all listed here pledge allegiance to the flag…of critical social justice.
Here they are, starting on the local level and going all the way up to the top.
10. Minneapolis Mayor Jacob Frey
Minneapolis, Minnesota Mayor Jacob Frey simply must be mentioned in any review of performative wokeness in 2020. After the death of George Floyd – an African-American man whose death during a botched arrest was attributed to an officer kneeling on him, rather than Covid-19 or fentanyl present in his system – rioters set a police station and the surrounding block on fire. From there, the riots spread to the neighboring St. Paul and then across America.
Frey's reaction was to take a knee and wail like a professional mourner at Floyd's funeral, as if he were best friends with the man. He also tried to join the "protesters" two days later and declare his devotion to social justice, only to be chased off by demonstrators calling on him to resign. He hasn't been heard from much since.
Also on rt.com
Minneapolis mayor mocked for crying stunt at George Floyd's casket during memorial service
9. Minneapolis City Council
Yet the 13-member city council apparently decided to outdo Frey in public displays of wokeness. Composed of twelve Democrats and one Green, the council first voted to "defund the police" – outright replace the Minneapolis PD with a "reimagined public safety" agency. Except three of them then hired private security – at taxpayer expense of $4,500 a day – for themselves, saying they had received threats. City council chair Lisa Bender famously told CNN that being able to call the police when your home is being invaded "comes from a place of privilege," in one of the stupidest statements of 2020.
Since then, the council has voted to spend an extra $500,000 to hire new police officers, only to slash the police budget by $8 million – in the name of 'racial justice' and 'equity' of course. They did so while lamenting the 537-percent increase in carjackings and a 17-percent spike in violent crime in general, as if that was entirely unrelated.
Also on rt.com
F(und) the police: Minneapolis allocates $500k to hire cops from other departments amid officer shortage
8. Seattle Mayor Jenny Durkan
For three weeks in June, Black Lives Matter activists and Antifa occupied several blocks of downtown Seattle, declaring it a Capitol Hill Autonomous Zone (CHAZ), also known as Capitol Hill Occupied Protest (CHOP). Mayor Jenny Durkan, a Democrat, initially insisted it was "not a lawless wasteland of anarchist insurrection" but "a peaceful expression of our community's collective grief and their desire to build a better world."
"We could have the summer of love," she told CNN. When criticized by President Donald Trump, she shot back: "Seattle is fine. Don't be so afraid of democracy."
CHAZ protesters, meanwhile, stormed City Hall and demanded Durkan's resignation. Eventually, they even showed up outside her house – whose location had been kept secret since Durkan's days as a federal prosecutor. Only then did Mayor Jenny decide that maybe CHAZ wasn't a summer of love and democracy, and moved to dismantle the shantytown.
Also on rt.com
Trump slams Seattle mayor for describing 'anarchist takeover' as 'summer of love'
7. Seattle City Council
As it turns out, the CHAZ-ites had an ally inside the citadel all along: Councilmember Kshama Sawant, a self-avowed socialist, whom Mayor Durkan accused of opening City Hall to the protesters and organizing the demonstration outside her residence.
Sawant actually admitted she "marched, rallied, and organized" with the local community in the name of racial, environmental and economic justice, and accused Durkan of having "utterly failed working people and communities of color in this city."
The city council sided with Sawant, rejecting Durkan's request to investigate her actions and saying there were more pressing issues demanding their attention, such as "a civil rights movement demanding we divest from racist, anti-Black systems." To exactly no one's surprise, a second CHAZ sprung up in early December.
Also on rt.com
Now it's personal: Seattle mayor moves to dismantle CHOP after protesters show up AT HER HOUSE
6. Portland Mayor Ted Wheeler
While much of the media attention was on Minneapolis and Seattle, the supposedly nonexistent Antifa joined with Black Lives Matter in Portland, Oregon to besiege a federal courthouse and immigration buildings. Mayor Ted Wheeler pulled a Frey and joined the "peaceful protests" in July, only to get the same reception.
When Trump sent federal agents to crack down on the riots, Wheeler denounced the move. "No thanks. We don't need your politics of division and demagoguery," he said in an open letter posted on Twitter at the end of August, channeling Seattle's Durkan. "Your offer to repeat that disaster is a cynical attempt to stoke fear and distract us from the real work of our city."
Within days, however, he was forced to move from his condo after "peaceful protesters" tried to set the building on fire, along with nearby businesses owned by African-Americans. Give the man credit for his obstinate consistency, however: even after all that, Wheeler remains a supporter of the BLM-Antifa brand of wokeness.
Also on rt.com
Portland mayor cheers protesters & joins them to face tear gas, gets calls to resign anyway (VIDEOS)
5. The 'Soros' district attorneys
Several years ago, Democrat mega-donor and globalist financier George Soros decided to pour millions of dollars into local US politics, specifically elections for district attorneys. People who benefited from his largesse signaled their virtue in 2020 by outright refusing to prosecute rioters or even violent criminals, while throwing the book at ordinary people expressing political dissent.
In July, DA Diana Becton of Contra Costa County, California actually charged a couple with a "hate crime" for painting over a Black Lives Matter sign. Becton insisted BLM is "an important civil rights cause that deserves all of our attention."
Some black lives apparently don't matter to Kim Gardner, Becton's colleague in St. Louis, Missouri. She ordered the release of everyone involved in the George Floyd riots, which resulted in the death of David Dorn – an African-American retired police captain murdered by looters. Meanwhile, she went after Mark and Patricia McCloskey, a couple who waved a rifle and a handgun to scare off a mob of rioters that barged onto their property.
Also on rt.com
Conspiracy FACT: Soros-funded prosecutors let rioters go but declare not agreeing with Black Lives Matter to be a 'hate crime'
4. California Gov. Gavin Newsom
California may be dealing with rolling blackouts, unusually devastating wildfires and mass emigration to other states by people seeking a better life, but that hasn't stopped Governor Gavin Newsom from pledging allegiance to woke values on an almost daily basis.
Citing climate change, which he also blamed for the wildfires, in September Newsom signed a ban on all non-electric cars starting in 2035. This prompted EPA Administrator Andrew Wheeler to write a scathing letter arguing that the ban "begs the question of how you expect to run an electric car fleet...when you can't even keep the lights on today."
Newsom was undeterred, proceeding to sign another law that would mandate the state's prisons to house inmates based on their own gender identity, rather than their sex assigned at birth, prohibiting discrimination based on the inmate's anatomy.
The law is part of California's "march toward equality" and would help "uphold the dignity" of all state residents, Newsom said. Meanwhile, he has turned all of California into a de facto prison through draconian Covid-19 lockdowns – while exempting himself from the same rules. When caught dining out with lobbyists at the fancy French Laundry restaurant, he shrugged it off by saying he "should have modeled better behavior" and carried on, undisturbed.
Also on rt.com
California Gov. Newsom signs law allowing trans inmates to be locked up with men or women based on their gender identity
3. New York City Mayor Bill de Blasio
Lest you think the wokeness is endemic to the Left Coast, there was plenty of it on display in the Big Apple this year as well. Mayor De Blasio was quick to jump on the lockdown train, but abruptly reversed course in June and declared that the virus didn't apply to Black Lives Matter protests. Then he personally helped paint BLACK LIVES MATTER outside the Trump Tower in an act of "liberating" 5th Avenue, as he put it. NYPD was then told to look the other way at crime and guard the sign from people splattering it with paint instead.
Meanwhile, he went after New York City's Orthodox Jews, singling them out for coronavirus lockdown enforcement and condemning their defiance.
In December, de Blasio ordered the arrest of a Staten Island bar owner who refused his arbitrary orders banning indoor dining. Just a few days later, Hizzoner was on TV talking about schools – which are mostly closed again – and openly declared that "our mission is to redistribute wealth" during a talk about public schools, arguing it was the only way to deal with "structural racism and segregation."
Also on rt.com
Don't ask, don't tell? NYC mayor directs contact tracers not to question people about attending BLM protests
2. Senator Mazie Hirono
Hirono (D-Hawaii) is so woke that the Constitution and even the English language can't contain her. Back in 2018, she famously argued that Supreme Court nominees don't have a presumption of innocence because "we're not in a court of law." This October, during another SCOTUS nomination, she actually managed to change the dictionary.
Mere hours after Hirono made the baffling claim that the term "sexual orientation" was "offensive and outdated," Merriam-Webster altered their entry to reflect Hirono's assertion. Now that's woke!
Also on rt.com
The woke mob strikes again, with the phrase 'sexual preference' banned overnight. Or was it really so sudden?
Honorable mention: The Smithsonian
While not a politician as such, the world's largest museum and research institution complex is funded by the US government. It's unclear when exactly they decided to endorse the language of critical race theory and intersectional social justice, but this year it was finally noticed. In July, at the peak of the George Floyd riots, a number of people found the 'Whiteness' page of the 'Talking About Race' series on the website of the National Museum of African-American History and Culture (NMAAHC), part of the Smithsonian Institution.
It helpfully explained that self-reliance, nuclear family, the scientific method, delaying gratification, 'Judeo-Christian tradition', competitiveness and justice based on protecting property and English common law are all "white" things. The presentation was based on a slide show by corporate consultant Judith H Katz, dating back to the 1990s.
Furore over the presentation led to its brief removal from the NMAAHC homepage, and an executive order by President Donald Trump in September, banning any sensitivity training that "scapegoated or stereotyped" people on the basis of race, sex or other characteristics. Democrats and diversity consultants have urged Joe Biden to rescind the order "on day one."
Also on rt.com
Time, work & Christianity are 'white people' things? US GOVERNMENT-FUNDED museum now promoting crackpot 'anti-racism' theories
1. Joe Biden, obviously
Not Biden the man, who boasted of authoring the 1994 crime bill and praised KKK Exalted Cyclops Robert Byrd at his funeral – but "Joe Biden" the construct, created by the mainstream media and the Democrat narrative managers as the apotheosis of America's wokeness.
Already woke-adjacent for having been Barack Obama's wingman for eight years, the 78-year-old white guy from Delaware first burnished his credentials by picking Kamala Harris – or "Indian-Afro-Caribbean Woman Of Color" as the labels go – as his presumptive early replacement. Once the media proclaimed him president-elect, he proceeded to announce a cabinet stacked with "historic firsts" that CNN insisted amounted to "an administration that looks like and reflects the diversity of America."
Among the "firsts" so far are nominations of African-American men to head Treasury, Defense and EPA, a Native American to head Interior, a Latino as head of Health and Human Services, a "Latino and immigrant" two-fer as head of Homeland Security, and a Hispanic "White House Social Secretary" (we kid you not).
Then there are "Women of Color" to be the US Trade Representative and chair the Council of Economic Advisers, while Neera Tanden gets to double-dip and be the "first woman of color and first South Asian American" to run the Office of Management and Budget. Lest we forget, ex-Fed chair Janet Yellen is to be the "first woman as Treasury Secretary."
Proving that he is infinitely more woke than Trump, who only had a woman run the CIA and an openly gay man be the acting Director of National Intelligence, "Biden" nominated a woman to the DNI spot, while CNN breathlessly split hairs to inform America that Pete Buttigieg would be the "first out LGBTQ Cabinet secretary approved by the Senate."
Bright woke future, here we come!
Also on rt.com
RT's The Wokies: Top-10 BRITISH virtue signalers of 2020 (including a cop and a cleric)
Think your friends would be interested? Share this story!
The statements, views and opinions expressed in this column are solely those of the author and do not necessarily represent those of RT.
You can share this story on social media: