Orthodox Jews are right to be angry: Why are they targeted for Covid restrictions when BLM supporters get a free pass?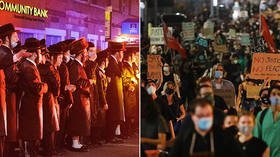 The Orthodox Jewish community in New York are furious that they are continually being targeted by Governor Cuomo and Mayor de Blasio in coronavirus restrictions, while other groups seem to be able to do as they wish.
New York has been no stranger to crackdowns caused by the Covid-19 crisis. There's been a substantial amount of restrictions on gatherings, religious services and so forth.
However, there has been one particular group that has been called out by governor Andrew Cuomo and New York mayor Bill de Blasio on more than one occasion – the Orthodox Jewish community. Recently, the city rolled out new coronavirus restrictions that are specifically targeted at religious communities and events, and Cuomo again singled out the Orthodox Jews for criticism.
"Orthodox Jewish gatherings often are very, very large, and we've seen what one person can do in a group," Cuomo said. "We know there have been mass gatherings going on in concert with religious institutions in these communities for weeks ... I'm talking about you're only supposed to have 50 outdoors; they had 1,000 ... You don't see masks, and you see a clear violation of social-distancing."
After months upon months of restrictive measures, the Orthodox community in New York has had enough. On Tuesday evening, protesters chanted Jewish Lives Matter and burned masks to show their thoughts about these restrictions.
Some of these videos circulating from last night in Borough Park are pretty incredible. At least when the lockdowns were done by zip code, people understood that, even if imperfect. Now, Orthodox Jews feel their neighborhoods are being singled out. pic.twitter.com/AzkeL3nyw8

— Zack Fink (@ZackFinkNews) October 7, 2020
Even local legislators have been appalled at Cuomo's restrictions. And why exactly did he feel the need to mention Orthodox Jews? This seems puzzling, considering the amount of Black Lives Matter protests that have taken place in which social distancing clearly wasn't observed.
One of these protests took place as recently as September 27. When you look at pictures taken at the protest, you can see that it was, in fact, a mass gathering that some might consider a super-spreader event. But instead of singling out an instance like this, the authorities have chosen to point the finger at the Orthodox Jewish community. And that doesn't really make much sense. Isn't a mass gathering a big risk of spreading the infection?
There is no suggestion whatsoever that the authorities' actions are being motivated by anti-Semitism. But I do think that there is a level of unfairness here. Over and over again we have seen Orthodox Jewish communities singled out for criticism, where other parts of New York City have seen substantial BLM protests and de Blasio and Cuomo say nothing.
And it begs the question: why is wokeness the one religion that seems to get special treatment? Why must everyone else abide by the rules when one particular group apparently gets a free pass due to political alignment? I would argue that it's actually unconstitutional, because it ignores the right to religious belief and practice. The law is not intended to give preferential treatment just because you are politically progressive.
But maybe there's more to it than just that. There is a concept known as the progressive stack, where certain groups are ranked due to how oppressed they are, and the more marginalised are given more opportunity. A Jewish person could think of themselves as Schrödinger's Minority. In some circumstances, being Jewish could give them more of a voice. But they are clearly considered less marginalised than BLM supporters when it comes to the authorities imposing Covid-19 restrictions.
Also on rt.com
Brooklyn's Orthodox Jews burn masks in uprising against Gov. Cuomo's new anti-Covid synagogue occupancy restrictions (VIDEOS)
No matter how you slice it, Governor Cuomo and Mayor de Blasio don't come out of this well. They seem to be more than happy to single out this one community because, politically speaking, they don't have to cater to them right now. It's appalling behavior that, as a religious person myself, I fear one day all people of faith could be subjected to.
Whether you believe in God or not, you have a right to believe or not believe and the government should protect that. The first amendment is supposed to protect that right and protect against favoritism towards a specific belief system. But yet again, the religion of wokeness, in New York City at least, seems to have taken priority.
Think your friends would be interested? Share this story!
The statements, views and opinions expressed in this column are solely those of the author and do not necessarily represent those of RT.
You can share this story on social media: