The EU's investment deal with Beijing punctures America's dream of a 'transatlantic alliance' against China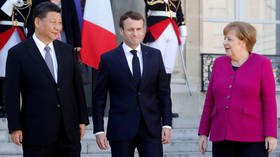 The conventional wisdom in Washington that President Biden would find it easier to co-opt Europe into an anti-China agenda has been exposed as misplaced and naive. The EU is pragmatic, and Beijing's being smart.
When Joe Biden was elected president, the mainstream media, especially outlets of a liberal disposition, were adamant that it will be bad news for Beijing. The trail of thought was consistent: That Biden would, in contrast with Trump, reapproach strained relations with Europe and form what has been repeatedly dubbed a "transatlantic alliance" against China.
This mantra said that the only reason which apparently truly prevented EU countries from being "on board" against Beijing was Donald Trump and his unilateral America-first policy, which also treated Europe as a de-facto trade adversary, while also making spurious demands on China. Therefore, it's assumed that a friendlier president would easily make Europe join in a more cooperative push against Xi Jinping.
Except it isn't that simple. A senior diplomatic source in Brussels has revealed to the South China Morning post that Emmanuel Macron and Angela Merkel have agreed "in principle" to finalize an EU investment treaty with Beijing which will see China open up numerous sectors of its own market, including financial services, to European investment, in exchange for being able allowed to invest in the continent's renewable energy sector. Although talks on this agreement have been ongoing for a while, the decision has been described as a "political" choice on behalf of the bloc, and a "blow to his hope of reviving the transatlantic partnership" to take on Beijing.
Without a doubt, the US and the EU do have common interests concerning China and, as long-term partners in the NATO alliance, it is unrealistic to assume it would be any other way. The EU itself has a long list of differences with Beijing that it would like to resolve, on which it doesn't fundamentally differ with Washington.
However, that does not tell us anything about the perceived differences in methodology between Brussels and Washington, or the portrayal of Trump as the sole factor behind any such rift. The idea that the EU would have joined a cold war against Beijing were it not for his 'diplomatic style' was not only misleading, but wishful thinking on the mainstream media's behalf. It fails to appreciate the subtle, yet significant, differences in interest and position between the EU and the US.
Since the US election, there has been a particular take from the mainstream media that Biden will be able to wave a magic wand and 'fix' a world in which all its problems happen to revolve around Trump. If countries were not following the US, the explanation was because Trump was awful and Biden will therefore, as a liberal president, magically help all these countries unleash their "true interest." Which is, of course, pursuing confrontation with China. Europe could not possibly disagree with Biden or despise him, right? Not right. Liberals idealize the world and assume that their ideology constitutes a holistic truth, often failing to observe how differences in interest dictate different approaches to foreign policy.
Also on rt.com
Ukraine SWIFT threat likely a bluff but US weaponization of financial system only encourages Russia & China to dump dollar faster
Thus, while the states of the European Union, which should be understood as an arrangement of 26 quite different countries rather than a single monolith, may have some common interests and value sentiments with America, the reality is they have many common interests with China, too. Given this, things aren't as clear-cut as depicted. The world doesn't operate so readily on a binary of "good and evil," which Americans always naively assume. The European Union points out things it disagrees with and objects to regarding China, and it wants action on these things and to uphold its values, but it also is generally more pragmatic in recognizing that Beijing is an important partner, too, and that it would be suicidal to cut ties with it.
Countries in Europe may admit there is a 'China challenge' but they do not agree with the portrayal of it as a zero-sum Cold War adversary. They are prudent enough to recognize that for all their differences, this is bad for the world. This is especially true of Germany, which hasn't even gone as far as banning Huawei.
The US has pressed Europe hard on China, but it has not proved receptive to ideas such as 'decoupling', and has instead maintained the position that problems with China are to be negotiated through diplomacy rather than resolved by a sledgehammer. Europe has demanded concessions from Beijing, and it has been prudent enough to grant them in the very bid to keep Brussels off the American bandwagon.
It's working. Instead of creating a unified front, the EU now is set to get market access concessions America doesn't have, something that they have pressed for over a long time. China is likely to be very pleased with this outcome and to make a big deal of it. In addition to signing a regional comprehensive economic partnership, it also flies in the face of the media discourse that the "world is turning against China," mocks Pompeo's zealous rhetoric of a "transatlantic awakening," and challenges the premise that Biden will so easily unify allies against them.
Sure, he is more respectable and less erratic than Trump, but that doesn't mean differences between Washington and Brussels simply vanish overnight and cease to exist. Like any president, Biden will have to negotiate and is not likely to get everything he wants. Washington needs to understand that Europe is a bloc of countries that have their own interests and perspectives, and they won't suddenly all rush to do America's bidding again just because Biden isn't a loose cannon like his predecessor. That isn't politics, and it isn't life, and this new treaty shows the scope of the fight he has on his hands.
Like this story? Share it with a friend!
The statements, views and opinions expressed in this column are solely those of the author and do not necessarily represent those of RT.
You can share this story on social media: