Australia pays heavy price for being Uncle Sam's lapdog towards China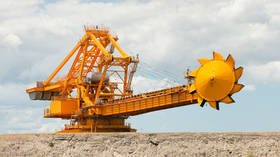 It looks like China has had enough of Australia's duplicity and provocations, deciding to hit Canberra where it hurts – in the pocket.
China is reportedly planning to scale back imports of Australian coal. This follows similar moves by Beijing to curb trade in other key commodities: wine, barley, fisheries, and timber.
As Australia's biggest export market, China has a lot of leverage, and appears to be using it across all sectors. The loss in export revenues for Canberra is potentially worth hundreds of billions of dollars a year. The timing couldn't be worse as the Australian economy slumps into recession for the first time in 30 years, bitten by a combination of the coronavirus pandemic, wildfires and now a downturn in trade with China.
Prime Minister Scott Morrison expressed deep concern about the impact on Australia's economy. With regard to the feared ban on coal exports to China, Morrison called it a "lose-lose situation".
Also on rt.com
Geopolitical rift between Australia and China reaches boiling point
Not exactly. China is lining up a multi-year supply deal with Indonesia for coal supply which would replace Australia altogether. The same can be said for other supply chains. China is a giant buyer in a global buyer's market. And Australia stands to be the sole loser in any trade dispute.
Under the leadership of President Xi Jinping, Beijing is shifting to a "diversification strategy". A key objective is to reduce China's dependence on sole suppliers and in particular reliance on Western-aligned economies.
That's bad news for Australia whose economy over the past decade has come to increasingly rely on exporting to China.
No doubt there is an element of spite in the Chinese strategy regarding Australia. And who can blame them? Beijing has repeatedly given warning to Canberra to back off political provocations.
Australia has been doing Washington's bidding, labelling China as the top global security threat. Beijing has denounced Canberra for promoting a Cold War mentality and acting as a "hatchet man for the West".
Other provocations include a new law giving the Canberra government sweeping powers to axe trade and investment partnerships with China by local governments and universities. That follows onerous restrictions on Chinese students in Australia amid a general atmosphere of racial hostility whipped up by Australian politicians and media.
When the coronavirus pandemic erupted this year, Australian premier Morrison caused much consternation in Beijing by siding with the Trump administration in implying that the Chinese authorities had acted negligently. In April, Morrison called for an international probe into the outbreak, which China angrily dismissed. Beijing warned that Morrison's "adventurism" would damage bilateral relations and trade partnership.
Australia has also shown willingness to join with American military maneuvers in the South China Sea to contest China's territorial claims. But at the same time Canberra has balked at going too far, knowing that it is jeopardizing relations with China. Morrison pleaded last month at a conference in London that he does not want to be forced into a "binary choice between Washington and Beijing". Yet, his government has already taken sides.
Thus it is understandable that Beijing has begun to pare its economic relations down under. From China's point of view, who needs the aggravation and insults when there's a world of trading opportunities out there?
Also on rt.com
Economic decoupling from China 'act of national self-sabotage' – Australian MP
China can easily switch sources for commodities: coal from Indonesia, wine from South Africa, or iron ore exports from Russia which are surging this year.
But what is hard to fathom is the thick-headed arrogance of Australia's political class. The ruling Liberal-led coalition government as well as the opposition Labor party seem to think they can keep demeaning China as a global reprobate, regurgitating American propaganda, and somehow expect there to be no repercussions for their insolence.
There is an analogy here to how European states are servile in peddling Washington's hostility towards Russia. The European Union's anti-Russia sanctions are a reflection of the bloc abjectly following America's own sanctions on Moscow based on a range of dubious claims. Yet the EU's sanctions have cost European economies some €21 billion a year in lost trade with Russia, according to the German chamber of commerce and industry.
This stupendous act of self-harm by the Europeans with regard to Russia is mirrored by Australia's self-sabotage of its economic interests with China. The common denominator is the US and how accommodating America's anachronistic Cold War intrigues comes with a painful price.
Think your friends would be interested? Share this story!
The statements, views and opinions expressed in this column are solely those of the author and do not necessarily represent those of RT.
You can share this story on social media: