Helen Keller was blind, deaf and mute, so to suggest she had 'white privilege' is racism at its very worst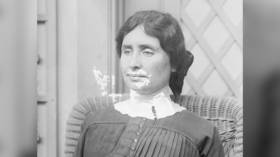 Black disabled rights activist Anita Cameron has dismissed legendary campaigner Helen Keller as "just another privileged white person." It's yet another example of how some people have no idea what 'privilege' really means.
I'll freely admit that anytime one of the woke mob opens their mouth, all I hear or see is a word salad. It seems there are more and more activists who simply jumble together a bunch of terms that are used as accusations against others.
In some cases, it gets so nonsensical that it feels like the whole world needs to stop for a second to pull the idea apart so people on the outside can understand exactly what is wrong with what is being said. And here's the most recent, crazy example: 'Helen Keller had white privilege.'
For those who do not know the story of Helen Keller (1880-1968), she was a woman who was born blind, deaf and mute. It was the intervention of a tutor that enabled her to finally communicate after her parents had given up on her.
She later went on to become an author and a prolific member of the Socialist Party of America. She should be an icon to the far left but, in a piece in Time by Olivia Waxman, she has been called "just another privileged white person" by Anita Cameron, who is described as a 'disability rights activist.'
Also on rt.com
Holy smoke, the Pope's gone woke… but that's not what Christians want or need from a spiritual leader
Yes, you read that right. Helen Keller, who battled adversity and campaigned for the rights of people with disabilities her whole life, was "privileged."
Here's what makes no sense. You have one person who is an advocate for the rights of the disabled trashing the most famous advocate for the rights of the disabled, and why? On the basis of the color of her skin.
Because privilege is non-existent here. And I'm going to use the term as it is read and defined, because this situation deserves a bit of sanity. It is a privilege for my eyes, ears and tongue to work. Any person who is not blessed with this at birth is not privileged.
There is no privilege in having to maneuver your life in an absolute darkness. So what are we left with? We are left simply with someone furious over another person's skin color. In the sane world, we call that racism.
Among those who agree is the executive director of the Senate Conservatives Fund, Mary Vought, who told the Washington Examiner, "As a mother to a child with a disability, this is extremely offensive. Helen Keller dedicated her life to advocating for those with disabilities and illness. To suddenly cancel her now because of her skin color is not only outrageous, it's racist."
You've got to be kidding me. The woke mob is now going after Helen Keller for being white. 🙄Nevermind the advancements she worked to achieve for those with disabilities. Via @TIMEpic.twitter.com/7W2cs2A5nR

— Mary Vought (@MaryVought) December 17, 2020
Vought is right, and this is one of my main problems with modern progressivism. Statements like 'privilege' hold zero meaning anymore because they are not used in a way that makes any sort of sense.
Words and definitions are important, because meaning is important. So if you're going to tell me that someone with all of the disadvantages on Earth has 'white privilege,' then you have the wrong definition of privilege. And it's obvious that your problem is that person's skin color.
Throughout 2020, I have written article after article discussing the 'woke mob.' It is one of the most racist, inane and backwards thinking groups in history. But this latest example of woke thinking takes things to another level. When we find people trying to cancel a historical figure who was an open socialist born with zero advantages based on their skin color, how do you expect people to react?
I am very much of the belief that this is why the woke mob continues to be rejected by Americans at large. It comprises radical activists who want nothing more than to create division, when we should be trying to forge more unity.
And so, if I have a wish for the next 12 months, it's that we give what the woke mob has to say far less attention in 2021. Not having to listen to its crazy theories and divisive rhetoric really would be a privilege.
Think your friends would be interested? Share this story!
The statements, views and opinions expressed in this column are solely those of the author and do not necessarily represent those of RT.
You can share this story on social media: