Cancel Christmas? It shouldn't even be a debate and UK leaders will have blood on their hands when Covid-19 deaths start soaring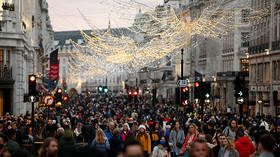 Flying in the face of medical expertise and scientific reason, the British government has chosen not to cancel Christmas. There is no objective reason to justify a decision guaranteed to cost lives.
True leadership is about making decisions. So, there should have been no other course of action for the CEOs of UK PLC than to cancel Christmas. Boris Johnson (England), Nicola Sturgeon (Scotland), Mark Drakeford (Wales) and Arlene Foster (Northern Ireland) originally backed Christmas, announcing people could travel freely around the UK between December 23 and 27. Up to three households could get together to share the turkey and Brussels sprouts.
Plenty have churned out the line, "the virus doesn't take a holiday," which is dismissed as sarcasm. But it's not. It's reality. So, it's an embarrassment that Britain is now in a predicament. Ten days before Santa comes down the chimney, the four home nations were forced to review their plans before deciding a relaxing of the rules would still be allowed.
Also on rt.com
British government's Christmas plans to relax Covid-19 measures 'will cost many lives' – top health journals
Mixing with others is how transmission occurs. That's a scientific fact. So, The British Medical Journal and the Health Service Journal shouldn't have had to deliver a bombshell to get our politicians thinking. Both publications released a joint statement containing the chilling observation: "We believe the government is about to blunder into another major error that will cost many lives."
Any platform needs to be analysed for its motivation, but these journals aren't making money or benefiting from their statement. It's an honest, compassionate opinion.
Medics have warned the National Health Service may buckle under the sheer numbers of new cases. Figures show a 28.7 percent rise in the last week for positive Covid-19 tests. Deaths have dropped by 4.2 percent, but they still stand at 2,874 over the last seven days.
Some people are in denial about what has happened, but the reality is that the coronavirus has claimed 76,287 lives in the UK this year. Yet they are calling for Christmas to continue as planned. What don't they don't grasp about 76,287 coffins?
London has been upgraded to Tier 3 (England's highest level) and three Scottish council areas (Aberdeen, Aberdeenshire and East Lothian) have had their lockdown tightened.
It's the same story in Wales, as Dr. Giri Shankar said, "We are very concerned at the alarming rise in rates of coronavirus in nearly every part of Wales which is putting NHS Wales under extreme pressure, and shows no signs of abating."
Now, 34 million British citizens are under the strictest possible conditions because rates are rising. It's staring us in the face. We can choose to mumble something about managed risk, or we can be honest.
It could be your old uncle who sat in the corner during the Christmas party and didn't touch anyone, but somehow was diagnosed with Covid-19 soon after and will be dead by New Year's Eve. Contrast sitting together, passing around the chocolates and enjoying the festivities, to standing together in a cold, frosty graveyard a few days later.
There are voices telling us the government wants us to strip us of our freedom. You're entitled to that belief, but it is the government who is removing the shackles. They are the reckless fools here. We should also tune out opportunists like Mayor of London Sadiq Khan, who said, "My concern is many people may have the virus, not realise it, they could pass the virus on to an older relation."
There's an element of grandstanding about this kind of contribution. Khan 'switches on' when a microphone appears. Let's stick to the bible, dictated by medical professionals. The British Medical Association's Dr. Gary Marlowe commented, "The escalation in London shows how quickly progress to control the virus has been undone."
None of those in white coats think Christmas is a good idea. These were the people we clapped for nationwide every Thursday at 8pm at the start of the pandemic. They're not heroes, they're ordinary professionals using their skills and experience to offer an opinion.
If your accountant told you not to sign a business deal, you wouldn't. And the message from the medical sphere is stark. They are warning that Covid-19 transmissions will rise, leading to more deaths.
Also on rt.com
Covid Christmas in UK: Medics are terrified of letting us manage our own risks
And, as a by-product of having to treat those people, other areas of healthcare will suffer. The joint journals' statement explained, "A significant third wave could wipe out almost all the reductions in waiting times for elective procedures achieved in the past 20 years."
For example, oral cancer referrals have fallen by 33 percent in the UK during the pandemic. People can't get to a dentist because of the high coronavirus rates. Therefore, thousands of people have oral cancer and don't know it.
In England, 60 percent fewer people with suspected cancer were seen in April, compared to the same month in 2019. That's a ticking time-bomb that won't explode for a while, as the delayed medical intervention means the rise in survival rates over the last 40 years will be halted.
Professor Sir Mike Richards, national cancer director in the Department of Health between 1999 and 2013, said: "There is obviously a concern that may actually go down again in the year 2020. But we won't know that for some time."
To make matters worse, more than 1,000 cases of a new strain of Covid-19 have been found across 60 areas. The new vaccines should be able to handle them, but it's another grenade that will detonate if they don't.
Our governments have blundered their way through this entire pandemic, but allowing Christmas to happen will be wilful negligence. Quite simply, if a single person dies, how can they possibly argue it was worth it?
Think your friends would be interested? Share this story!
The statements, views and opinions expressed in this column are solely those of the author and do not necessarily represent those of RT.
You can share this story on social media: