This is who they are: What media & Big Tech did with Hunter Biden laptop story isn't a bug, but a feature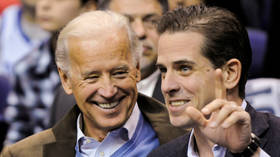 The legacy and social media uniting to suppress a scandal involving Joe Biden's son before the US election, and cheering censorship of a newspaper founded by Alexander Hamilton, isn't hypocrisy; it's their raison d'etre.
Folks who've been relying on the New York Times, Washington Post, CNN or NPR, may need catching up at this point, so here's the short version: Joe Biden's surviving son left a laptop in a Delaware repair shop with all sorts of emails about his business deals in Ukraine, China and elsewhere, banking on the family name. The shop owner turned it over to the FBI but heard nothing back, so he gave it to the press. The New York Post ran the story, only to be locked by Twitter and throttled by Facebook, as Democrats denounced it as "Russian disinformation."
Also on rt.com
US Department of Justice launches probe into Hunter Biden's 'tax affairs' amid calls for 'special counsel'
On Wednesday, a month after Biden was declared winner of the November 3 election, the "Biden-Harris Transition" issued a statement by Hunter – supposedly a private citizen with no role there – admitting he is actually under a federal investigation over the laptop. Oops.
It wasn't just supporters of President Donald Trump who rushed to point out the sheer hypocrisy of the media hydra in this case, dusting off the "debunking" and "fact-checking" and "we won't cover this because it's not a story" (looking at you, NPR) pieces as exhibits. There was a whole epic thread of screenshots as receipts, no less.
"Big Tech censored the Biden corruption story. The media called it Russian disinformation. All to protect Joe Biden in theelection," tweeted House Minority Whip Steve Scalise (R-Louisiana), in a good distillation of the argument making the rounds. There's just one tiny problem with it: so what?
Republican political operative Arthur Schwartz is a perfect example of missing the point, as he tweeted the media "have a lot of explaining to do." To which one anonymous user, describing himself as a former academic, had the spot-on response: "No, they don't. They don't answer to anyone but their base — which *expects and desires* just this kind of behavior."
For the past four years, the mainstream media has pushed the baseless 'Russiagate' conspiracy theory with absolute impunity, because it catered to the narrative by the Democrats about why they lost the 2016 election and served to delegitimize Trump. Every anonymous accusation, from the Steele Dossier and "Russian bounties" in Afghanistan to the Atlantic smear piece about Trump insulting US troops, was treated as gospel truth.
Meanwhile, any attempt by the president to push back was denounced as an "attack" on free press. Yet these very same paladins of "our democracy" cheered when the New York Post was censored by Twitter, in an actual attack on free speech.
Never mind that the paper was founded in 1801 by Alexander Hamilton – whom Democrats now worship as some sort of hero, because of Lin Manuel-Miranda's musical retcon of history – there was zero collegial solidarity on display. Less than that, even: you had Jake Tapper of CNN "helpfully" advising the Post to delete their "offending" tweet in order to "end the whole thing [in] 15 seconds."
Also on rt.com
'It will take 15 seconds': CNN's Jake Tapper tells New York Post to bend the knee over Twitter lockout
Another CNN megastar, Christiane Amanpour, had once infamously attacked Trump for "delegitimizing the press" and insisted that "an attack on one of us is an attack on all of us." But when it came to the Hunter Biden story, Amanpour was perfectly happy to let the New York Post rot in Big Tech jail.
Asked by a Republican guest why she wasn't actually doing journalism when it came to the Biden laptop, Amanpour indignantly responded "we're not going to do your work for you." The Freudian slip suggested Amanpour and CNN were busy doing someone else's work – and it should be obvious at this point who that is.
If you're still expecting an apology, explanation of soul-searching from the Big Tech and mainstream media, you're either terminally naive or simply not paying attention. Look at how they're covering the Hunter Biden story, now that they have no choice. The documents were "made public – but went largely unnoticed" prior to the election, says the Daily Beast, that most mainstream of tabloids.
Notice the passive voice, as if the documents didn't go "unnoticed" only by their readers, because the Beast and its fellow-travelers deliberately refused to notice them.
Mind you, the suppression of the Hunter Biden story is just the most blatant example of media misbehavior. The partisan slant, selective reporting and "fact-checking," and downright lies by omission are legion at this point. "Once is happenstance, twice is coincidence, the third time it's enemy action," as James Bond author Ian Fleming famously wrote. What would the 1600th time be?
Now consider that these are the very same media and Big Tech who declared Biden won the election fair and square, while dealing with any claims otherwise in the exact same manner as they did with the Hunter laptop story: label as "disinformation," facetiously "fact-check" or censor outright.
Also on rt.com
Rewriting history: Legacy media shriek Trump is 'bucking tradition'... for doing the same thing they praised Obama for
They apparently believe they can dictate what Americans are allowed to say or think, and even determine reality itself. They believe they can get away with it because most people, even Republicans whining about how this is unfair, continue to implicitly accept this arrangement. After all, it's one of those"forms to which they are accustomed."
I wouldn't count on that being the state of affairs much longer, though. There appears to be a growing realization among Trump supporters that "if only the truth is told, everything will sort itself out" is a trope of 1980s Hollywood, and that the axis of mainstream media and Silicon Valley has no ethics beyond power. The end justifies the means, and who/whom is the only morality.
What happens to America if this realization reaches critical mass is anybody's guess. God willing, there won't be blood. Either way, the Axis of Deceit will have only itself to blame. Newton's Third Law is as implacable in politics as it is in physics; the longer you trespass against reality, the harder it will push back.
Think your friends would be interested? Share this story!
The statements, views and opinions expressed in this column are solely those of the author and do not necessarily represent those of RT.
You can share this story on social media: