Rewriting history: Legacy media shriek Trump is 'bucking tradition'... for doing the same thing they praised Obama for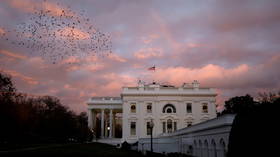 Denouncing President Donald Trump for violating nonexistent norms, the mainstream media that claim to be arbiters of truth are literally rewriting history and hoping Americans don't remember Barack Obama or 2016.
"Over the final six weeks of Trump's presidency, the administration has no plans to wind down its efforts to remake federal policies and even the government bureaucracy itself, aides said, despite the pending handoff to the incoming Democratic administration," the Washington Post complained on Sunday.
"The whirlwind of activities has bucked tradition of past presidents who have deferred on major policy actions during the lame-duck period," the paper continued, adding the moves could "make it procedurally or politically challenging for Biden to fulfill campaign pledges to unwind the Trump team's actions."
One might wonder at this point what "pending" handoff the Post might be referring to, since Trump has not shown any signs of conceding the election the media have called for Democrat Joe Biden. If the anonymous aides are to be believed, Trump is definitely not acting like someone who plans to leave the White House at the end of January. Since that doesn't fit the Post's narrative, they gloss over that. More concerning, however, is the sudden invention out of thin air of "tradition" that literally did not exist way back in 2016.
As Byron York of the Washington Examiner pointed out, the New York Times lavished praise on Barack Obama at the end of December that year, for publicly promising a "smooth" transition while setting up "as many policy and ideological roadblocks as possible" before Trump's inauguration.
Obama is "doing a lot of governing," the Times quoted Matt Bennett of the Third Way liberal think tank. The Republicans don't like it, Bennett said, "But he's in his right to do it, and he should do it. Is he trying to box Trump in? You bet – and he should."
Among the Obama moves the Times listed approvingly are naming 103 people to various government posts, banning offshore oil drilling, establishing new environmental preserves, securing Planned Parenthood funding, freeing Guantanamo Bay inmates – and oh yes, expelling Russian diplomats on the pretext of "interfering" in the election.
Also on rt.com
US expels 35 Russian diplomats, closes 2 compounds
While all of this was happening, the FBI was also spying on the Trump campaign and transition teams via the FISA warrant on Carter Page, secured under false pretenses using the Democrat-funded 'dossier' by British spy Christopher Steele. Moreover, the NSA was listening in on Trump's incoming National Security Advisor Michael Flynn, recording his conversations with Russian Ambassador Sergey Kislyak that would later be used to get him fired and – falsely – charged for lying to the FBI.
Both the Times and the Post have pretty consistently pretended none of that happened, mind you, while being rewarded with Pulitzers for pushing the 'Russiagate' conspiracy theory. So what else is new? Pointing out media hypocrisy in the age of Trump is almost a futile endeavor, as the party they serve sees it as a feature of their "who/whom" morality while the other side is resigned to it and doesn't really have a response.
"Our guy did it, so it's great! Their guy is doing it, and it's terrible and unprecedented". You can add #mediahypocrisy to the two constants of death and taxes.

— Live to Hike (@sierra_hiker) December 7, 2020
Except we've long moved past hypocrisy here, and right into the dangerous territory of Orwellian rewriting of history and wilfully pretending things that actually happened did not, while things that didn't actually did.
The Post article opens by condemning Trump's speech about election fraud last week as a "video rant regurgitating a litany of baseless accusations," while describing social media censorship as having merely "flagged his falsehood-laden posts."
There's reporting the facts, there's printing or airing opinions, and then there's narrative management – now openly embraced by the mainstream US media, without so much as pretending otherwise.
Also on rt.com
My 'fake news' odyssey: How I learned the media prefer narratives over facts and never tell the whole story
Since Trump's victory in 2016, the legacy media apparatus has doubled and tripled down on narrative management rather than attempting to go back to reporting facts. Meanwhile, it has successfully pressured – or persuaded, given their executives' political preferences – social media to get on the bandwagon and censor any avenues of dissent. Those who refuse to bend the knee are attacked.
It's not just a handful of flagship outlets run by partisan billionaires, either. The AP has adopted racist capitalization rules and urged reporters to use euphemisms for 'riot', for purely political reasons. In October, when a Democrat senator made an ignorant argument about a phrase being "offensive," Merriam-Webster actually amended the dictionary of American English so she would be right.
The Fourth Estate has become the Fifth Column.

— Rick Thorn (@GoldenEagle1968) December 7, 2020
Not surprisingly, the fabric of the Republic has been unraveling as a result. The proliferation of hyper-partisan "fact-checks" that routinely label Trump's hyperbole as "lies" but bend over backwards to cover for the whoppers coming from his critics made possible the disaster that was the first presidential debate, to name but one example.
To borrow the crude but very descriptive Americanism, the media are pissing on everyone's boots and insisting it's raining. They apparently believe that as the sacred guardians of our democracy they can do as they please, from anointing presidents to bending the arc of reality itself. Can they keep doing this, and for how long, may well be the most important issue of our time.
Think your friends would be interested? Share this story!
The statements, views and opinions expressed in this column are solely those of the author and do not necessarily represent those of RT.
You can share this story on social media: