Covid Christmas in UK: Medics are terrified of letting us manage our own risks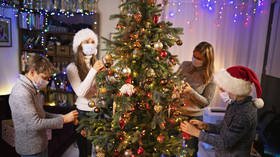 The medical profession's lobbying to overturn the UK's mild relaxation of Covid-19 rules confirms the biggest lesson of 2020: that safety now trumps freedom.
A rare joint editorial by two leading British medical journals hit the headlines yesterday by demanding that the limited relaxation of Covid-19 rules over Christmas be scrapped. The editors of the BMJ and HSJ wrote:
"Members of the public can and should mitigate the impact of the third wave by being as careful as possible over the next few months. But many will see the lifting of restrictions over Christmas as permission to drop their guard. The government was too slow to introduce restrictions in the spring and again in the autumn. It should now reverse its rash decision to allow household mixing and instead extend the tiers over the five-day Christmas period in order to bring numbers down in the advance of a likely third wave."
As a result, the leaders of England, Scotland, Wales and Northern Ireland, which each have devolved responsibility for health, have been in talks about what to do, although at the moment it looks like the rules will not be changed, but stricter guidance will be issued.
The picture about infection rates is mixed. According to the latest ONS Infection Survey, which does weekly sample testing of the population, the recent four-week lockdown in England amplified a downward turn overall, but rates are rising again in London (where restrictions have been tightened to Tier 3 from today) and in the south east. The Welsh 'firebreak' lockdown proved to have very temporary effects and infection numbers are rising fast. In Scotland, infection rates seem to be lower with little sign of a significant change either way (in the rural area I live in, restrictions were relaxed somewhat last week), while in Northern Ireland they are in decline.
The relaxation of the rules for five days over Christmas is pretty mild. It simply means that three different households can come together to form a 'bubble' from 23-27 December. All the members of this bubble have to follow the rules for the highest alert level that apply to members of that bubble. For example, if someone in the bubble is from a Tier 3 area, everyone in the bubble must follow the hospitality guidance for Tier 3, even if they are meeting in a Tier 1, a low-alert area.
Basically, the four governments have kindly agreed that for a few days we won't be criminalised for meeting our own families in our own homes. Hallelujah!
So, this minor relaxation hardly amounts to a free-for-all. In fact, it was a pragmatic decision that threatening people with fines for what many of them would have done anyway would be unenforceable and excessive. Moreover, this Christmas relaxation was the carrot proffered to justify the stick of continued restrictions. As it stands, even though the full lockdown in England is now over, 34 million people are living in Tier 3 areas where hospitality venues like pubs and restaurants are closed and movement is restricted. Greater Manchester has been living under harsh restrictions for four and a half months.
Also on rt.com
Scotland's Sturgeon says safest way to spend Christmas is not to mix households, as UK leaders diverge over Covid guidance
It is probable that there will be more cases as a result of this relaxation than if these modified rules were scrapped now, so the governments have faced widespread criticism for allowing them to go ahead. That simply shows they are being walloped by the logic of their own pandemic policies. Safety, and 'protecting the NHS', has trumped any sense that there is something important about social interaction and personal freedom that should not simply be ruled out of order by diktat.
What's so scary for those who want to micromanage our lives is that, for five days, we get to make our own decisions about how to balance the pleasure of seeing family with the risk of catching a disease. There are plenty of ways to manage that risk. Some will limit the numbers they have round at one time. Others will decide to meet for a walk outside and leave it at that or keep the windows open while eating dinner and watching TV. Plenty more will decide not to bother and agree to meet up in the spring when things should be easier and many of the most vulnerable will have been vaccinated.
What's important – and so terrifying for medics – is that, within strict parameters, we will get to decide. Not everything can be determined by what is best for the NHS. For these Scrooges, safety trumps everything else. They assume that if households mix and someone in the group is infected, then everyone else is at a high risk of infection, so it shouldn't be allowed at all.
In fact, that's not true. As Professor Paul Hunter, professor in medicine at the University of East Anglia, told the Daily Telegraph today: "Despite what at least one professor has said on air, being in a house with an infected person does not mean you will almost certainly pick up the infection. If you stay with an infected person for less than five days then the risk is about one in eight. If that person is asymptomatic then the risk is even lower, about five per cent, or one in 20. My personal view is that the potential benefits of being able to spend some time with your loved ones for many people outweigh the risks."
Moreover, only about one percent of the population is infected at any time – suggesting that for any bubble meeting that includes a person who is unknowingly infected, the risk is more like one in 2,000 that infection will be spread, even if they stay for a few days. (That said, the risk increases the more people that get together at one time.) And of the people infected, only a small proportion will end up in hospital. Even for those aged 85 and over, early figures suggested over 80 per cent did not need hospital care. It is perfectly understandable why many people will choose to get together over Christmas when their own risk of serious illness is so small.
Sadly, many of the oldest and most vulnerable may not have many Christmases left and will be desperate to see their families. There are very good human reasons why many families want to get together next week. But too many medics and politicians see us all simply as statistics – another hospital bed potentially occupied, another point of transmission created – rather than human beings who have to get through this crisis one way or another.
To quote a much-played British festive hit, I wish it could be Christmas every day. I wish that politicians would allow us more freedom to make these decisions for ourselves all the time. Instead, we have spent months being treated like naughty children. The principle that there are certain freedoms that are inviolable has been washed away and the legacy of that change will be with us for many years to come.
A bad thing came along – a new disease we were unprepared for. Governments have made things even worse with their heavy-handed responses. At least leave us in peace to decide how we will spend Christmas.
Think your friends would be interested? Share this story!
The statements, views and opinions expressed in this column are solely those of the author and do not necessarily represent those of RT.
You can share this story on social media: