Hong Kong sanctions are a 'kiss of death' for Biden from departing Pompeo, who wants to ramp up cold war with China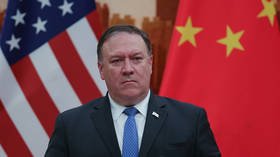 With time running out in office, Mike Pompeo is determined to leave a legacy of being exceptionally tough on China. Repairing relations will be extremely difficult for Joe Biden's incoming administration.
Appointed only in 2018, Mike Pompeo's tenure as US Secretary of State has spanned just over two years, or half a term. Although he is heading for the exit in January, his notoriety is now well established, despite such a relatively brief spell in office.
Branded by multiple news outlets as the "worst secretary of state in history" for a posture that has been anything but diplomatic, the former CIA chief brought to the role a fanatical and uncompromising hawkishness flavoured with his evangelical Christian beliefs, especially with regard to China and Iran. In the run-up to the election, he was berating the Chinese Communist Party on a near daily basis.
And despite the exit door looming, he isn't finished yet. On Tuesday, the US State Department placed sanctions on a number of officials in Hong Kong allegedly responsible for 'undermining the region's autonomy.' In tandem, behind closed doors, Pompeo has apparently been pledging a 'flood of sanctions' on Iran before January 20. It's clear that he is determined to anchor a permanent legacy on US foreign relations, as erratic as they may be, and in doing so it's inevitable that China will be in his sights.
Also on rt.com
Get ready for global technology war & end of globalization as we know it – China unveils ambitious 5-year plan
Pompeo believes that he is on a personal crusade to take on China's Communist Party. While he was largely restrained during his first year as Secretary of State, owing to trade talks between Washington and Beijing, when the Covid-19 blame game was unleashed against China and election campaigning began in earnest, Pompeo embarked on a radical tirade against the Communist Party that has bordered on obsession.
His ramblings were not so much those of a madman, as an attempt to reshape relations between the US and China and establish a new cold war that his successors will have difficulty in undoing.
To this end, Pompeo made a speech in July at the Richard Nixon Library in California that he hoped would be of historical significance, aiming to pit "free nations" against China and subsequently play up the threat of Beijing to the world. The location was no coincidence, for it was Richard Nixon who famously visited China in 1972 and met with Mao Zedong, initiating a landmark breakthrough which opened the gateway to American reconciliation with China and thus an "era of engagement."
Pompeo hoped that by using that location, he would send out the message that the era had been written off as a zero-sum mistake, and that he himself had introduced a new one. And so, from that week on, in the run-up to the election, the administration pursued weekly measures against China, although they were not as radical as he envisaged. Significantly, he has been powerless to stop US investment pouring into China.
Also on rt.com
New American military base in Pacific would show how US-China cold war is heating up fast
However, with Donald Trump's defeat, Pompeo's vision – and that of the administration as a whole – has hit a roadblock. While it remains to be seen how tough a Joe Biden administration will be on China, it seems unlikely that it will maintain Trump and Pompeo's belligerent and confrontational approach, which prompted so much uncertainty and, despite everything, didn't yield results.
Thus, as the Biden administration plans to reverse many of Trump's policies, including rejoining the World Health Organization and the Paris Climate Agreement, Pompeo and other officials in the White House will now be looking at how they can ensure their legacy is set in stone with the time they have left, and at the same time reducing Biden's political capital on key issues.
As a result, it is no surprise that the State Department is choosing now to slap new sanctions on Hong Kong, and in turn we should expect more measures to be waiting in the wings over the next two months.
Be in no doubt, this is about consolidating the 'new relationship' with China as a legacy. More sanctions on officials have no meaningful effect on the city's economy or administration, but serve as a jab to continue to project American influence into Hong Kong, encourage unrest and indirectly challenge the Chinese.
These measures will make it difficult for Biden to let the issue drop and drive wedges into any potential reconciliation with Beijing, something hawkish senators in a Republican-controlled congress will be sure to play up.
Given this, such sanctions and whatever might lie ahead in the coming months might be described adequately as 'Pompeo's kiss of death.' He wants to leave a legacy, a mark on his time in office, and he won't stop until he's forced through the makings of a new cold war.
Think your friends would be interested? Share this story!
The statements, views and opinions expressed in this column are solely those of the author and do not necessarily represent those of RT.
You can share this story on social media: