New American military base in Pacific would show how US-China cold war is heating up fast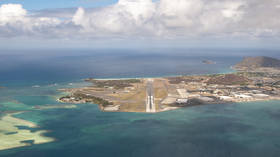 The tiny state of Palau has invited the US to build a military base on its territory. It's a sign of how the Pacific is becoming strategically vital as countries choose to align with either Washington or Beijing.
Few people in the west are likely to have heard of a nation called Palau, an archipelago in the western Pacific Ocean. Located close to Papua New Guinea and the Philippines, it boasts a population of only 17,000 people, less than the average small town.
Do not let its size obscure its significance, though. For all these islands may seem irrelevant in the world of contemporary politics, they are in fact situated right at the heart of one of the world's emerging geopolitical struggles, the cold war between the United States and China.
In the midst of growing tensions between Washington and Beijing, Palau could not be a more strategically important location. The Pacific Ocean at large has already become the stage for a military chess game between the two countries, as the US seeks to encircle China's periphery and Beijing aims for military parity in its own backyard.
Yet Palau has already chosen a side as a loyal diplomatic partner of Taiwan, an island whose support in this region has otherwise been dwindling. And now, it is looking to invite Washington to create a military base within its territory.
Since the end of World War II, large swathes of the Pacific Ocean have been an area of indisputable American dominance. Its entry into the region commenced in the 19th century, and over the years Washington has annexed many parts of the area outright, such as Hawaii, Guam, American Samoa, the Philippines, the Northern Mariana Islands and the Marshall Islands.
With the outbreak of World War II and conflict with Japan, the US' 'island hopping' strategy saw this region transformed into a vast strategic military footprint which consolidated its grip as a global power.
However, the balance of power is shifting. China's rise as a global power and naval modernization, plus its growing clout in the South China Sea, have allowed Beijing to exert greater influence in the Pacific. Its goal, however, is not to battle for hegemony with the US, but to achieve security by checking what it sees as an obvious attempt by the Americans to encircle it.
Although the US labels Beijing 'the threat', the reality is that it's China which has a string of American naval bases and allies surrounding it. As part of its 'free and open Indo-Pacific' strategy, Washington has subsequently sought to intensify its naval power within the region.
So where does Palau come into it? As a set of Pacific islands, it is ultimately part of the chessboard. But it has already picked its side; as one of the few remaining allies of Taiwan, it does not have formal diplomatic relations with China.
This has traditionally been the case for many island nations in the Pacific, because of their alliance with the Americans. However, as China's economic power has grown, this has shifted in recent years. Beijing has been increasingly successful in getting pro-Taiwan Pacific nations to switch allegiance by making pledges of investment that Taipei could not match. Last year, it got Kiribati and the Solomon Islands to accept the 'One China' policy and thus choose Beijing.
The US and its allies have feared Palau could do the same, especially as its size means it has few resources of its own to develop its economy. It has, however, been loyal to Taipei and has persistently voted in favour of anti-China resolutions at the United Nations over the likes of Hong Kong and Xinjiang.
Also on rt.com
Trump's claim he'll 'make China pay' is more pre-election saber-rattling… and he'll up the ante even further over next three weeks
Now it is aiming to anchor its significance by inviting the US military in, a move which will give it increased influence and diplomatic support. There is no logical reason why the US would turn down such an offer when it is intensively focused on militarizing the region.
Of course, this does not mean China is out of the game; other Pacific islands such as Tonga, Samoa and Vanuatu are all part of Beijing's Belt and Road initiative, and there has been speculation that China may be considering building a base in the region itself.
Just because Palau is opposed to China does not mean that the other island nations of the Pacific are inclined to be so, and they seem happy to leverage Beijing against what has been 70 years of American and Australian dominance.
In essence, the great game across the Pacific is heating up, and both powers will continue to squabble for the allegiance of these tiny countries as they seek to play out their grand strategies. In this, Palau sees an opportunity, and others will surely follow.
Think your friends would be interested? Share this story!
The statements, views and opinions expressed in this column are solely those of the author and do not necessarily represent those of RT.
You can share this story on social media: