If Sacha Baron Cohen wants to 'stop hate for profit', why is he still making jokes at Kazakhstan's expense?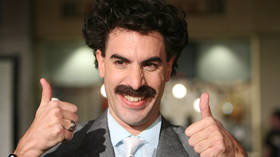 Sacha Baron Cohen is campaigning for social media companies to stop profiting from 'hate'. Given that he's based an entire career on material some would say is 'hateful', will he donate his $160 million net worth to charity?
The British comedian Sacha Baron Cohen is busy promoting his latest project, Borat Subsequent Moviefilm, which sees the mankini-sporting Kazakh journalist return to the United States for more pranks and shenanigans. At the same time, however, he's campaigning for social media companies to impose tougher restrictions on speech that he and his fellow campaigners regard as 'hateful'.
On Twitter, Baron Cohen's cover photo says 'Stop Hate for Profit', and his bio contains the same message expressed as a hashtag. In a recent op-ed for Time Magazine, he argues that pluralistic democracies are "at risk of being destroyed by a flood of hate, lies and conspiracies." One company that he holds particularly responsible is Facebook, which "has repeatedly failed" to block "disinformation," and which "refuses to implement systemic reforms advocated by the Stop Hate for Profit campaign."
You might assume from all this that Baron Cohen is opposed to people making profits by doing things that are considered 'hateful'. For example, you would imagine that he is against people raking in huge sums of money by creating satirical characters based on ethnic stereotypes. You would be wrong, of course.
Also on rt.com
Sleazy shirt-tucker Giuliani is the cheapest of all cheap shots in Sacha Baron Cohen's patronising and predictable Borat 2
Baron Cohen's anti-'hate' activism began in November of last year, when he gave a speech to the Anti-Defamation League describing social media companies as "the greatest propaganda machine in history," and calling for "regulation and legislation to curb the greed of these hi-tech robber barons." (In a rare moment of intellectual honesty, he did also note that not "everything I've done has been for a higher purpose.")
At the time, I assumed this speech was a self-preservation strategy on Baron Cohen's part – an oath of fealty to prevent himself getting canceled for all the offensive material he has produced over the years. (To take one random example, the European Center for Antiziganism Research accused him of ethnic defamation based on his references to Gypsies in the first Borat movie.)
I was therefore rather surprised when I heard about Borat 2. How could someone who gave a speech warning about the spread of "hate, conspiracies and lies" bring back a character as offensive as Borat? (In a scene from the first movie, he French-kisses his 'sister' and describes her as the "number four prostitute in all of Kazakhstan.") Since Baron Cohen isn't Kazakhstani, the character is essentially just 'Kazakhface'. And I thought you weren't supposed to impersonate other ethnicities in the current year?
Also on rt.com
Conservatives accuse Twitter of selectively ignoring own policies on REVENGE PORN, misleading content in Borat prank on Giuliani
Indeed, people have been canceled for much less. In 2018, the talk show host Megyn Kelly was dropped by NBC after she implied it wasn't necessarily racist to wear blackface. For example, she expressed surprise that a white woman had been denounced for dressing up as Diana Ross on Halloween. And numerous episodes of much-loved sitcoms (including Scrubs, Peep Show and The Office) have been removed or 'edited' because one or other character donned blackface. Not to mention all the celebrities who have been forced to apologize for the supposed crime of 'cultural appropriation'.
In August of this year, the social media giant Facebook – the one that Sacha Baron Cohen considers to be part of "the greatest propaganda machine in history" because of its lax policies on 'hate speech' – introduced a ban on depictions of blackface. The logic seems to be that blackface is totally unacceptable, whereas 'Kazakhface' is just a bit of fun. (And is it worth pointing out that black Americans enjoy a higher average income and longer life expectancy than the people of Kazakhstan?)
In case you still don't believe me that anyone could be offended by Borat, consider this: more than 100,000 people have signed a petition calling for the new film to be canceled; in the lead-up to its release, Kazakhstanis were sharing the #CancelBorat hashtag on Twitter; and the Kazakh American Association has issued a strongly worded letter asking "Why is our small nation fair game for public ridicule?"
Interestingly, however, Kazakhstan's tourism department is using Borat's catchphrase, 'Very nice!', in a new campaign to attract visitors to the country. As a government spokesman told the Huffington Post, "Kazakhstan's nature is very nice; its food is very nice; and its people, despite Borat's jokes to the contrary, are some of the nicest in the world."
Also on rt.com
'Very nice' ads: Kazakhstan adopts infamous Borat slogan for new tourism campaign (VIDEO)
An obvious explanation for why the new movie hasn't been condemned by the usually 'woke' left-wing media is that Baron Cohen's primary targets are Republicans like Donald Trump and Rudy Giuliani. This point was made in a viral tweet-thread by Nassim Taleb, who called attention to the left's "double standard" with respect to parodies – i.e., that it is fine to make fun of other ethnicities so long as you do it as a means to the end of mocking Republicans.
My point, incidentally, is not that certain things should be off limits in comedy. (I tend to support freedom of expression in such matters.) Rather, my point is that if you're going to attack others for contributing to the spread of 'hate' (a notoriously ill-defined term, it should be added) you might not want to make jokes that come at other ethnicities' expense.
As a comedian, Baron Cohen is known for his elaborate pranks whereby gullible celebrities, or naive members of the public, are inveigled into doing something cringeworthy, embarrassing or downright ridiculous. Claiming you want to 'stop hate for profit' while promoting Borat Subsequent Moviefilm has all the hallmarks of such a prank. I'm starting to wonder if we are the butt of Baron Cohen's latest joke.
Think your friends would be interested? Share this story!
The statements, views and opinions expressed in this column are solely those of the author and do not necessarily represent those of RT.
You can share this story on social media: