Sleazy shirt-tucker Giuliani is the cheapest of all cheap shots in Sacha Baron Cohen's patronising and predictable Borat 2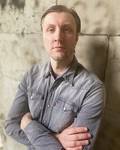 Chris Sweeney
Chris Sweeney is an author and columnist who has written for newspapers such as The Times, Daily Express, The Sun and the Daily Record, along with several international-selling magazines. Follow him on Twitter @Writes_Sweeney
Chris Sweeney is an author and columnist who has written for newspapers such as The Times, Daily Express, The Sun and the Daily Record, along with several international-selling magazines. Follow him on Twitter @Writes_Sweeney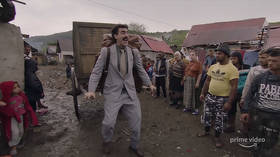 The Borat sequel is a collection of easy laughs at the expense of conservatives, with the easiest of all involving Trump's personal attorney. But, 14 years on, will even woke liberals fall for these tired old gags?
The world's most famous Kazakh is back. Borat Subsequent Moviefilm pushes all the buttons you'd expect it to. The original, released back in 2006, was a massive success, with audiences captivated by its exposure of what had largely been a hidden side of America. But in 2020, there's nothing left to uncover. And that means there's no requirement for the sting-style set-ups Borat's creator, Sacha Baron Cohen, specialises in.
Over the past few years, we've seen white supremacists marching in the streets bearing flaming torches. We've heard the Proud Boys and anti-Semites brazenly share counter-culture opinions. We've seen protesters loot cities and brandish assault rifles in broad daylight. What were once niche organisations or marginal viewpoints have been given oxygen during Donald Trump's presidency.
Your individual political preferences will determine if you consider that a good thing or not. But one fundamental thing that cannot be challenged is that we are freer than ever to think and feel what we want. The issue with Borat 2 is that it wants to tell us what that should be. And that's patronising.
Even the filmmakers wouldn't deny it's anti-Republican, and that its intention is to damage the credibility of Trump. There's a scene of Borat leading a right-wing crowd in a song about killing Jews and chopping up journalists. He also offers his 15-year-old daughter, played by 24-year old Maria Bakalova, up as a bride to Vice President Mike Pence, in the hope that it will gain Kazakhstan's leader entry into the "strong man" club alongside Trump. However, due to ever-shifting geopolitics, the joke ends up ricocheting straight back at Baron Cohen.
All he's doing is making it easier for the views he deems questionable to become even more entrenched. When you attempt to embarrass or poke fun at a majority blue-collar, God-fearing demographic, their natural inclination is to double down and return fire. They're proud of their moral compass and equate being at odds with the liberal elites as a sign of success.
And the film is likely to replicate that effect on the other side of the aisle. There will be many self-proclaimed "progressives" who lap up the backward and insular ways highlighted by Borat. They'll no doubt quote some of his lines and chortle away at how primitive parts of America are. But what good does that do anyone? Aside from Cohen's and Amazon's income, the answer is none. In today's highly confrontational world, satire can be thought-provoking if done smartly. Borat 2 induces only sneering, and indulges those with a superiority complex.
There's one scene that speaks volumes. It involves Rudy Giuliani, Trump's personal lawyer and the former New York mayor, who's shown reaching into his trousers and allegedly touching his genitals while alone with Borat's daughter, posing as a TV interviewer. Giuliani was apparently so perturbed by the video, he released a statement before the film was even released, after reports surfaced about the "compromising scene."
"I was tucking in my shirt after taking off the recording equipment," he said. "At no time before, during, or after the interview was I ever inappropriate. If Sacha Baron Cohen implies otherwise, he is a stone-cold liar."
(1) The Borat video is a complete fabrication. I was tucking in my shirt after taking off the recording equipment.At no time before, during, or after the interview was I ever inappropriate. If Sacha Baron Cohen implies otherwise he is a stone-cold liar.

— Rudy W. Giuliani (@RudyGiuliani) October 21, 2020
Online daily magazine Slate has done an extensive shot-by-shot analysis of the footage.
As one would expect, there is clear evidence of editing and multiple angles from different cameras. The debate as to how much one can believe one's own eyes is one for the technical experts, but what's not in doubt is that Giuliani does not come over at all well.
Also on rt.com
Conservatives accuse Twitter of selectively ignoring own policies on REVENGE PORN, misleading content in Borat prank on Giuliani
He is clearly tickled pink that an attractive, much younger woman appears to be enjoying his company. He accepts her offer to have a drink with her in the bedroom of the hotel suite where they are filming his 'interview.' While there, he touches her lower back and calls her "my dear". During the interview itself, he claims China manufactured Covid-19 and deliberately spread it around the world. Of course it's all a set-up, but the whole encounter is humiliating for a 76-year-old man in Giuliani's prominent position. Nonetheless, because of the capsule it comes inside, Borat 2, it won't cause any serious ripples.
Sacha Baron Cohen's tired old shtick hasn't changed since 2004. He seems totally unaware that times have changed. Maybe it's his ego that's driving him to repeat himself like a stuck record. Or perhaps it's the pressure from the film studios to keep making them money. But this time, the joke really is on him.
Like this story? Share it with a friend!
The statements, views and opinions expressed in this column are solely those of the author and do not necessarily represent those of RT.