Using Covid as justification to shut pubs is just another way to suppress Britain's working class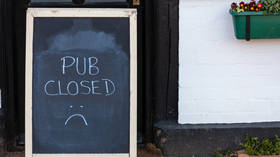 As England prepares for a new lockdown, another round of tough new restrictions is being introduced. Given the elite's 'fear of the mob', it's no surprise that pub closures are among the latest measures.
For me, life never gets better than having a beer in a pub with a large group of friends, all shouting to be heard above the jukebox and the other customers, who are all doing the same thing.
I've loved pub life since I was a little girl and used to watch my mum put on her best clothes and carefully apply her lippy in the mirror, wondering what this magical place was where adults went looking like film stars and came back happy and smelling of sweet lager and lime on their breath.
I have always thought of the pub, or Miners' Welfare and Working Men's clubs, as fantastical working-class spaces of glamour and gossip, of sexual encounters and of memories that keep you going for another week.
Throughout the Covid crisis, pubs, and other places of fun, hedonism, alcohol and dancing, have been under attack like no other. And they have been getting it from all sides.
Pubs were among the last places to open in the summer after the initial lockdown, and when they did it was under very strict conditions – there was no singing, no dancing, no sitting at the bar gossiping and flirting.
Now, of course, they're about to shut again, after England's tiered system was abandoned in favour of a national lockdown. Until then, my home town Nottingham is in tier 3, which means we are not allowed to meet friends even in a socially distanced pub or outside in a beer garden. Shops and supermarkets cannot sell alcohol after 9pm.
It seems the good folks of Nottingham cannot be trusted with a drink into the wee hours.
But there's nothing new here in the moral panic over alcohol and disorder. One of Nottingham's most famous sons William Booth was born in Notintone Place not far from where I live. Booth was born in 1829 and saw the abject poverty in which the working class lived. But he also noted how they coped with such a miserable existence with the help of a pint or two in local public houses.
Also on rt.com
As Boris Johnson announces Britain's 'great reset', were the Covid 'conspiracy theorists' right all along?
Booth went on to found the Salvation Army, and promote abstinence from drink among the working class. The army and other temperance movements petitioned the Government, and eventually licensing laws were introduced to ensure that British workers could do a day's work in relative sobriety and go to church on Sundays instead of the pub. Beer was watered down, and opening hours were tightly restricted by law.
The relationship between alcohol, poverty and the middle-class fear of the mob is long and complicated. Consider William Hogarth's famous grotesque depiction of Gin Lane, where a mother is so intoxicated she does not realise her baby is falling to its death – which shows the depravity that gin addiction can have on a community ­– to Beer Street, a place more harmonious and affable. It suggests a pint of ale might even do you good.
I may be drawing many threads together here, but I have the sneaking suspicion that some of the recent prohibitions related to Covid-19 – such as not being allowed to sing or dance, curfews and now the closure of pubs – are more to do with the complexity of the British class system built on moral judgements and the fear of the mob rather than the science of the spread of Covid.
As every new lockdown and new restriction has been implemented, it has been followed by scenes on our TVs of people drinking in the streets, laughing and enjoying themselves perhaps in a last attempt to have fun, or as resistance to what seems to be an ever more powerful and punitive state.
In these tense and uncertain times, I refer back to George Orwell, who never underestimated the real fear that those with power have for the mob. As he wrote in Down and Out in London and Paris, "Fear of the mob is a superstitious fear. It is based on the idea that there is some mysterious, fundamental difference between rich and poor. I believe this instinct to perpetuate useless work is, at bottom, simply fear of the mob … it is safer to keep them too busy to think."
And the last thing those with power and wealth want is for those who find themselves with time on their hands because of unemployment, lockdown or furlough to meet and talk and drink in that magical working-class place… the pub.
Like this story? Share it with a friend!
The statements, views and opinions expressed in this column are solely those of the author and do not necessarily represent those of RT.
You can share this story on social media: