What is the point of BLM? As the UK group implodes over plans to become a political party, even it doesn't seem to know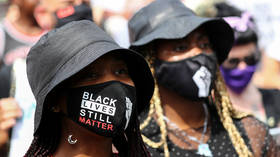 Black Lives Matter has applied to register as a political party in Britain, causing some members to form the Black Liberation Movement. This politicised mess could be the group's undoing.
Black Lives Matter is undeniably political. And debate over its intentions was seemingly ended with the news that the group had applied to officially register as a political party in the UK.
The application covers eight derivatives, across Great Britain, Scotland, Wales and the Greater London Authority. Interestingly, it has also reserved the All Lives Matter name.
The news confirmed what many critics of the movement had highlighted; that it had designs on entering politics and using its influence to promote Marxist policies.
The application is being processed by the Electoral Commission.
However, this is where things get confusing. A spokesperson for what claims to be Black Lives Matter UK denied responsibility for the application and said: "Racism transcends politics, and we have absolutely no connection, affiliations to a political party nor has any individual or group informed or made us aware of their intentions of forming a political party under the name of Black Lives Matter. It is not us."
And the unknown Lemara Francis added: "BLM is proud to be a political organisation, but has no plans to set up a political party."
Perhaps the question of what BLM is could be more easily answered if we knew the people behind the movement. But therein lies another problem. In the UK, there are no figureheads.
The right has Nigel Farage and Tommy Robinson, self-appointed spokesmen for many years.
BLM has tried to be coy with the media, undermining its standing. I have personal experience of this, having tried and failed to do interviews with the movement. It was the same with Forever Family, the black militia style group who marched through London in summer.
Contrast this with the NFAC, which has mobilised thousands of armed black people in the US. It was far more engaging. Its leader agreed to be interviewed and explained what his group was about and its aims.
Also on rt.com
Leader of radical black-only militia NFAC 'believes in violence' & wants a real-life Wakanda for every black person in America
Can anybody claim to know what Black Lives Matter UK is trying to do? The problem BLM UK has is that it has no identity of its own and is creating no momentum; it has simply hijacked an idea from America.
The best known British person leading the fight is Lewis Hamilton, the Formula 1 superstar who has used the millions of eyes on him to publicise and fight against racial injustice. His efforts have given so much more oxygen to the debate than BLM UK ever has.
Like Hamilton, of all the grassroots activists – of different ethnicities – who have marched or supported the cause, hardly any have a direct link to BLM UK.
And there is another curious angle to consider. On October 23, it emerged that another strand of BLM UK was rebranding as a 'community benefit society', Black Liberation Movement UK, and confirmed it had received donations totalling £1.2 million.
A few days later, news about BLM UK becoming a political party surfaced. The timing is too convenient to be a coincidence and suggests something has occurred behind the scenes.
Speaking about Black Liberation Movement, Adam Elliott Cooper stated: "We remain committed and our politics hasn't changed…it's a legal structure which allows us to take political positions on political issues."
So this version of BLM UK is not a political party but takes political positions. Confused?
Elliott Cooper registered Black Liberation Movement along with Lisa Robinson and Alexandra Wanjiku Kelbert, and it's fair to say none of the three have any profile nationally.
This lack of transparency about who and what the real BLM UK is only adds to the shadowy narrative that it is driving a socialist rebellion with the restriction of Britain's police forces one of its aims.
If BLM UK is indeed intent on becoming a political party, much of the goodwill it generated will dissolve too.
The vast majority of British people don't view racial equality as something to be debated like increasing spending on the transport system or adjusting income tax. They simply want something to be done.
The need is unquestionable; newly published figures, for example, showed that in England and Wales black people are nine times more likely to be stopped by the police than white people.
The vast majority of Britons want a level playing field for all, and a move into politics by BLM UK would alienate many, prompting a host of questions.
Could a white person, for example, join the party?
What relevance would the party have in areas of the country like northern Scotland or Northern Ireland, which are almost exclusively white?
And who is actually in charge of this party?
Surely rather than more politicisation, better education of people is what's needed: lead by example, have zero tolerance for racism, encourage inclusion and community, and avoid hardline division (which is ironic, given the apparent split in the BLM ranks).
What is clear in this whole sorry mess is that the BLM movement in the UK has turned itself inside out and seems unclear what its role actually is.
It needs to embrace everyone and forget about formalising as a party, because the solution to racial equality is surely social and not political.
Think your friends would be interested? Share this story!
The statements, views and opinions expressed in this column are solely those of the author and do not necessarily represent those of RT.
You can share this story on social media: