Wayne Dupree: Is Joe Biden's lackluster campaigning because of his physical or mental frailty, or won't his handlers let him out?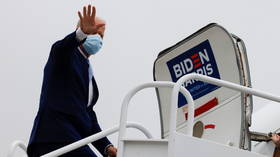 Trump's busy final week dwarfs Biden's, who has chosen to keep it light, allegedly because of Covid-19 fears. If he can't take the pace of an election campaign, how would he cope with the strain of being in the White House?
Covid-19 has been an excuse for Joe Biden not to have large rallies even though many 'liberal' voters are marching through the streets in their resistance to the Trump administration. Let's face it, the Black Lives Matter organization along with Antifa aren't worried about rising coronavirus numbers and neither are many Americans on the ground – I've seen them.
I don't know if it's because of Biden's alleged mental or physical frailty or if his handlers won't let him out, but this is not the way to run an election. It almost seems like he's really suffering physically and Democrats are trying to hold him up until after the election.
How can any person possibly think he can handle the most stressful job on Earth for the next four years?
Although Biden is defending his light campaign schedule, anyone running for president or vice president who doesn't even care enough about the American people to spend the last days with a vigorous schedule to push for votes shouldn't even be allowed to run. Every presidential campaign in my lifetime has worked hard for their election, win or lose, and I haven't seen that from Joe.
At the very least, they visited every city and state that mattered in their election. Joe has spent most of his time in Pennsylvania, as if that were the only state he needs.
President Trump and VP Pence have always been there for their constituents, in 2016 and now. They work extremely hard to make sure they visit as many voters as possible to ask for their votes. It's the right thing to do.
If the Dems are hoping that President Trump beats himself, they're delusional. Rasmussen's three-day rolling average of Trump's approval – with two days of post-debate polling included – puts Trump at 52 percent (54 percent when you count the 'shy' Trump voters). His disapproval is 46 percent – at or near his all-time low.
As I try to wrap my head around this common sense, it just doesn't make sense. This is the worst possible time for Biden and Kamala Harris to seemingly ease their campaign schedules. Again, this has to be more than Covid, yes? They are wearing masks and being tested almost daily.
Also on rt.com
Slavoj Zizek: Biden's just Trump with a human face, and the two of them share the same enemy
Their early voting and mail-in ballots aren't meeting their projections, or at least we don't think so.
In some states, Republican early votes are actually running AHEAD of Dems. And all the polls confirm that Republicans will do most of their voting on Election Day. The Dems need to build up HUGE early majorities, and they're not getting them.
Trump supporters have already demonstrated that they're willing to wait in line for his rallies – even for a CHANCE to see him. So they'll be the ones willing to wait in line on Election Day. Biden supporters won't even cross the street for his rallies. No way will they be patient enough to wait to vote. Here comes the Red Wave!
And here's a twist to the Biden scandal. Lots of sources say Joe was paid to provide influence but never state what that influence was. All three businesses Biden was associated with, in Ukraine, China, and Kazakhstan, were fossil fuel energy companies. Joe Biden is publicly against all fossil fuels and stated he would ban it and stop giving them subsidies. What if his public stance is to reduce American production to increase demand from foreign fossil fuel companies and increase their income? Maybe that is the deal that was worked out in return for all that money. Then Trump came in and threw a giant wrench in it by making us energy independent and most likely hurting these companies.
When you vote, remember how hard Trump worked to speak to America and how little energy Biden used up! One thing is for certain, Trump is out there fighting for us as a whole, even though some Americans don't want to admit it. His policies have been a breath of fresh air. Fighting a pandemic and Democrats, he is still implementing peace deals and helping America.
On a side note, please be aware that there are widespread attempts to disrupt voting and intimidate voters by groups of people who don't want you to vote. Videotaping voters, setting ballot collection boxes on fire, setting up fake ballot collection boxes, ballots from some groups being eliminated at a higher level than from other groups, convoys of trucks honking and yelling near voting sites forcing voters to wend their way through, confrontations at voting sites between masked and unmasked voters, on and on.
Don't let them stop you. Voting is a sacred right in this country, and some groups want to change the will of the people because they know they can't win fairly.
Think your friends would be interested? Share this story!
The statements, views and opinions expressed in this column are solely those of the author and do not necessarily represent those of RT.
You can share this story on social media: