Racism is over! All it needed was to paint Britain's iconic red post boxes…black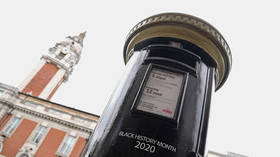 The Royal Mail has unveiled their new initiative to mark Black History Month, but questions now abound about what it's supposed to achieve, and about whether they realise how insulting their token effort is.
Another pointless initiative has hit the United Kingdom's streets. It's a shameless stunt to emphasise the United element of our world-renowned Kingdom.
You can picture the scene of suited-executives brainstorming, huddled around a lavish conference table. They are thinking, 'we have to be seen to be backing BLM and Black History Month.' Then one strikes on the genius plan of painting the nation's iconic red post boxes…black.
You see, that will be a tribute to the skin colour of the people who the campaign is intended to help. As if that wasn't tokenism enough, they have chosen a staggering four post boxes only. Putting that into context, there are more snow leopards than that in the UK.
It's pathetic.
Also on rt.com
As Covid crisis adversely affects UK's white working class, it is the middle class's self-interest that means there is no easy fix
What impact will a layer of paint do for the treatment, respect or self-worth of black people? Are they expected to feel grandiose and grateful that our high and mighty authorities have bestowed this honour upon them? Peter De Norville, Royal Mail's head of diversity and inclusion seems to think so – as he said: "Black History Month is a great opportunity to celebrate the contributions that black people have made to this country over many generations."
Not only is the concept flawed, the execution has been woeful.
The individuals chosen across four British cities are: Sir Lenny Henry (Belfast), Mary Seacole (Cardiff), Walter Tull (Glasgow) and Yinka Shonibare (London).
The merits of including Henry are extremely dubious. He was a relatively popular TV comic in his 80s heyday but is hardly seen nowadays.
Along with his knighthood, he was once listed as the fifteenth funniest black performer of all-time by The Sunday Times. But he's not regarded in any great esteem by the general population. He's like a lot of TV celebrities, widely remembered from an old show but nothing more.
Henry's inclusion jars alongside Mary Seacole. She did something truly exceptional and way beyond the call of duty, as she created the "British Hotel" behind the lines during the Crimean War. The forces refused her offer to help, so she went to the war zone by her own means and nursed thousands of injured troops back to health. Due to her sterling efforts and compassion, Seacole is regarded globally as a pioneer and the first ever nurse practitioner.
Walter Tull died in the First World War, over in France. He had been a footballer but is not seen in the game as a key figure. The location of his box highlights his spell with Glasgow club, Rangers. It's a shocking own-goal from the post-box painters, as any sports fans would tell you that the club was bigoted long after Tull – it had a policy to not sign Catholic footballers until 1989
And Yinka Shonibare is an artist, who again isn't well-known outside of his own circles. It must be highlighted that he's a fantastic example for anyone with a disability, he uses an electric wheelchair and works with assistants to create his art.
So that's the roll of honour.
If people didn't know any of the four, they might now if they happen to wander past their post box - which changes nothing. Illustrating that point, a YouGov poll revealed that 86 percent of business decision makers state their company has a role to play in tackling racial inequality.
But only 26 percent say their business has taken new steps to improve inclusion. Quite simply, talk is cheap – as is paint.
It's disheartening that some people in positions of authority are under the misapprehension that their tacky attempts at virtue-signalling are doing good.
All they do is undermine.
Those discriminated against – in this case, black people – see the cheap shot for what it is. And the rest of us are encouraged to think that material change has occurred, when it hasn't. The post box idea is an illustration of well-paid bureaucrats mistakenly proving how out of touch they are with reality.
Also on rt.com
Woke Witchfinder General Laurence Fox's new party could be the breath of fresh air UK politics needs
And while we're on the subject, what was wrong with red? Isn't that one of the global symbols of the UK after Big Ben, phone boxes and the black taxi?
Wait, that's probably the thought process currently occurring in the minds of these overpaid executives. In a few weeks, they might suggest painting the black taxi, white, to send out the message that white people need to "support or help transport" black people.
Ridiculous.
But the way the social climate has become, it wouldn't be a shock. It's high time these chinless wonders were taken aside by the collar. As all of these pointless initiatives are only sowing more division and creating issues where none existed. The vast majority of British people want a fair, just and equal society.
Let's start delivering that by creating a systematic framework.

Think your friends would be interested? Share this story!
The statements, views and opinions expressed in this column are solely those of the author and do not necessarily represent those of RT.
You can share this story on social media: