As Covid crisis adversely affects UK's white working class, it is the middle class's self-interest that means there is no easy fix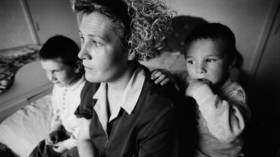 A recent report highlighted how the pandemic is causing severe problems for Britain's poor white children. This is tragic, but a bigger issue is the prejudice they face from the middle class, which disadvantages them even more.
Last week, a report was submitted to the Commons Education Select Committee on how the poorest children in the UK are being severely disadvantaged by the coronavirus crisis with regard to their education, and how this will cause longer-term economic problems for themselves and their communities.
The report notes clearly that there must be some urgency in finding solutions for these children, otherwise yet another generation of working-class communities will be subject to even more devastation.
It also stated that specific groups of poorer children in the most disadvantaged communities will be economically and socially affected negatively into adulthood and far beyond. Effectively, there will be a lost generation with poor educational attainment, low unemployment prospects and all the social repercussions that come from that.
There is nothing particularly new about the report, or the concerns of government select committees about low educational attainment within the most disadvantaged communities.
Also on rt.com
British politicians and the MSM have sent a clear message to the white working class for decades: 'You don't matter'
However, as a wider population, surely we understand by now that this is how the British class system works? Unfair and unearned disadvantages are afforded to some, while others receive equally unfair and unearned advantages. The education system is the lifeblood of that inequality, keeping the wider system ticking over and reproducing inequality.
I have written about this many times for many different readerships in academic journals, newspaper articles and, indeed, on RT.com over recent months.
However, what was new about this report was a caveat from the authors, from Plymouth and Oxford Universities. They pointed out that even though children who are poor, working class and white will be most disadvantaged educationally because of the coronavirus crisis, there has been an issue among academics in dealing with this research: the plight of working-class white children was seen as "unfashionable" and "not worthy."
Professor Peter Edwards, head of inorganic chemistry at Oxford, said the research left "no question whatsoever" that white working-class children, and boys in particular, were being failed. He also suggested that even raising the issue was "taboo," particularly in academic circles, as it was associated with "hard-right political thinking."
In line with Professor Edwards' warnings, I am sticking my neck right out here by asking why is it especially distasteful within academic circles to speak of the disadvantage that those who are poor, working class and white experience in a modern, liberal Britain?
Also on rt.com
'I used to push for working class kids to go to university, but no longer: they are toxic institutions of prejudice'
As I type this question, I can feel the social media rage rising from sections of the middle class – in academia, in the media and other elite institutions that are packed to the rafters with white, middle-class people benefiting from our unfair and cruel class system.
Acknowledging that there are working-class people in parts of the country who are being severely disadvantaged and who happen to be white should not be problematic. I would even push it further, and say that not only are they economically and educationally deprived, they are also subject to deep class prejudices by the white middle class.
Since Brexit, there has been an undeniable shift in the way that working-class people living in parts of the north of England, the Midlands and coastal areas have been perceived. Derided as 'gammon,' 'left behind,' 'stupid and racist' and 'backwards,' these negative narratives were only exacerbated by the fall of the red wall in the general election of December 2019.
The middle-class Liberal and Labour voters who are mostly, but not exclusively, white have since held very negative opinions about the working class in Britain, many of whom happen to be white.
The British middle class have shown themselves to be a vengeful and pompous lot, who rely on the working class to be compliant or to be a victim of circumstances or both. That way the false concepts of meritocracy and social mobility need never be questioned and their unearned advantages through the education system and then into the economy remain safe.
Also on rt.com
Britain's working class need a New Deal that overhauls housing, education and benefits to see them through the post-Covid crisis
This reflects a history of power being exerted between classes, and is very rarely challenged; the middle class have a knack of reflecting their own bad practices onto the working class.
I was once invited to speak to a Government Select Committee about whether economic status or being 'working class' should be a protected category like race, and disability. This would make it illegal to discriminate against people who are working class.
On the day, most of the MPs in attendance were very interested in the perceived 'lack of aspiration' among the working class rather than the middle class's unfair advantages in gaming the system. As far as I am aware, this has still not been addressed.
The British middle class are predominantly white and it is the institutions of power within politics, the media, the arts and the university system where they hold sway and where their power is wielded in reproducing the class system.
The British working class are less homogenous than the middle class; they are multi-ethnic and multi-cultural, and have little power to wield in stopping that unfair class reproduction.
Also on rt.com
Posh male students holding competitions to shag 'poor' girls shows the total lack of respect working-class women get in Britain
So far, it has been the middle class that sets the agenda on whose disadvantage or advantage is legitimate. And I welcome the long-overdue national debate about institutional racism, and about how black and ethnic minority British people have been excluded from the national history.
For too long, they have not been recognised for their massive contributions in making the United Kingdom a better and more culturally coherent place to live. I stand in solidarity with them to ensure that their futures are valued far more than their pasts have been.
However, the national debate about class inequality and classism, which is an even greater bind to the multi-ethnic working class, is being sidestepped and fudged.
A better question than why do academics seem to regard the disadvantage of the white working class as "taboo" is: why would the middle class want to engage in the debate about class inequality, when they benefit from it to such a great extent?
Think your friends would be interested? Share this story!
The statements, views and opinions expressed in this column are solely those of the author and do not necessarily represent those of RT.
You can share this story on social media: