Posh male students holding competitions to shag 'poor' girls shows the total lack of respect working-class women get in Britain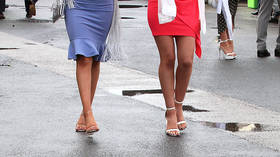 The disrespect some Durham University students have for working-class females is shameful but comes as no surprise, because they are devalued across society and seen as 'fair game'. This has to change.
The story that came out of Durham University this week, where I work as a lecturer in sociology, was as depressing as it was predictable. A group of wayward posh fresher lads were looking forward to their university experience and had formed a Whatsapp group called 'Durham Boys Making All The Noise'.
This was leaked, and exposed a conversation about date rape and holding a competition to see who could shag the poorest girl on campus. I should be enraged, but I'm not, because this kind of behaviour towards working-class women is relentless.
The incident was neither new nor surprising. There have been problems at most Russell Group Universities around classism, racism and misogyny for many years, with students holding 'chav parties' where students get to dress up as working-class people and behave badly – because that's what they think working-class people do.
Also on rt.com
Britain's working class need a New Deal that overhauls housing, education and benefits to see them through the post-Covid crisis
But this isn't just a feature of university life – classism and particularly classism aimed at women and girls is endemic right across society. I always look forward to the annual monstering of the Ladies Day races at Aintree, where working-class women get dressed up to the nines for a day out at the races and have a drink and bloody good day out.
Then the next day, the mainstream media fill their pages and websites with photographs of working-class women showing their knickers, or swigging a bottle of Prosecco with four-inch long diamanté nails, and the obligatory image of someone falling off of their seven-inch stripper heels.
The hatred, the loathing and the ridicule that working-class women in the UK are routinely put through is historical, brutal and never ending.
As a working-class woman, I know only too well that our lives are constantly devalued, and that what we wear and how our bodies move is constantly up for debate. Linked to that is our sexuality.
Our lives in popular culture are portrayed as overtly sexual and overtly stupid, resulting in irresponsible reproduction. After all, we are blamed for every generation of moral panic around working-class youth because it is out of our bodies that the hoodies, yobs and rioters emerge, and it is our mothering that is under scrutiny.
Also on rt.com
'I used to push for working class kids to go to university, but no longer: they are toxic institutions of prejudice'
In a world where #Metoo trends on social media daily and men declare themselves feminists, I have to ask why is it that working-class women's lives are constantly devalued, and why the abuse and violence – actual and symbolic – are always seen as inconveniences to deal with?
Some men believe that their masculinity is tested through misogyny and they prey on women. We know this; it's not news. But what we must do is think of the victims. All women are vulnerable to this type of toxic masculinity, but especially working-class women, because they are devalued by society.
So, whether the perpetrators are rich, posh white boys at Durham University or Pakistani men in grooming gangs, the victim remains the same – the working-class woman or girl, who is always 'up for it' and 'fair game'.
Professor Bev Skeggs argued back in the early 1990s that the middle-class woman can lean into respectability because of the notion that she is chaste and proper, while the working-class girl, because of her class, does not have that idea of respectability attached to her body.
For many years, in my lectures I have used characters in popular media to show how working-class women's lives are devalued. Little Britain's Vicky Pollard, a character played by Matt Lucas, is overweight, crass, inarticulate and at 13 years old swaps her baby for a Westlife CD. We are being invited to laugh at a working-class girl child.
Also on rt.com
Guess what, liberal thinkers? The working class doesn't need your condescending op-eds
These hateful narratives about working-class girls dressed up as humour are everywhere, even on new social media platforms like TikTok where people do 'chav checks' of heavy make-up tutorials and compilations of the UK's 'chavviest' places.
There is even an Instagram filter that pushes that old narrative of the working-class girl as common by changing a user's face to a 'chav girl face' through orange foundation, patchy concealer, huge black brows, wiggly eyelashes and large gold-hooped earrings.
When interviewed, the creator said she had got the idea from the girls on Geordie Shore, a reality TV programme about working-class people in the north-east of England, the part of the country is Durham University located in.
In a world where people are outraged about everything, why does the hatred, loathing and ridicule of working-class women still exist?
Why, when we complain about the way society portrays us, are we met with contempt, indifference, and excuses? It's always 'high jinx', or 'just a laugh', or we were 'up for it'.
As long as these narratives about working-class women are left unchallenged – because we are routinely devalued – is it any wonder that every generation of toxic man sees us as nothing more than sport?
Think your friends would be interested? Share this story!
The statements, views and opinions expressed in this column are solely those of the author and do not necessarily represent those of RT.
You can share this story on social media: